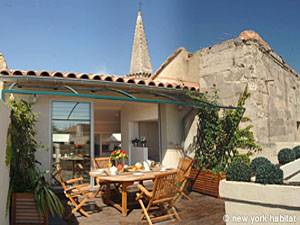 South France Accommodation 3 Bedroom Rental in Avignon, Provence (PR-858)
Did you know that one of France's top five tourist attractions is located in the South of France? It's called the Pont du Gard, and it's been a UNESCO World Heritage Site since 1985. Both the Pont du Gard and the surrounding countryside are absolutely stunning – and New York Habitat highly recommends putting the area on your "must see" list for your next vacation in the South of France.
If you've never heard of it before, the Pont du Gard is the masterpiece of the ancient Roman aqueducts that wound its way through the region. A recent redevelopment project has made the Pont du Gard site easily accessible from the highway while appearing to be a hidden oasis now that it has been closed to vehicle traffic. Spend the day touring the museum and the Pont itself, either on your own or with a guide; pack a picnic and dine on the banks or the Gard river; or, bring your swim trunks and cool off with an afternoon dip!
You might see many names and other markings etched into the massive stones of the structure. That's not vandalism; instead, it's a tradition that has been a part of the Compagnons du Tour de France, a yearly tour given by and for masons from around the world who come to marvel at the construction, which was performed without the use of any mortar. If you look closely, you can even see etchings from the original builders, who labeled each stone so they were put in their correct positions! This unique structure has survived two millennia and countless natural disasters, including a major flood in 1998.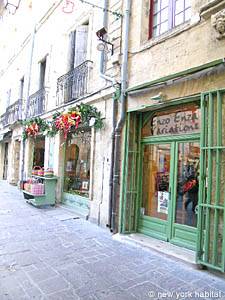 Uzes, France photo
There is a
3-bedroom vacation rental in Avignon (PR-858)
that was renovated in 2007. This duplex is located in the heart of the city and features a terrace overlooking the historic "City of Popes", and is walking distance to all the restaurants and shopping.   
Avignon offers lots of attractions
and is home to the Palais du Papes, or Palace of Popes, and is definitely worth seeing while you're in the area.
This 2-bedroom vacation rental in Uzès (PR-859) is ideally located in the heart of the historic village of Uzès, just minutes from the Pont du Gard. Everything is within an easy 5-minute walk including quaint bars, delicious restaurants and shops selling everything from antiques to lavender honey! For horseshow buffs, the National Stud Farm is located in Uzès and features many national championship horseshows. And Uzès also has a golf course.
Stunning Roman architecture abounds in the South of France, a fact not well known by many tourists. Consider staying  in a South of France apartment or villa for your next vacation to the region. Have you ever come upon a surprising bit of history while on vacation? Tell us your story in the comments.