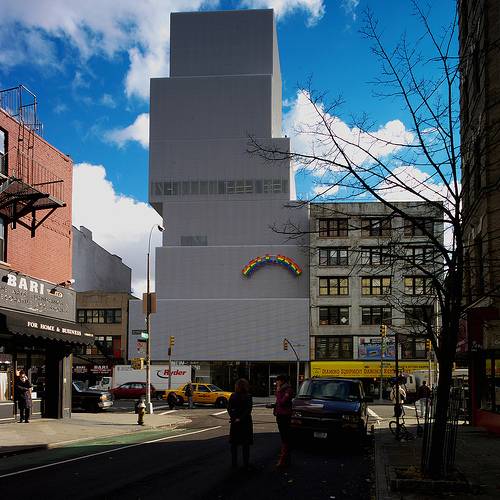 The New Museum
New York City has always been relentlessly devoted to the new: the new hot restaurant, new hot club and new hot neighborhood. It's only fitting that it's home to The New Museum of Contemporary Art. Located in the Lower East Side in downtown Manhattan, the New Museum is committed solely to contemporary art. If you're looking to see what's new in the art world this summer, you won't want to miss this museum.
For over 30 years the New Museum has had one mission: to promote new art and new ideas. It's been an incubator for emerging artists from around the world. In fact, some of today's biggest art world stars showed at the museum early in their careers, including Keith Haring, Richard Prince and Jeff Koons.
While the museum was founded in 1977, it didn't find a permanent home until December 2007, when it opened its first freestanding building at 235 Bowery. Designed by Tokyo-based architects Sejima + Nishizawa/SANAA, the seven-story building looks like a teetering stack of rectangular cubes. It is a bold architectural addition to the gritty Bowery.
The museum is open Wednesday through Sunday from 12:00 – 6:00 pm, but stays open until 9:00 pm on Fridays. For information on current and upcoming exhibits, visit the New Museum's official website.
If you're looking to stay in the lively downtown area, and close to the museum, check out one of New York Habitat's gorgeous apartments in the Lower East Side, including:
This charming Accommodation in the East Village – Lower East Side (NY-11512) located in a pre-war co-op building. The apartment has tons of character, and comes with a fireplace, skylight and even a hammock.
This apartment located in the East Village – Lower East Side, a 2-Bedroom Rental (NY-12320). The loft apartment has two Queen size beds and sleeps four people. Enjoy the open floor plan and exposed brick.
This summer, see what's new in the art world by discovering The New Museum in New York.
Have you ever been to the museum? What did you think of the building's unique architecture? Share your comments with us!
Related apartment rental posts from New York Habitat: