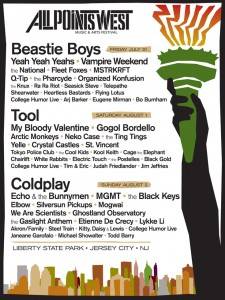 Mention a summer music festival and the first thing that usually comes to mind is free love, muddy campgrounds and a sea of tents and eager revellers. Americans normally associate the summer music festival with the fields of rural Tennessee, the outskirts of a typical college town or a certain town in upstate New York. However, rarely do images of skyscrapers, urban ferries and an overall cosmopolitan setting enter one's thinking. Yet these are exactly the images festival goers will find at the second annual All Points West Music and Arts Festival. The festival has a line-up that rivals that of the country's best know summer festivals and it takes place in New Jersey's Liberty State Park, just across the Hudson River from the shimmering Manhattan skyline, and hundreds of New York accommodations.
The All Points West Music and Arts Festival enters its second year without skipping a beat. This year's offering includes three days of music headlined by the likes of the Beastie Boys, Yeah Yeah Yeahs, Tool, MGMT and Coldplay. And while the bands on stage will be getting plenty of attention, it is the city of New York that will take center stage. Liberty State Park has some of the area's finest skyline views, with downtown Manhattan looming across the river. Festival-goers will have the opportunity to watch the Statue of Liberty proudly stand guard in New York Harbour while the lights from Manhattan skyscrapers reflect off the calm Hudson waters.
Unlike some other American music festivals, the All Points West event does not allow campers on site. Staying in a New York apartment during the festival is a great, mud-free option. Here are a few New York Habitat accommodations available during the festival, from Friday, July 31st to Sunday, August 2nd.
-This studio vacation rental in Battery Park (NY-9990) will have you home and in bed after the festival in a matter of minutes, you might even be able to spot your apartment from Liberty State Park.
-This 1-bedroom rental apartment in Midtown West-Chelsea (NY-11642) accommodates two guests in a comfortable and convenient setting. The proximity to everything central Manhattan has to offer is exceptional.