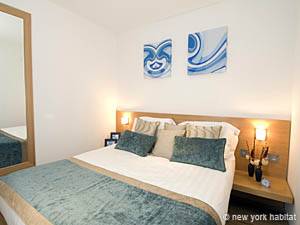 London Apartment Studio Vacation Rental in Chelsea (LN-762)

Earl's Court in South Kensington is one of the most brilliant places to stay in all of London. Home to the renowned Earl's Court Exhibition Centre, a short walk from the museums on Cromwell Road, and a few tube stops from the summer happenings on South Bank, this area once well-known as a backpacker's paradise has grown into the destination of choice for families, short-stay tourists and international travelers of every stripe. What hasn't changed, however, are the budget-conscious values that the neighborhood offers—including a wide range of exciting and affordable New York Habitat vacation rentals throughout South Kensington.
To make the most of your travel budget, walk from your New York Habitat flat in Earl's Court to the nearby Natural History, Victoria & Albert, and Science Museums by Knightsbridge—each of which has free admission. Keep costs low by avoiding entrance fees for "special exhibits" and taking advantage of the museums' regular collections instead, which are amazing in themselves and have more than enough on offer for everyone. Also keep an eye out for free talks, tours and events, which range from late-night Fridays with DJs to "explorer tours" that allow children to become dinosaur detectives or hands-on wildlife experts.
Another way to save on entertainment is to sightsee your way from Earls' Court to Soho (which will take you past Museum Row, Kensington Palace, Hyde Park, Harrod's and Buckingham Palace). Then settle down to watch the free Rushes Soho Shorts programs of films that take place in a variety of venues and cinemas around the area at the end of July. Lots of talent, no cost—and air-conditioned comfort!
For an "authentic English" experience near Earl's Court, head to Riley's for some snooker in the neighborhood of Pimlico. For the low price of one game (and bragging rights), a local will be more than happy to teach you how to play. It's similar to pool or billiards, but the best part is that a single game can last well over an hour—pound for pound, the greatest value for your British pound!
While Earl's Court is teeming with inexpensive ethnic eateries, another way to cut costs is to stop by the local Waitrose grocery, which slashes prices on some fresh food items an hour before closing. Take these bargains back to your New York Habitat apartment rentals in South Kensington and enjoy a home-cooked meal! Some suggestions for your stay are: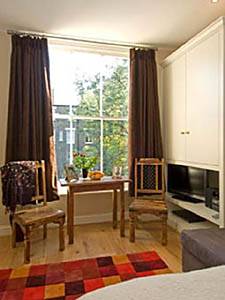 London Apartment Studio in Earls Court (LN-542)
· A comfortable, fully serviced
studio in Earl's Court, Kensington-Chelsea (LN-293)
that comes with a pull-down double Murphy bed, a bathtub and walk-in shower, and laundry/dryer. This vacation rental is on the fifth floor of a period mansion block with elevator, conveniently located between Old Brompton and Cromwell Roads. It's the perfect place for one or two people.
· A sleek and well-kept 
studio in Earl's Court Kensington-Chelsea (LN-762)
close to many attractions on West Cromwell Road. This vacation accommodation comes with a double bed, laundry/dryer and minibar, and is in a building with elevator, outdoor pool, gym and coffee shop. You may just want to skip some sightseeing and spend more time here instead!
· A contemporary and nicely furnished studio in Earl's Court, Kensington-Chelsea (LN-542) on a quiet residential street just off Cromwell Road. This rental accommodation comes complete with a laundry/dryer, double bed and luxurious Frette linen, as well as daily maid and weekly linen service. What more could you ask for in a flat?
Check out our other Low-Cost London neighborhoods:
Traveling smart means stretching your money without skimping on any of London's most exciting attractions—and a stay in a New York Habitat vacation rental in Earl's Court can help you to achieve that!
Let us know your budget tips in the Earl's Court area with a comment below.