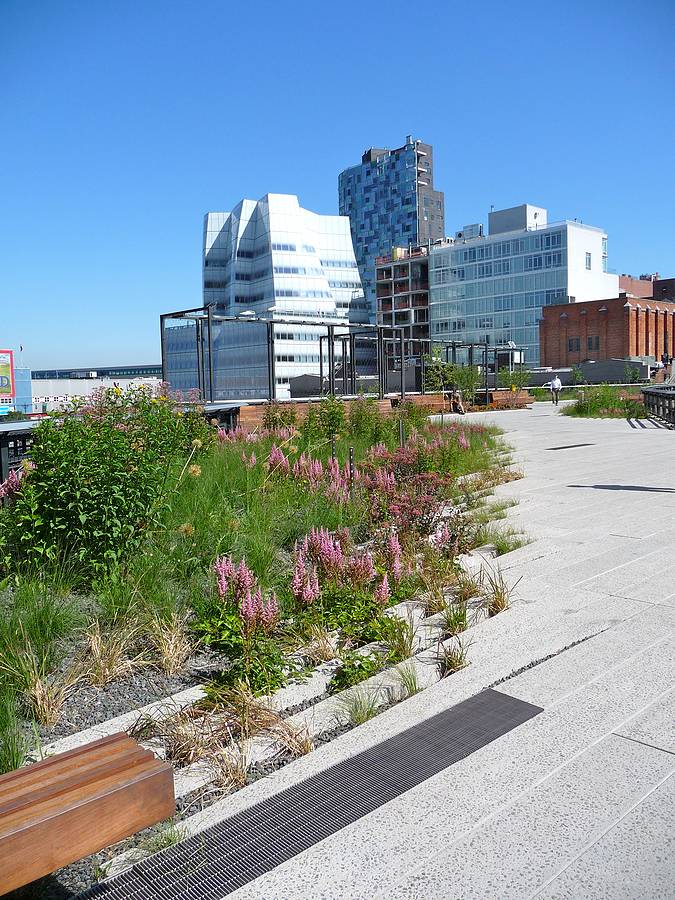 New York's High-line park
Never-ending snowfall may make this seem like the longest winter in memory. But a look at the calendar can be a happy reminder that spring isn't all that far away—and with it, the opportunity to visit some of the glorious new parks that are sprouting along the geographic margins of New York City, in areas that until recently were all but starved for green space.
First and foremost, on Manhattan's West Side, the mighty High Line is a city park built on a former elevated railway (30 feet in the air) that operated for nearly 50 years from the 1930s until 1980. The park is located in the popular neighborhood of Chelsea, which offers plenty of tasteful and elegant apartment rentals. The complete railway ran from Gansevoort Street in the Meatpacking District (Greenwich Village – West Village) to 34th Street, between 10th and 11th Avenues.
The first section of the current High Line, which opened to the public in June 2009, stretches from Gansevoort Street to 20th Street. Its striking combination of elevated views and green space made it an immediate hit with the public. Added attractions during the warm-weather months of the year include tours, lectures, public art events and performances, and family events highlighting the High Line's design, gardens, and history.
The new section of the Chelsea High Line park, stretching from 20th to 30th Streets, is scheduled to open in Spring 2011 and will actually double the length of the park. Planned amenities for this section include a wildflower field and a 4,900-square-foot lawn that should be ideal for picnicking, sunbathing, and of course people-watching (since this is New York City, after all!).
On the other side of the East River, meanwhile, Brooklyn residents are equally excited about the re-opening and expansion of Empire–Fulton Ferry Park that will make it part of one continuous green space with the new Brooklyn Bridge Park right on the waterfront. New amenities in the reopened park will include better and more extensive lighting, picnic benches, bike racks, and, not least of all, a restored 1922 merry-go-round housed in a brand-new pavilion.
Throughout the spring, New York Habitat has a range of apartments available in Manhattan near the High Line and vacation rentals in Brooklyn not far from the water's edge. Here are a few suggestions that should help get you started on your search: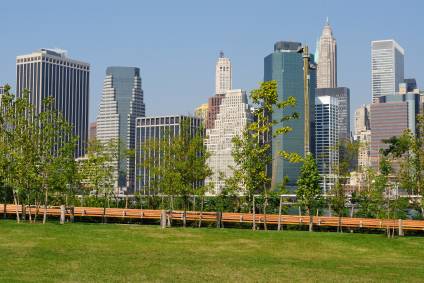 New York City Skyline from Brooklyn Bridge Park
– This furnished 2-bedroom loft rental (NY-8091)  is situated on the 4th floor of a 6 story walk up in Greenwich village. It is also  located only half a mile from the High Line and features a fully equipped kitchen, hardwood floors and large windows with a view of New York City.
– Another fully furnished 1-bedroom rental apartment (NY-12383) is located in a West Village townhouse on Perry Street, just down the block from the famous stoop where Sex & the City's Carrie Bradshaw lived. Convenient subway access, a decorative marble fireplace, a working piano, and wood floors are just some of the amenities you'll enjoy in this space.
Do you have a comment or recommendation about the High Line or Brooklyn Bridge Park?  Please feel free to share your thoughts below.