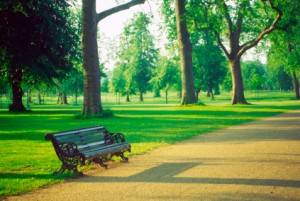 Relaxing photo of a London park
Green Park is in the center of London, surrounded by some of the city's most recognizable buildings and swankiest streets
: Buckingham Palace, Lancaster House, the Ritz, Fortnum and Mason, Bond Street and Piccadilly. Located between
Mayfair
and
Westminster
, it's the perfect place to take a break in the middle of all the action and make like a Londoner. Pack a lunch in your nearby New York Habitat
vacation rental in London
and head to the park!
Green Park is the smallest of the royal parks, neighboring both St. James's and Hyde Parks so that past kings could walk or take a carriage ride through the center of the city without having to leave royal grounds. In fact, Constitution Hill got its name from King Charles II taking his daily walks there to improve his physical "constitution."
Today, Green Park is a peaceful, grassy oasis for sunbathing, picnicking, jogging and leisurely strolling—yet it has a history of rebellions, duels and disasters (the Temple of Peace that once stood in the park was destroyed during a fireworks display). Even the park's lack of manicured flowerbeds has its roots in an alleged royal scandal; when the queen saw her husband picking flowers for another woman, she supposedly had all the flora removed. Still, on spring days, the daffodils growing wildly in Green Park turn its grounds golden yellow.
To further enjoy Green Park, take a free guided tour to learn about its rich history, hear about surrounding buildings and architecture, and be entertained by royal anecdotes. Visitors can also celebrate the queen's birthday there in early June and witness a spectacular 41-gun royal salute fired by the King's Troops.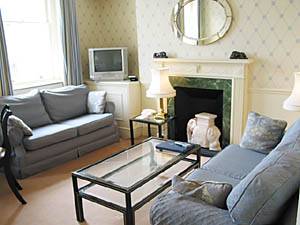 London Accommodation: 2-bedroom apartment in Mayfair -Westminster (LN-299) photo
Although Green Park itself has some pretty great features, perhaps the best is its unbeatable location in the heart of London. It shares that trait with many choice New York Habitat
accommodations in Mayfair
and
apartment rentals in Westminster
, including:
•    A charming, classically decorated 2-bedroom vacation rental in Westminster-Mayfair (LN-299) on the third floor of a period walk-up. Conveniently located on Curzon Street, this spacious flat has a queen-sized bed in the master bedroom and two singles in the second bedroom. Smoking is permitted.
•    A chic 1-bedroom vacation rental in Westminster (LN-429) in a period mansion block with elevator, located just off the Strand. This apartment near the Thames River comes complete with a laundry/dryer, decorative fireplace and nice street views. Smoking is permitted.
To really get a feel for London, one must visit its parks. There's nowhere better to start than in Green Park—and nowhere better to stay than in a New York Habitat vacation rental in the city's center.
Let us know what you love about Green Park in a comment below.