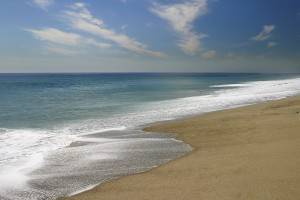 Summer is about traveling to a place where you can dip your toes deep into the warm sand, read a novel under the shade of an umbrella and cool off in the waves when the relentless sun gets a bit too hot.
For years, travelers have been faced with the choice between sand and culture, the lazy beach life and the vibrancy of the city. For visitors to New York City there is no choice that needs to be made for in addition to being the quintessential urban playground, New York is also home to miles and miles of Atlantic Ocean beaches awaiting the lazy days of summer. We have New York apartments available in  this summer that place guests somewhere in between the Atlantic surf and the Empire State building.
Mention surfing beaches, boardwalks and sand-castles in the same sentence as New York City and most out-of-towners will react with disbelief, but for most New Yorkers spending a day at the beach without leaving the limits of the city is a reality of everyday summer life. In addition to all of the water-related activities in the New York Harbor and on the Hudson and East Rivers, are the Atlantic shores in Brooklyn and Queens. Home to the Rockaway beaches, a stretch of coast line that runs until the border with Long Island's famous Long Beach, Queens offers many convenient and affordable apartments.
Perhaps better known are the beaches of Brooklyn's Coney Island. Coney Island's beaches were once the playground of Manhattan's rich and famous but today welcome a wide range of city residents from all walks of life. In addition to the sandy beaches is the timeless Coney Island boardwalk and amusement park as well as the recently built baseball park of the New York Mets minor league franchise, the Brooklyn Cyclones.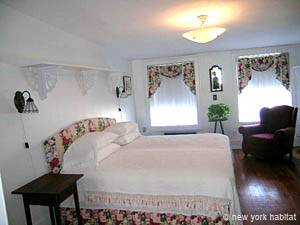 New York Vacation Rental 2 Bedroom in Carroll Gardens Brooklyn (NY 12845)
New York Habitat has apartments in the middle of Manhattan for city lovers, just a short subway or taxi ride from the beaches of Brooklyn and Queens, as well as accommodations in Brooklyn a bit closer to the sun and surf of the outer boroughs. Here are a few accommodations to get your search started:
– This 1-bedroom furnished apartment in Midtown West (NY-16224) is located in the middle of Manhattan's stunning urban landscape and features views onto neighboring skyscrapers.
– This 1-bedroom Furnished apartment in West Village (NY-16306) offers visitors a taste of Downtown living. The accommodation is elegant and comfortable.
– This 1-bedroom accomodation in Boerum Hill (NY-11601) features exposed brick walls, hardwood floors and is a bit closer to Coney Island beaches than our Manhattan accommodations.
You can read about another great summer activity in Summer Streets in New York.