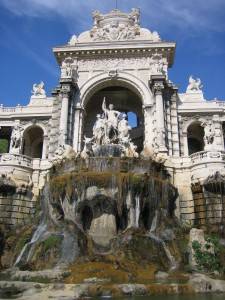 Longchamps in Marseille Photo
Stepping out of Marseille's main train station, La Gare St. Charles, onto the wide stone staircase, starts a vacation in the South of France in a most idyllic way; you're welcomed with an elevated, all-encompassing view of the oldest city in France.  In the distance stands the majestic outline of Marseille's basilica, Notre Dame de la Garde, or "La Bonne Mere."  Perched on the city's highest point, this basilica and its golden statue are visible from almost anywhere in the city. Hop in for a visit of Marseille!
From this 2 Bedroom Vacation Rental in Marseille (PR-824) situated in the heart of the city, you're steps away from the early 19th century built Palais Longchamps.  Surrounded by one of France's most notable gardens, the palace is home to the Marseille's Art and Natural History museums.   From here you can take the newly restored Tramway or stroll down Marseille's main boulevard La Canebière. Built in the 17th century with the Champs-Elysées in mind, this giant street is home to many outdoor cafés and markets, museums, lots of hotels, and the impressive gothic cathedral St Vincent de Paul.
The Canebière comes to an end at Vieux Port – France's largest commercial port – where you'll find yourself close to this 2 Bedroom Vacation Rental in Marseille (PR-891).  This is an ideal spot for discovering Marseille where you'll be torn between great shopping at CentreBourse and a lively scene at the waterfront where there is always excitement like fresh fish sales, street performances and lots of great dining.  Also from the port, a short boat ride takes you to the famous Chatêau d'If, the Prison in the Count of Monte Cristo.
If you're looking for a quieter area of town to stay, check out this 2 Bedroom Vacation Rental in Marseille (PR-918).  Located a bit outside of the center, you're still close to essential tourist spots in this Mediterranean town.  Thanks to convenient metro stops, you can easily access Stade Vélodrome, home field to the hugely popular OM soccer team.  Attend a game with 60,000 screaming fans and you're sure to experience an unforgettable European "football" game.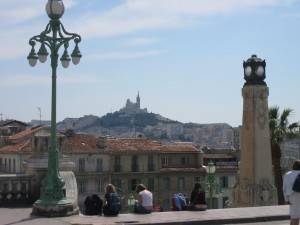 View of Marseille from the Train Station
Not far from the stadium is
Parc Borély
, one of Marseille's biggest parks, exhibiting botanical gardens, a newly reconstructed racetrack, and lots of lakes, fountains and statues.  Its west side aligns with the seashore where you can access
35 km of Marseille's beautiful beachfront
.
Marseille's beach scene doesn't end there – take a short bus ride to Luminy where you can hike an easy trail down to the pristine waters of Les Calanques.  You can also take a cruise boat from the Marseille port and visit other nearby coves.  With clear blue waters gently lapping the inlets of tree spotted cliffs and the peaceful nature surrounding you, you wouldn't believe you're fifteen minutes away from France's second biggest city.
While it's a populated commune, Marseille's urban charm is perfectly complemented with close proximity and easy access to the beach, the mountains, and other local and regional sites in the South of France.  Plus, with New York Habitat, you can be assured of an affordable and comfortable vacation rental in Marseille to stay in.  Book now before it's too late!
There's so much in Marseille that it's hard to cover everything in 500 words.  What didn't we mention?  What are some spots YOU love in Marseille?