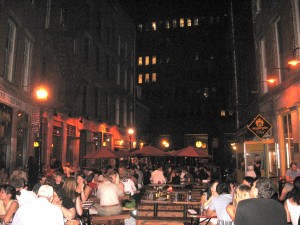 Stone Street New York
You'll feel like you've stepped back in time when you stumble upon Stone Street, a tiny cobblestone alley hidden among Lower Manhattan's towering skyscrapers. Considered to be the first paved street in New York, Stone Street is now a historic landmark. Today its restored 19th-century buildings are home to an international mix of restaurants and bars, making it a unique dining destination you won't want to miss.
During the warmer months, umbrella-topped tables fill the narrow, pedestrian-only street. Seating from one restaurant flows right into the next, creating a community of diners and revelers down the two-block stretch of cobblestone. Visitors can enjoy Swedish meatballs at the Scandinavian restaurant, Smorgas Chef; seasonal ales from the Greek-Irish pub, Ulysses'; or gourmet pizza at Adrienne's Pizza Bar.
Located in the heart of the Financial District, the Stone Street Historic District includes the swath of land between Hanover Square and Stone, Pearl and South William Streets. Stone Street is actually cleaved in two by the Goldman Sachs building but the historic section is on the east side.
Downtown Manhattan is a perfect place to stay while in New York. Consider one New York Habitat's gorgeous apartment rentals in the Financial District near the social scene on Stone Street:
– This impeccable 1-Bedroom apartment in Tribeca (NY-8901), located on the third floor of a prewar building registered as a national historic landmark. The apartment features high ceilings, high-quality furniture and artwork.
– This approximately 1,200-square-foot Tribeca 2-Bedroom Apartment (NY-347), located in a former industrial building. The spacious loft apartment has a huge living space and sleeps 4-6 guests.
Have you ever been to Stone Street? Share your comments with us!