Today's New York video tour will take you for a stroll along Broadway, one of the most famous avenues in New York City. Our first stop on Broadway will be the Financial District!
Broadway runs the length of Manhattan, from its southern tip, called Bowling Green to the northern tip of the island and continues in the Bronx, crossing most Manhattan's neighborhoods.
There are many things to see and many vacation rentals along such a famous stretch of road that runs south to north across a city like New York. In our video series "All Along Broadway" we will split this historic stretch of road into smaller sections, making it easier to take it all in. In today's video we explore the Financial District.
"All Along Broadway" – Video Tour of Broadway in the Financial District. (5:28)
History:
Broadway is the oldest street in New York City. Originally it was a trail used by the Native Americans of the area, and later it was used by Dutch settlers to travel to the northern forests to hunt.
Bowling Green & the Smithsonian National Museum of the American Indian: – 1 Bowling Green
Bowling Green is a small park at the beginning of Broadway, where the Alexander Hamilton U.S. Custom House sits. Built in 1907, this beautiful building currently houses the Smithsonian National Museum of the American Indian.
It is indeed worth a visit to this museum to learn everything about the culture, art and lifestyle of the original people of this region, the Native Americans!
Wall Street Bull:
Directly north of Bowling Green stands an important bronze sculpture of a charging bull, which represents the aggressive and unpredictable financial optimism and prosperity of the New York's Wall Street stock market.
The sculpture was created by Italian artist Arturo di Modica, who placed it in Lower Manhattan without the City's authorization and with the intention to leave it there for a short period of time.
It has now been on Broadway for over 10 years and has become a tourist attraction. People come from all over the world to take pictures with the bull and to touch him for financial "good luck".
Shopping and Restaurants on Broadway
Along Broadway, many stores of all kinds line the sidewalks. You can buy your favorite American jeans, fashion boots, sportswear and more. There are many street vendors with great deals, gift items for your family at home and good food to go to be found in the Financial District.
There is also a vast selection of restaurants and coffee shops including local favorites and international chains.
New York Habitat offers vacation rentals in the Financial District and all over Manhattan,  but also apartments in Brooklyn and accommodations in Queens. It is more economical to rent apartments than hotel rooms. In an apartment you will have a fully equipped kitchen, you can stay with your family instead of separate hotel rooms and you will feel right at home in the Big Apple!
Check out this one bedroom New York apartment located in the Financial District (NY-14403). It comes equipped with a flat screen plasma television with cable, wireless Internet and views of the New York Harbor and Statue of Liberty.
Looking for a studio apartment? This New York studio in the Financial District (NY-14470) is located on John Street, in a doorman building that has two rooftop terraces with views of the Brooklyn Bridge.
Trinity Church: – 79 Broadway
Trinity Church sits right across from Wall Street. It was built for the second time in 1846 in Neo-Gothic Revival style. Next to the church there is a burial ground that includes some famous New Yorkers such as: Robert Fulton, the inventor of the steamboat, and Alexander Hamilton, the 1st Secretary of Treasury.
St. Paul's Chapel: – 209 Broadway
Unlike Trinity Church, the Episcopalian church, St. Paul's Chapel, was built once and survived many disasters, like a great fire in 1835 and the September 11 attacks in 2001. The back of the church faces Broadway and the entrance faces Ground Zero.
In 2001 relief efforts were stationed here to help the victims of 9-11. Since then, St. Paul's Chapel has become the memorial center of 9-11.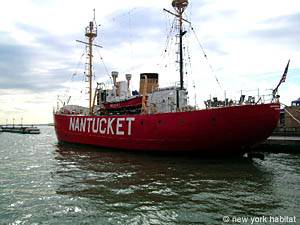 A boat in New York Harbour

Woolworth Building: – 233 Broadway
The Woolworth Building was the world's tallest building between 1913 and 1930. Frank Woolworth paid $13,500,000 in cash to architect Cass Gilbert to construct his own private office building in its Neo-Gothic style.
In the lobby you can view mosaic ceilings and paintings of caricatures, which include those of Mr. Woolworth paying coins to architect Cass to construct the building. From here you can also admire New York City Hall.
City Hall: – 260 Broadway
City Hall houses government offices, such as the City Council and the Mayor's office. It took 9 years, between 1803 and 1812, to build City Hall, in the French Renaissance architectural style and it is the oldest City Hall in the U.S.
It sits at the intersection of Broadway, Park Row and Chambers Street in the area of Manhattan called Civic Center because of its many government offices. Though not on Broadway, from here it is possible to admire the glorious architecture of the Municipal Building, which is the largest governmental office in the world.
The Financial District, which was the birthplace of New York City, has quite possibly the most attractions in the entire city. But the Big Apple, with Broadway right in the heart of the action, has a lot of surprises in store for you. Be sure to stay tuned on the NY Habitat Blog if you don't want to miss them! Some will be revealed to you in our next "All along Broadway" Video Tour, with a stop at Union Square. And if you know of any fun pit stops along Broadway, do not hesitate to leave a comment in the comment section below.