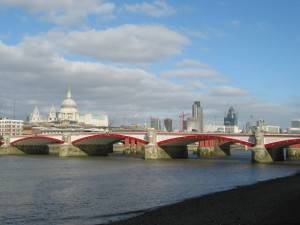 Blackfriars Bridge on The Thames, London
For centuries, London's waterways have been the lifeblood of the city, the center of almost all activity—and these days it's no different. The Thames River is teeming with life, and we don't just mean the aquatic kind! Stay in a New York Habitat vacation accommodation in London near the water and dive into the action yourself.
On London's South Bank, there's no end of choices for visitors: river tours, the National Theatre, The Hayward Gallery, the British Film Institute, the Globe Theatre, Tate Modern, the London Eye, Movieum film museum and Borough Market are situated along the river, all within walking distance of one another, either in Lambeth or in Southwark. Even without stopping at all the attractions, this route alone makes for an amazing afternoon's stroll or a romantic evening walk.
Further up the river lie London's Docklands, with narrow, picturesque, winding streets and ancient pubs. Spend some time in Limehouse (on the Docklands Light Rail) discovering Dickens' old watering hole, The Grapes, across from the remains of Joseph Conrad's favorite pub, The House They Left Behind (ironically, the public house is gone and only the sign has been left behind). For a modern take on traditional English food, dine at Gordon Ramsay's pub, The Narrows, with its gorgeous river views, or head to the nearby Wapping Project, a stunning restaurant/bar/art space set in an old hydraulic power station.
Of course, the Thames isn't the only celebrated waterway in London. Charming Regent's Canal is also central to the city, though its colorful houseboats and abundant bank-side greenery make visitors feel transported to another time and place. One way to actually be transported is to take an afternoon cruise on the canal aboard an authentic houseboat, which takes passengers from Camden Lock past Regent's Park, the London Zoo and the aptly named Little Venice.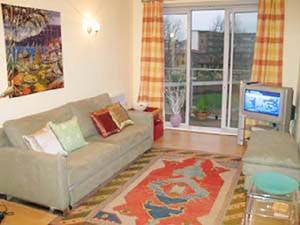 London Accommodation: 2-bedroom in Tower Hamlets LN-375 photo
A houseboat may be a once-in-a-lifetime way to see the city, but for spacious, comfortable accommodations on dry land, check out these riverside
apartment rentals in London
available from New York Habitat:
To get the most from your visit to London, be sure to make a trip to the bank—the banks of the water, that is—and for a great place to stay without breaking the bank, book a New York Habitat vacation rental.
Let us know your favorite waterside spot in London with a comment below.