Welcome to part 2 of our video tour series dedicated to the Flatiron District, here in New York City.
The Flatiron District is approximately bordered by 20th Street to the south, Sixth Avenue to the west, 26th Street to the north, and Lexington Avenue to the east.
New York City Video Tour: Flatiron District – Part 2 (5:21)
In our first episode dedicated to the Flatiron District, we shared some history of the area, took you to Madison Square Park and the Flatiron building itself. You can find Part 1 of this series here on the Blog or on our YouTube Channel.
If you have interest in history and museums, you are in luck. The Flatiron District is home to many museums and historical sites such as:
•The American Jewish History Museum at 15 West 16th Street
•The Robert R. Livingston's Masonic Museum and Library at 71 West 23rd Street
•Museum of Sex at 233 Fifth Avenue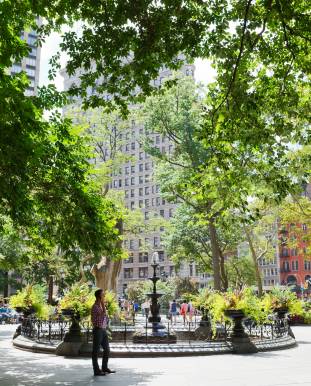 Madison Square Park

Shopping
If you're looking for things to check out during the day, there's plenty to do and see, and shopping is definitely one of the most popular activities. So, enjoy the shopping because you'll find fantastic shopping locations lining many of the streets of the Flatiron District!
Dining
The food culture in the Flatiron District is also very diverse. You can get tapas at a bar, enjoy fine dining in a dimly lit restaurant, or experience the Original  famous Shake Shack in Madison Square Park.
For truly unique dining experiences, here are a couple hotspots:
Eataly – 200 Fifth Ave
This Italian mega-market, Eataly, is found on 5th Avenue. Inside there are separate restaurants devoted to meat, fish, vegetables, pasta and pizza, cheese and wine.
Hill Country – 1123 Broadway
Perhaps you are in the mood for something a little more casual? Head over to Hill Country, an epic BBQ restaurant, bar and marketplace that also serves as a live music venue for American Roots Music. Concerts can be watched downstairs in the Boot Bar 5 days a week and are often free and open to the public.
Other restaurants that should be on your list are:
•Craftbar at 900 Broadway
•Blue Smoke at 116 East 27th Street
•Boqueria at 53 West 19th Street
Flatiron Apartments
Of course if you are looking to save money, it is always a good idea to rent an apartment from New York Habitat. Our apartments are more spacious than hotels and offer the luxury of a kitchen where guests can cook meals to save a few bucks compared to dining out.
Checkout this fully furnished 1-bedroom apartment (NY-14764) is located just a few blocks Madison Square Park. This apartment is actually a 2-level loft. It features hardwood floors and high ceilings and also includes a private balcony. The apartment has air conditioning for those hot summer days and, of course, a fully equipped kitchen which includes a dishwasher!
Or take a look at this fully furnished studio apartment located in the Flatiron area(NY-15091). This accommodation also has hardwood flooring and is furnished with contemporary décor, including a decorative fireplace. The kitchen is fully equipped with all the necessities for cooking, including a microwave, toaster and coffee maker. This building also has the added bonus of laundry facilities so guests do not have to travel far to do laundry.
Nightlife
The Flatiron District offers some very unique nightlife experiences as well. Here are a few that may pique your interest:
SPiN NYC – 48 East 23rd Street
If you've got ping-pong skills, you'll definitely want to spend some time at SPIN NYC on 23rd Street. This basement bar features over 15 signature cocktails, a creative food bar and lounge, and plenty of ping pong tables. Even if you're not playing, it's a great place to relax, have a drink, and listen to music.
Other fun nightlife stops are:
•The Flatiron Lounge inside the Flatiron Building
•Slate Restaurant Bar and Billiards at 54 West 21st Street
•"230 Fifth", a roof top bar located at, you guessed it, 230 5th Avenue
If you're looking for a show make your way over to the historic Gramercy Theater.
Gramercy Theater – 127 East 23rd Street
The Gramercy Theater opened in 1937 as a movie theater. Today it is an intimate concert venue for many various artists, with the likes of some visiting groups such as the Counting Crows, Jay-Z and many more. It's a great place to catch a show.
Well, that's a wrap of our second episode of our video tour of the Flatiron District. Leave us a comment below and share some of your favorite nightlife spots in the area.
Thanks for watching our tour of the Flatiron District and we hope to see you soon in New York City!