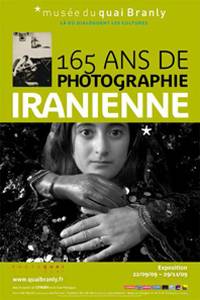 musée du quai Branly: Iranian Photography
Thanks to a wealth of world-class museums and galleries, Paris is one of the premier cities for cultural learning through the arts. To the credit of curators city-wide, the art offerings not only cross genres but go far beyond the work created by artists within l'Hexagone. Visitors to Paris have the opportunity to engage with artists and artwork from all corners of the globe. The collections found in this city go far beyond the European masterpieces (although these are not in short supply here). This fall, the musée du quai Branly, located in the 7th arrondissement, will present an exhibition entiled 165 Years of Iranian Photography, continuing the Parisian tradtion of importing great art as a means to greater understanding and appreciation.
Iran is a country that is often spoken about and debated in the West. But for all of the political discussion that surrounds the Middle-Eastern  nation, little is mentioned about the country's proud artistic tradition beyond a word or two on Persian rug making. This most recent exhibition sheds light on both the artistic and political evolution of modern Iran.
The photography in this exhibition is unique in that it documents the turmoil and changes in the country while also standing alone on its artistic merits. Photography in Iran began during the reign of the Shah in the Qajar era with portraits of the traditional aristocracy, and today is asserting itself with the work of photojournalists. In the wake of the recent attention paid to the work, and repression of, these street photographers and journalists the exhibition provides an enlightening look at the history and work of artists within the Islamic Republic.
Fall is a great time to visit Paris, and not just for the hundreds of exhibitions going on throughout the city. New York Habitat still has plenty of accommodations available in the 7th arrondissement, close to the museum, and throughout Paris. Here are a few to get your search started: