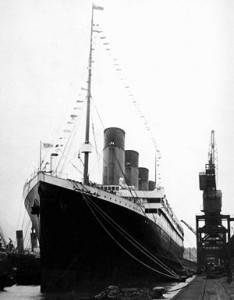 Titanic
The Titanic was en route to New York when it met its tragic fate almost a century ago. Today, the "Unsinkable" ship has made it to its final port of call. The Discovery Times Square Exposition, one of New York's newest museum spaces, is now featuring the fascinating "Titanic: The Artifact Exhibition".
Located in Midtown West, the sprawling exhibit recreates the entire Titanic experience, from the ship's construction to life onboard, and ultimately to the iceberg that sunk it. More than 350 artifacts from the shipwreck – 40 of them never before seen — are on display, including jewelry, china, clothing and personal letters. Visitors can walk through reconstructed first- and third-class cabins as well as see a replica of the Grand Staircase.
The exhibit succeeds in making the experience interactive and engaging. Visitors are given a "boarding pass" upon entry that includes factual information about one of the Titanic's 2,228 passengers. At the end, it is revealed whether "your" passenger made it onto one of the lifeboats.
The Discovery Times Square Exposition is a whopping 60,000 square-feet, so winding your way through the exhibit can take upwards of two hours. And of course, there is a gift shop to hit afterwards. For more information or to purchase tickets, visit the Discovery Times Square's website.
Want to stay near the hustle and bustle of Times Square? New York Habitat has dozens of conveniently located apartments in Midtown West within walking distance of the Titanic exhibit, including:
– This affordable Studio Vacation Rental in Midtown West – Chelsea – New York (NY-14101), located in the heart of the Theater District and only blocks from Times Square. The apartment has two beds. A great deal!
– This luxe 2-Bedroom Chelsea Accommodation in Midtown West (NY-12496), featuring a gym, rooftop access and unlimited Starbucks' coffee. The apartment is in a high-rise building with full-time doorman and a 24-hour attended front desk.
Have you ever been to the "Titanic: The Artifact Exhibition"? Are you a Titanic buff? Please share your comments with us!