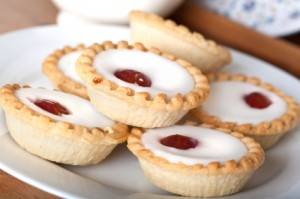 Enjoy some delicious pies at M. Manze's in London!
We here at New York Habitat are very keen on cultural traditions—and
what can be more traditional than Cockney cuisine in England
? Haven't tried it? Haven't even heard of it? Well, it's time to get yourself to
London
and have a go. Stay in a local New York Habitat rental
flat in London
then head out to the pie and mash shop and order some jellied eels for us.
There are a ton of historical sights in London—but there is only one oldest pie and mash shop still in business: M. Manze's. The original, at 87 Tower Bridge Road, Southwark, opened in 1902, survived the Second World War, and is still family-owned. It is a Blue Plaque site as voted by the people of London. Also, there a good chance you may fall in love with the lovely flats in Southwark.
The menu today is much the same as it has always been and is one of the best values in the city. The food choices, though limited, are handmade daily on the premises following century-old recipes. Take your pick of pies: minced beef or vegetarian varieties packed into pastry and baked fresh in traditional stone ovens. You have a choice of gravy or liquor (not an alcohol at all, but a type of parsley sauce; apparently, M. Manze's has a special, secret ingredient that makes their liquor unmatched in all of London). The mash, from high-quality potatoes, is made as you order.
Oh, yes…and then there are the eels. Choose from jellied eels—a Cockney favorite—or the succulent stewed variety. Wash it all down with hot or cold sarsaparilla or, of course, a cup of tea.
Best of all, after a filling lunch for less than five pounds, you're a short walk from the Thames River, Tower Bridge, Borough Market, the Tower of London, the City and your own New York Habitat vacation accommodation, such as: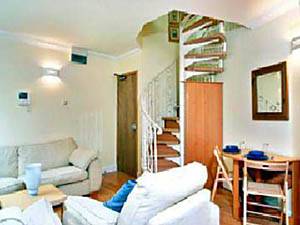 London Accommodation: 1-bedroom in City Islington (LN-845)
A gorgeous, spacious and contemporary 1-bedroom rental flat in City-Islington (LN-837) with a queen sized bed, laundry/dryer, housecleaning services, a health club guest membership and a day membership at the private London Capital Club.
A charming 1-bedroom vacation accommodation in City-Islington (LN-834) on the third floor of a period walk-up. This flat, located between two quiet pedestrian alleyways and opposite a Wren church, comes with a double bed, hardwood floors, laundry and central heating. A scene from a Harry Potter film was shot at this location.
A lovely split-level 1-bedroom rental in City-Islington (LN-845) on Trinity Square. With accommodations to sleep up to five (a queen bed, double mattress, and single sofa bed), this flat also features an interior spiral staircase, chrome kitchen appliances and free calls to the U.S., Canada, Australia, New Zealand and most of Europe.
Enjoy the many traditions of London—and start your own tradition with a stay in a local New York Habitat vacation flat.
Leave a comment below to let us know if you have ever enjoyed Cockney cuisine in London.