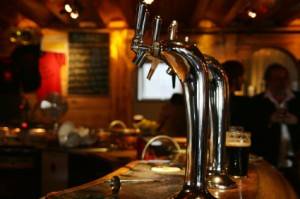 Enjoy a beer at the Ship Tavern in London
New York Habitat's final pick for a must-visit London pub is The Ship Tavern in Holborn, Bloomsbury. This pub is tucked away on the corner of a narrow, cobblestone street, hidden from the throngs of tourists museum-hopping in the area. Like many New York Habitat vacation accommodations, it has the perfect location—so stop in for a quick pint or stay awhile before heading home to your convenient rental flat.
The Ship Tavern has been in business since 1549. As part of its illustrious past—in particular, during the heinous reign of Henry VIII—The Ship served as a hideaway for local Catholics, who would sneak in for a mass given from behind the bar by outlawed priests. Even today, some of the original hidden passages and panels still exist.
In addition to several award-winning ales, the family-run Ship Tavern boasts a menu filled with traditional English favorites, such as sausage and mash with gravy, winter broth with chunky homemade bread, cottage pie, winter vegetable casserole and a lovely sticky toffee pudding. On a chilly day, you can enjoy these selections in the pub's gorgeous interior, which features a real fireplace, stripped oak floors and cozy, red velvet booths. And if you really like the neighborhood, New York Habitat has plenty of nice and cozy accommodations in Bloomsbury.
For those willing to venture back outside, The Ship Tavern is within easy walking distance of the British Museum, the bookstores of Bloomsbury, the incredible and eclectic Sir John Soane's Museum (which offers slightly creepy candlelight tours on certain evenings) and the Russian cultural Pushkin House. Best of all, it's a few minutes from the nearest Tube station, so you'll be back in your comfortable New York Habitat rental flat before you even realize that it's too cold outside to feel your fingers.
A few suggestions for your stay are:
A spacious, spotless 2-bedroom vacation rental in City-Islington (LN-247) on the second floor of a newly renovated elevator building. This flat comes with a very large, open plan living space, modern, minimalist décor, two double beds (plus a double mattress that can be put in the living area to sleep a total of six), laundry/dryer, balcony and tons of natural light.
A 2-bedroom rental accommodation in City (LN-726) lined with wooden floors and offering all the amenities to make your stay convenient. There are two double beds accommodating up to a total of four individuals.
A charming, well-equipped studio in City-Islington (LN-720), located in an elevator building just a few minutes' walk from St. Paul's Cathedral. This flat comes complete with a double bed, laundry/dryer and complimentary toiletries and welcome pack.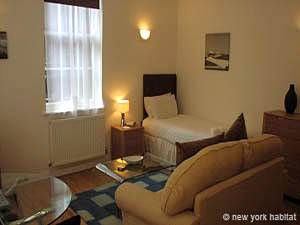 London Vacation Rental in City - Islignton (LN-720)
Make the most of your visit to London this winter by stopping in some local, traditional pubs and staying in an authentic New York Habitat rental flat in London.
Let us know which pub is too good to pass up with a comment below.