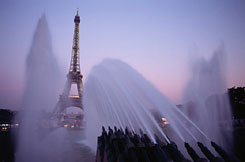 Paris holds a remarkable place in English-language literature. As any Hemingway fan will tell you, Paris has been a Moveable Feast for young and old writers, from Americans Getrude Stein and Scott Fitzgerald to Irishmen Samuel Becket and James Joyce. Some of the greatest contemporary novels and plays have been written by Anglophones living in small apartment flats, frequenting Paris' cafes and parks for inspiration.
Quite often for writers (pardon the cliché) the best inspiration is found in a bottle. Bars and pubs dating back to Hemingway's Lost Generation still serve up pints in Paris and are haunted by the stories and spirits of 'inspired' wordsmiths. Today many of the watering holes have remained remarkably similar to what they were before the second world war. The right bank, home to many New York Habitat accommodations in Paris, is the site of several bars with hefty literary traditions.
To begin New York Habitat's literary pub crawl visitors should start on the Right Bank. Exit the Metro at the Opera station and marvel at the gilded batiment on the way to your first pint or cocktail.
The first stop on our Right Bank crawl is at the Café de la Paix, in the 9th arrondissement. The Paix is a classy old-world eatery just around the corner from the Opera building. Author Henry James dined here some 100 years ago when the cheapest glass of wine cost heaps less than today's €8 euros. If your on a budget have a glass of wine, enjoy the chateau-like surroundings and get out of there, if your not stay and have dinner at one of Paris' finest restaurants.
Next stop on our crawl is only a block and a half away at Harry's New York Bar, in the 2nd arrondissement. Harry's New York Bar has been a hangout for generations of literary superstars. The bar's "Society of International Barflies" counts four Nobel Prize winners among its official members; Hemingway, Sinclair Lewis, Faulkner and Steinbeck. The list of writers said to have frequented Harry's is staggering–including Gertrude Stein, Marguerite Duras, Sylvia Beach, Edith Wharton and Simone de Beauvoir. Harry's invented the Bloody Mary, possibly with easing a Hemingway hangover in mind. The bar was a favorite of GIs during World War II and remains a citadel for Americans in Paris who gather to watch sporting events or celebrate results on US election nights. The bar even holds a straw vote among its American patrons shortly before American elections (Bush won in 2000, lost to Kerry in 2004).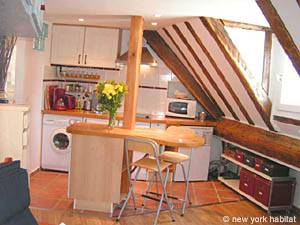 Paris Accommodation, Studio in Opera - Le Louvre (PA-2705)

The final stop on our Right Bank literary pub crawl is the Ritz Hotel bar, named after old papa Hemingway himself and located in the historic 1st arrondissement. According to legend Hemingway and a small contigent of American GIs liberated the bar in 1944. Today the rather small bar has been restored to its old look and feel. Visitors receive some of the world's most magnificent cocktails and pay the price for them, the drinks cost around (gulp) €25.
Taxis can be sparse at night so it's probably better to rent a New York Habitat apartment in Paris if you plan to drink like James Joyce. Steps from our pub crawl is this colorful studio vacation accommodation in Opera – Le Louvre (PA-2705). Visitors also won't have a problem stumbling into this 2-bedroom accommodation in Opera – Le Louvre (PA-2719). Just remember to be kind to your neighbors when your return and keep the noise down.
While the Lost Generation left Paris generations ago a new group of writers, including funny-man David Sedaris and the writer or this article, continue to call the city, and her pubs, home.
We continue our literary pub crawl on the Left Bank next week…