In this video we continue with our series on Harlem, New York.
Harlem, a historic neighborhood in northern Manhattan, stretches from the East River west to the Hudson River between 155th Street and 110th Street, at the northern boundary of Central Park. Morningside Heights is a small area of a greater Harlem.
Click above to watch this video: Video Tour of Morningside Heights, New York. (5:47)
Harlem is so large that it contains a number of smaller areas and districts, such as Central and West Harlem, Morningside Heights, East Harlem, Hamilton Heights.  In order to make it simpler, today I will be showing you Morningside Heights, which stretches from 110th Street north to 125th Street and from Morningside Avenue all the way west to the Hudson River.
History:
Morningside Heights is known for its many colleges, like Columbia University, the Manhattan School of Music, Barnard College and for its beautiful churches, including  the Cathedral of St. John the Divine and Riverside Church, to name a few.
Cathedral of Saint John the Divine: 113th Street & Amsterdam Avenue
The Cathedral of Saint John the Divine, designed in 1888, was built to allow all different people and religions around the world to gather to pray, regardless of their country of origin. In fact, it became the house of prayers of  New York's religious melting pot.
There is too much to say and learn about this cathedral and it's impossible to cover it all in this video, but know that this church is a major center for musical performances in New York.  In fact, you can check their calendar for future events, concerts, classes and various programs offered.
Peace Fountain: 111th Street & Amsterdam Avenue
The Peace Fountain was sculpted in 1985 near the Cathedral of St. John the Divine. Even though it's called a fountain, there is no water at the moment.  The fountain shows the triumph of good over evil.  Good is represented by Archangel Michael and evil by Satan, of course.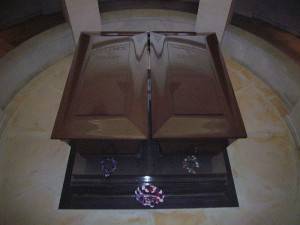 Grant's Tomb
Tom's Restaurant:
West 112th Street & Broadway
Tom's Restaurant in Morningside Heights is famous for two reasons:  1) it is the title of a song by Suzanne Vega, called Tom's Diner and 2) It appeared in the TV show Seinfeld.  Supposedly Jerry and his friends lived around here and they came here to eat Tom's food because it was good and cheap.  This diner has been owned and operated for nearly 50 years by a Greek family named the Minasizoulis.  It is open 24 hours a day and it's a favorite hotspot for the Columbia University students and staff.
Columbia University:
Columbia University is a private and prestigious university with a large campus that occupies 299 acres of land, or about 1.5 square kilometers and has approximately 25,000 students and 3,500 professors.  It was founded in 1754 with the name of King's College by King George II of England. It lost its name after the American Revolution and was renamed Columbia University in 1912.
In front of its gates you can still see the emblems of the English royalty, which remind us that this is the oldest university in New York and the fifth oldest in the U.S.A.
The university owns almost 8,000 apartments in this area for its faculty and students.
Even though Columbia University owns many apartments in Morningside Heights, don't forget that New York Habitat offers many beautiful apartments in Harlem as well. If you plan to attend Columbia University for a short of long period of time, or if you just wish to stay in this historic area of the neighborhood, be sure to consider one of the many apartments offered by New York Habitat.  You can either book a vacation rental or a longer term apartment for your next visit.  New York Habitat offers rooms in Harlem apartment shares as well.  If you are a student on a budget, you should definitely consider a room in one of the many historic buildings in Morningside Heights.
This three bedroom apartment in Morningside heights has two rooms for rent (NY-1627) that include everything a student needs.  The apartment offers wifi internet and each room is cable and phone-ready.
This two bedroom accommodation in Harlem (NY-11796) sleeps up to six, is equipped with a plasma TV, cable, and high speed internet.
Morningside Park:
Morningside Park is one of the four main historic parks in Harlem.  It is located between 110th Street and 123rd Street and between Manhattan and Morningside Avenues.  It was designed by Frederick Law Olmsted and Calvert Vaux, the same architects who designed Central Park. Along the western side of the park is a high rock cliff which leads up to Morningside Heights. One of the reasons why the park was built was so that city planners could avoid creating streets over the steep cliff.
This park is a great place to bike, to relax or read a book, especially appreciated by the many students in this area.  It has several playgrounds and is surrounded by beautiful historic houses and magnificent churches like the gothic Riverside Church and the country's largest cathedral, St. John the Divine.
General Grant National Memorial aka Grant's Tomb: West 122nd Street & Riverside Park
It is unusual for an American President to be buried in the middle of a city rather than in a National Cemetery.  President Ulysses Grant, the 18th president of the U.S.A. chose to be buried in New York City because he was grateful to New Yorkers for their support during his last years and so that Mrs. Grant could visit his resting place frequently.  When Mrs. Grant died, she was also buried here next to President Grant.
Grant's Tomb is the second largest mausoleum in the Western Hemisphere.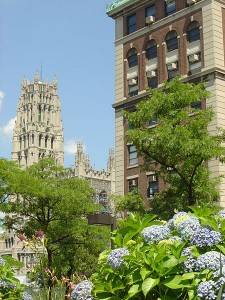 Riverside Church

Riverside Church: 490 Riverside Drive & 120th Street
Riverside Church was completed in 1930 and is famous for being the tallest church in the U.S., for its glorious gothic architecture and for its carillon, which is the largest in the world.
In the past 75 years, Riverside Church has become well known for the political and religious debates occurring inside the premises and for promoting progressive causes in the world.  Many prominent people have traveled to New York to make speeches in Riverside Church.  It was here that Martin Luther King, Jr. voiced his opposition to the Vietnam War; Nelson Mandela spoke here on his first visit to the U.S. after being released from prison in South Africa; Fidel Castro spoke here in 1999 during one of his rare visits to the U.S. and U.N. Secretary General, Kofi Anna gave a speech here after the September 11 attacks on the World Trade Center.
Riverside Church was proclaimed a landmark in 2000.
I hope you have enjoyed our little video tour of Morningside Heights! It's one of the many fascinating districts of Harlem.  If you know of any interesting stops in the Morningside Heights area, be sure to let us know in the comments section below.
Also, don't forget to check out our last video about Central and West Harlem.
And if you are planning a trip to New York, be sure to check out Harlem.  It's a fabulous neighborhood just a short subway ride away from midtown and downtown Manhattan.