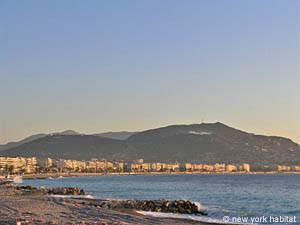 Nice, French Riviera, France beaches Photo
Eager to get rid of that lingering winter blues with flair? Then Nice, France and its centuries-old but going-stronger-than-ever carnival are just what the doctor would order. The world-famous event's parades and festivities quicken the pulse of the city for the last two weeks of February and end with a spectacular Battle of Flowers. Not in the mood for such rambunctious fun? Not a problem. Nice has plenty of attractions for you. Indeed, France's fifth largest city still offers myriads of irresistible options at any time of the year and will not let you leave without uplifted spirits… and a suntan.
One of the most ancient human settlements in the world, ideally located where the majestic Alps meet the scintillating Mediterranean sea, boasting a year-round mild climate and luxuriant vegetation, Nice is both a welcoming resort for the visitors anxious to just relax in its stunning setting and a vibrant hub for the ones in search of intellectual and physical stimulation. Either task can easily be accomplished by renting an apartment right in Nice.
If you want to take full advantage of the sun-drenched beach where you can spot die-hard Niçois dipping into the intensely blue sea every single day of the year, then an apartment on the much celebrated "Promenade des Anglais" is a must. Consider this 1 Bedroom Vacation Rental  in Nice, French Riviera – South France (PR-799)
If you prefer the excitement of city life, a vacation rental right downtown is waiting for you in this 2 Bedroom Vacation Rental in Nice,  French Riviera – South France (PR-1104)
Just in case the natural beauty of the Bay of Angels is not enough, you can always indulge in Nice's world-class art institutions. Beside the obligatory Chagall Museum and Matisse Museum, the Museum of Modern Art and Contemporary Art offers many examples of the "Ecole de Nice", the artistic movement that was started by the local New Realists in the 1970s. Since the MAMAC is scheduled to reopen early February after the rehabilitation of its facades is completed, you'll soon be able to check out its exterior's spiffy new look as well!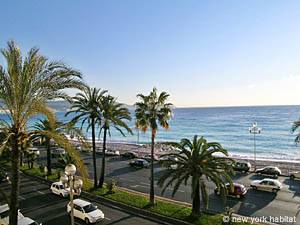 Nice, French Riviera, France Photo
And it only gets better when you go for a leisurely walk in "
Vieux Nice", the remarkably well-preserved Old Town
, undoubtedly one of the most popular
attraction on the entire French Riviera
. There, locals and tourists indiscriminately rub shoulders with one another while enjoying a non-stop festival of sights, sounds and smells in which the city's many foreign influences across the ages are on constant display. Baroque churches, exotic spices, colorful fabrics and unusual craftworks all compete for space in the narrow pedestrian streets.
Around the corner, the "Marché aux Fleurs", Nice's famed flower and produce market, on Cours Saleya awaits you every morning, except for Monday when it is replaced by an equally attractive flea market. The one hundred vendors never fail to enchant even the most blasé visitor and provide enough of a choice to make everybody happy. Feel free to grab some local fresh tomatoes, anchovies, herbs and olive oil to bring back to your vacation rental in Nice for an impromptu, delicious snack.
Share your favorite Nice, France carnival experience and winter events with us in the comments below?