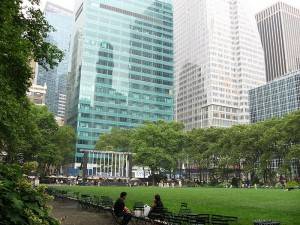 Bryant Park
Our previous New York Literary Haunt was The Stand Bookstore. Now moving on to the poetic Bryant Park, which  green space plays a role as a verdant oasis in the middle of Midtown and suggests visitors spend some time in the park enjoying open-air films during their annual summer film festival.
Bryant Park is truly many things; lunch spot for thousands of workers on any given weekday, host of one of the world's greatest fashion shows and an office for the students and professionals sitting at the green tables typing away at their laptops. But perhaps more than anything, Bryant Park is one of New York's great literary haunts, with a history both glorious and checkered and a world-class library as its next-door neighbor. New York Habitat has been placing visitors in Midtown Manhattan accommodations for years, and 2010 will be no different.
Bryant Park takes its names from one of New York 's great writers, William Cullen Bryant, most well known for his poem Thanatopsis and his work as editor of the venerable New York Evening Post. A large memorial and statue of the literary great sits on the park's upper terrace, overlooking the Midtown green space. Also on the grounds is a bronze bust of the German writer Johann Wolfgang von Goethe, a contemporary of the American Bryant. To the south of the lawn is a bronze statue of the American writer Gertrude Stein, known by many as the matriarch of the Lost Generation and a very important figure in 20th century literature. Bryant Park does more than just celebrate deceased literary figures, the park hosts readings by poets and novelist during the warm months of the year and even holds creative-writing workshops for members of the public interested in writing their own children's books or starting a novel. Finally, the parks location directly adjacent with the New York Public Library makes it one of New York's greatest sites for literary buffs. Bibliophiles can check a book out of the library, grab a seat on the park's lawn and disappear into the pages of a borrowed literary work, all in the middle of Midtown Manhattan.
New York Habitat has a countless number of apartments available in Manhattan, below are a few to get your search off the ground:
- This beautiful 1-bedroom vacation rental in Midtown East (NY-12330) is an ideal choice for couples. The accommodation features hardwood floors, a grand piano and an open kitchen.
- This 1-bedroom rental accommodation in Midtown West-Chelsea (NY-11338) features a special Winter New York Travel Deal Discount on rentals made before March 26th, 2010. The apartment is spacious and bathed in sunlight.
- This modern 1-bedroom furnished vacation rental in Midtown West-Chelsea (NY-12442) features hardwood floors, a flat screen television and modern appliances.
Now on to our next interesting Literary Haunt known as the Village Pubs.
Share your favorite spots in Bryant Park below in the comments section.
Related apartment rental posts from New York Habitat: