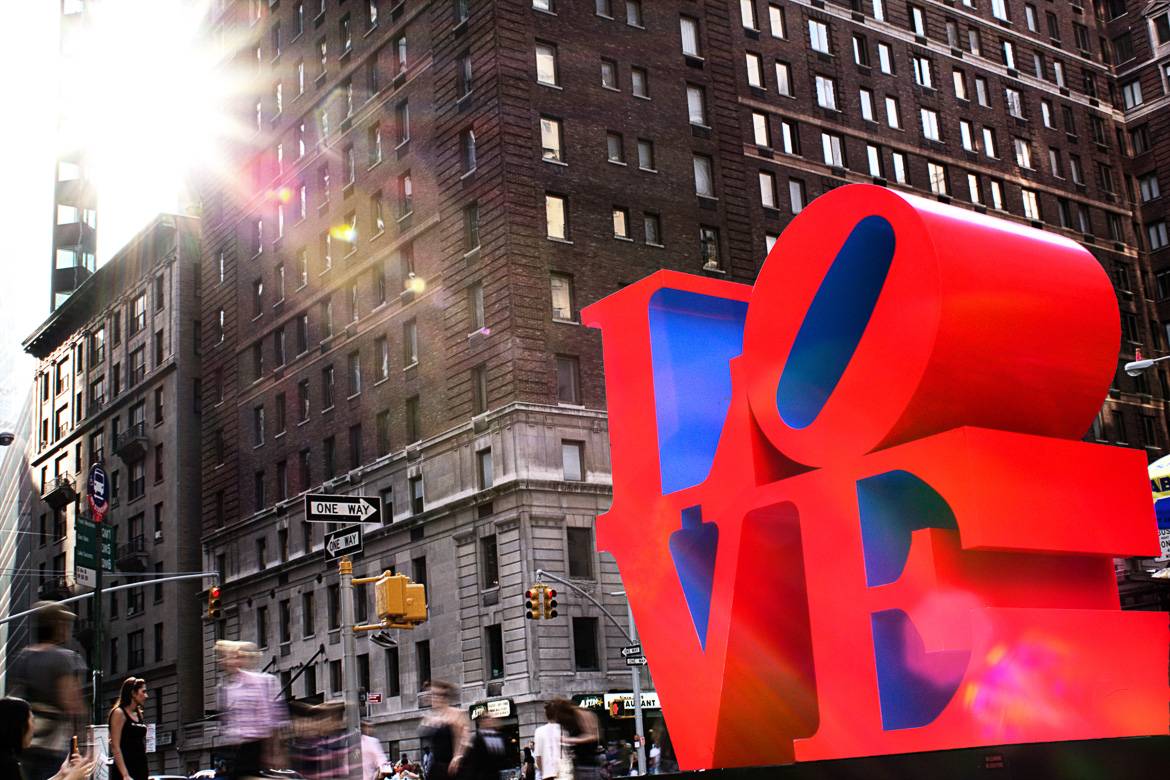 Love is in the air in NYC on Valentine's Day (Photo credit: Kumar Appaiah)
We all know Valentine's Day as a day to turn up the romance, express your love and impress your significant other with sweet gestures to show just how much they mean to you, whether it's chocolates, roses, or a romantic dinner. However, you can always score extra points for coming up with something truly impressive and different, so why not plan a trip to fabulous New York City for your sweetheart? Since we've been in business renting furnished apartments in NYC for over 20 years, we happen to know some sweet spots to take your sweetie on Valentine's Day. Plus, we have plenty of romantic apartments you can rent in NYC to warm things up on a cold February night! Check out these suggestions for a truly unique February 14th.
Love in Times Square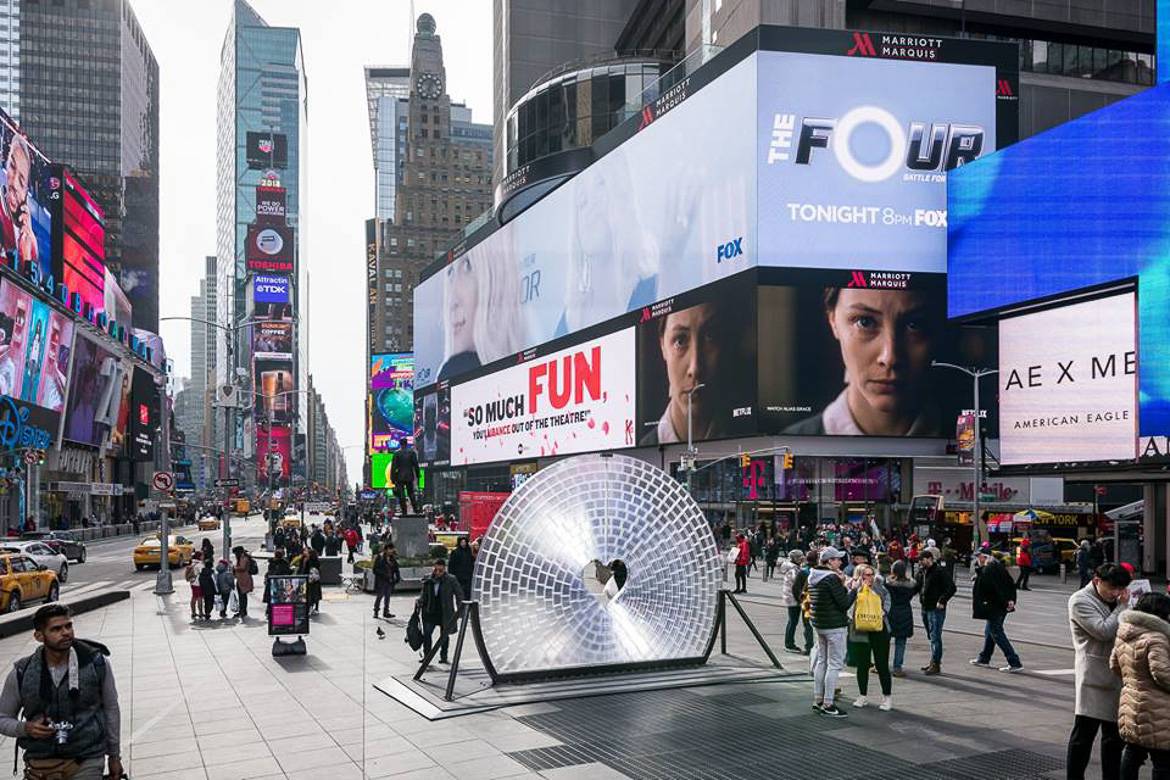 Get down on one knee or renew your vows with couples in Times Square (Photo credit: Ian Douglas for Times Square Arts)
While Times Square may be most famous for its much-anticipated New Year's Eve ball drop, there are many other yearly events that draw crowds to this iconic location beyond the daily frenzy of tourists. On Valentine's Day, couples come together to get married or renew their vows in this epicenter of NYC. Others use the special day to finally get down on one knee and pop the question to their significant other. To add to the day of love, Times Square Arts commissions a sculpture to represent the holiday. This year, Window to the Heart (pictured above) was the winning design. Be sure to stop by during the month of February to snap a picture with your loved one!
A Night at iPic Theater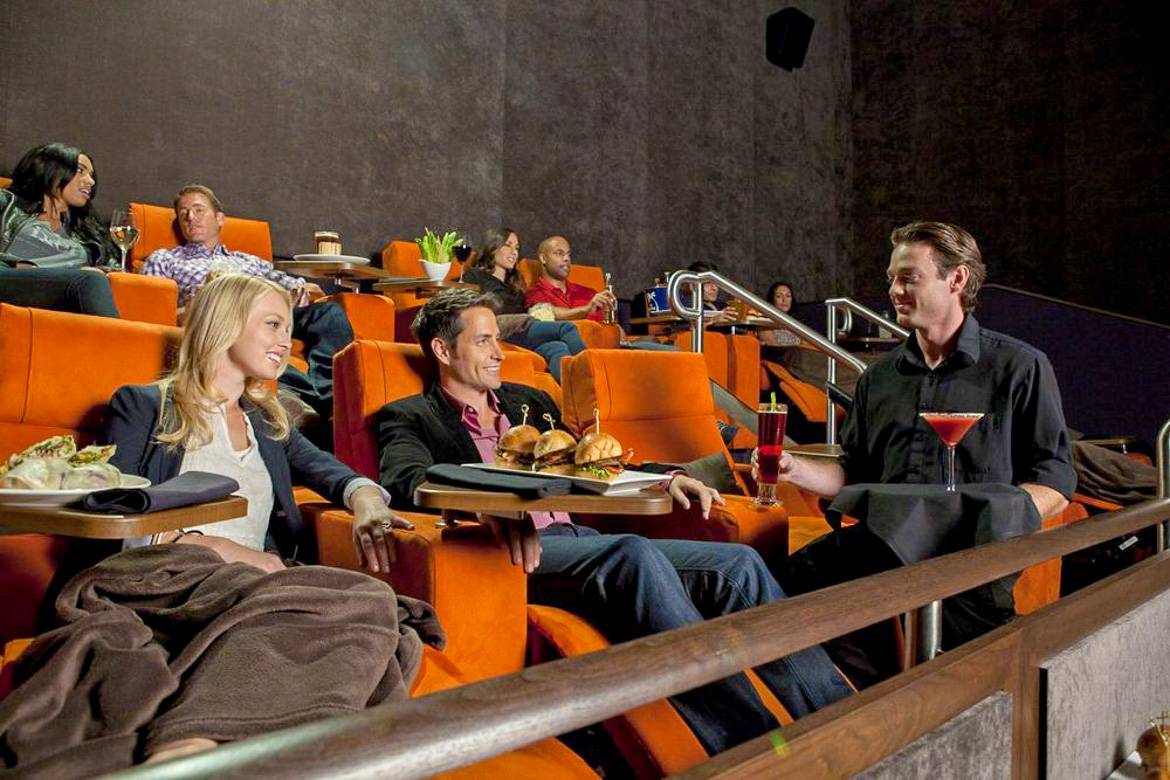 iPic Theater is an upgrade from your usual movie theater snacks (Photo credit: iPic Theatre https://www.ipictheaters.com/#/ )
While dinner and a movie may be the oldest date cliché in the book, it doesn't mean that it's not a great way to spend the holiday. However, we do recommend that you skip your average theater, get creative, and head to iPic Theater at Fulton Market instead. The dine-in movie theater offers great food, unforgettable cocktails and some great cinema to really make the night one to remember. Premium seats are fitted with personal tables that allow you to enjoy your meal in the lap of luxury. Premium Plus-level movie tickets even come with a personal blanket and pillow! Of course, if you'd rather it be just the two of you, one of the perks of renting an apartment for your trip to NYC is the luxury of having the choice to stay in and have your own impromptu movie night in the comfort of your furnished apartment. You can find the perfect love nest for two just for a weekend or for an extended stay on our website!
New York City Valentine's Day Dinner Cruise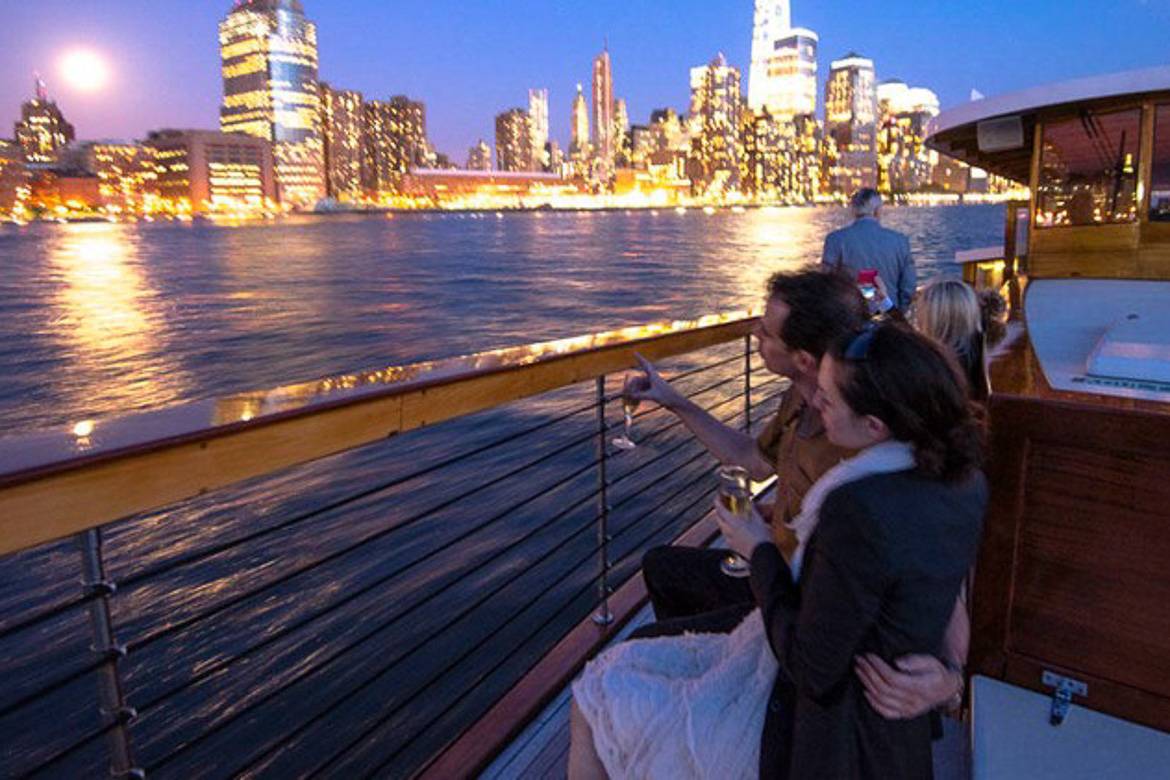 Champagne and NYC skyline views make for an unforgettable Valentine's Day (Photo credit: Classic Harbor Line )
If you're looking to really impress that special person in your life, then blow them away with this Valentine's Day champagne cruise on a luxury yacht from Classic Harbor Line. The yacht will take you around some of New York's most memorable landmarks including views of the Empire State Building, the Statue of Liberty, the Brooklyn Bridge, and the city's skyline. Aside from the magnificent views, you'll get to take it all in while sipping some champagne. Speaking of champagne, if you dream of taking your loved one to Champagne, we've got romantic apartments in Paris as well and plenty of suggestions to make the day memorable!
Chocolate-making classes at Tache Artisan Chocolate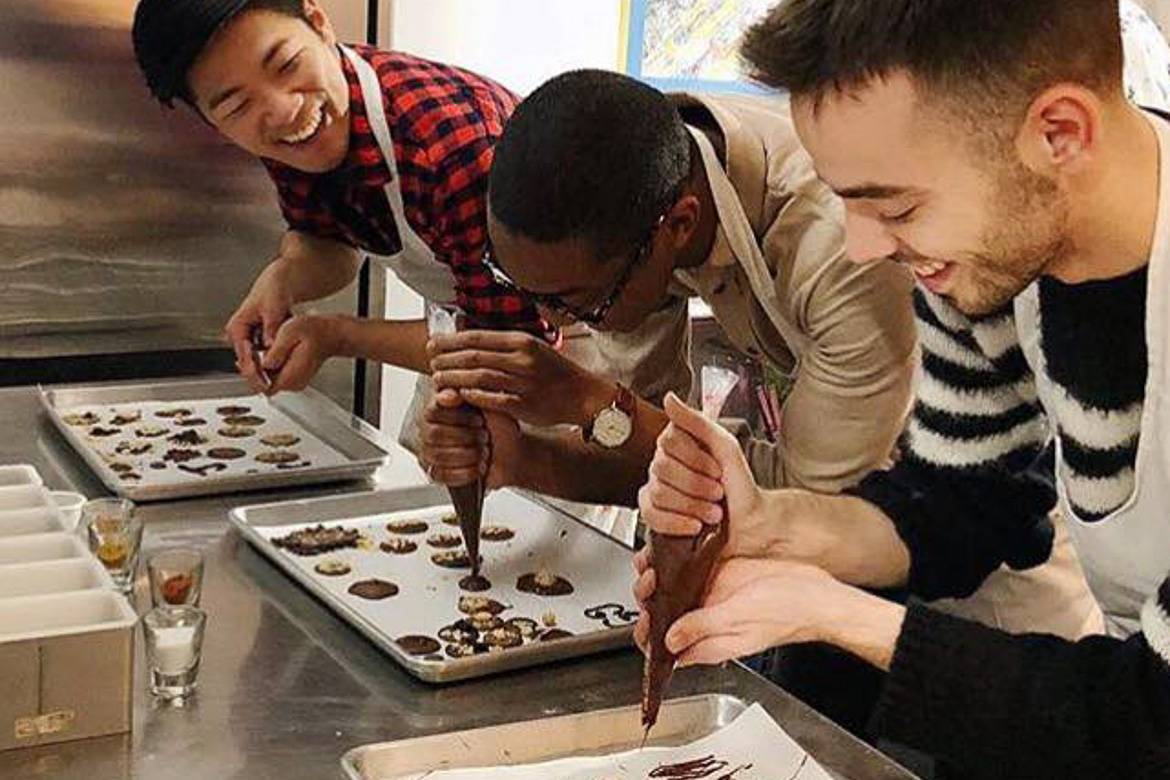 Get interactive and learn the art of chocolate-making at Tache Artisan Chocolates (Photo credit: Tache Artisan Chocolate)
Nothing says Valentine's Day like a box of chocolates, but if you're looking to elevate your gift, then we recommend a chocolate-making class to really make the day special. Tache Artisan Chocolate, handmade in New York, offers this unique experience. The class will take you through the entire process of chocolate making, from learning how to properly temper the chocolate to the very finishing touches of decorating your finished masterpiece. Best of all, at the end of the class, you get to take your creations home to truly indulge in the experience. Their store is located on the Lower East Side of NYC, so you can make your own desserts, take a romantic stroll, and catch a NYC sunset on your way back to one of our cozy apartments nestled in the charming West Village to enjoy them.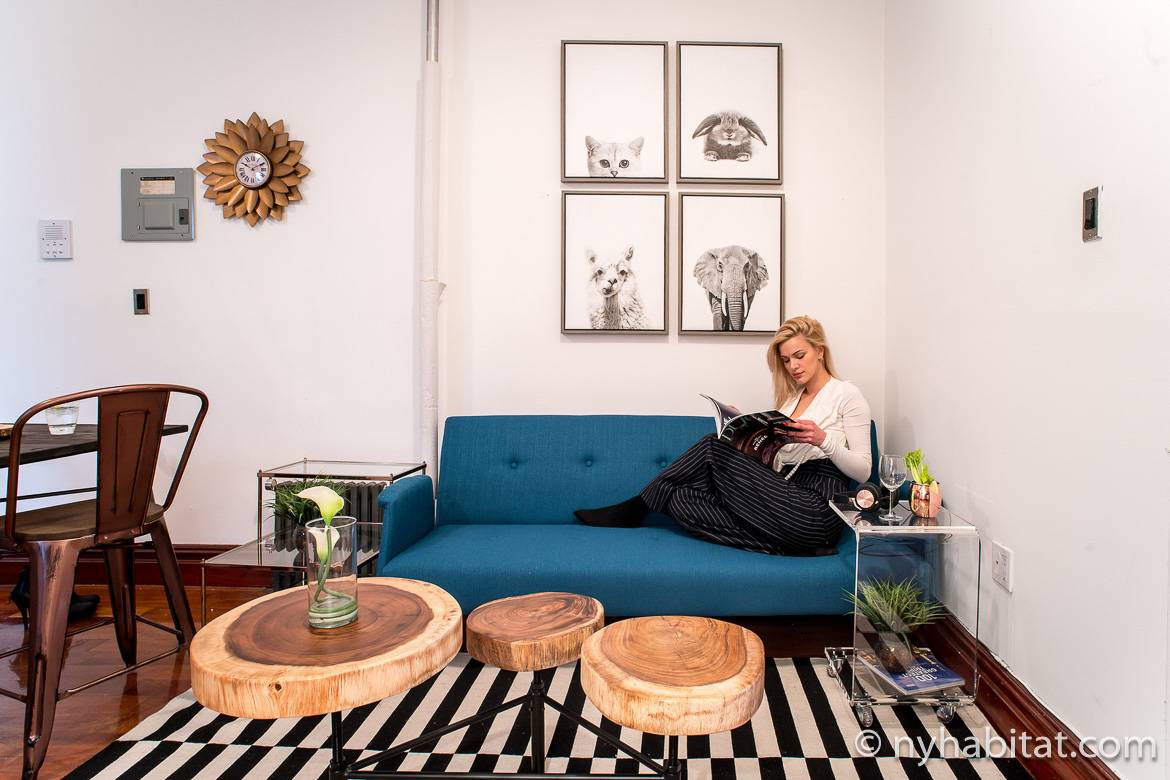 This West Village furnished apartment feels just like home
Your Valentine's date will surely be impressed with this cozy 1-bedroom apartment, perfect for two. This apartment is situated among the quaint, tree-lined streets of the West Village in a classic New York brownstone building. Kick back in the comfort of your own furnished apartment rental in NYC and live the dream. So many romantic films were set to the backdrop of the Big Apple, and staying in a storybook NYC apartment with wood floors, coveted exposed brick and a dreamy fireplace will surely conjure up memories of some of your favorites. Who wouldn't want to live the life of their favorite film character, even if just for a New York minute?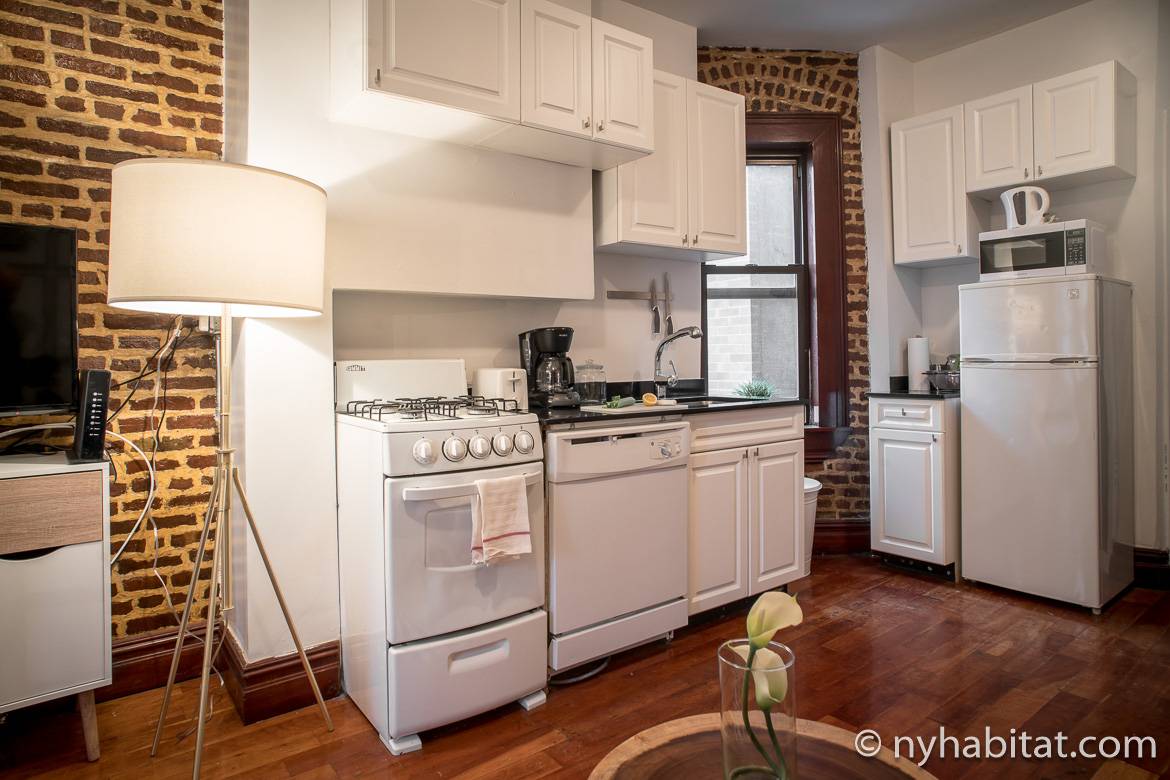 Cook up a romantic dinner in this West Village apartment with a fully-equipped kitchen
Cooking a candlelit dinner for the occasion is a breeze when you have a perfect dining table for two and fully-equipped kitchen as cute as this one at your disposal. Nearby Chelsea Market is where you can find even the most unusual ingredients for any dish you want to cook (or some prepared dishes if you want to cheat). If you're not blessed with culinary skills, simply head out to one of the many dimly-lit cafes and restaurants for which this neighborhood is known. Stop by a sultry local wine bar or a cool lounge and have a few drinks to celebrate love. On your way home, make a stop at Magnolia Bakery (of Sex & the City fame) and pick up a delectable dessert to savor, while also scoring points for your hat tip to one of NYC's most iconic shows. In fact, you can even take your date on a tour of nostalgic NYC film locations, guided by a pro or by your own cinematic knowledge.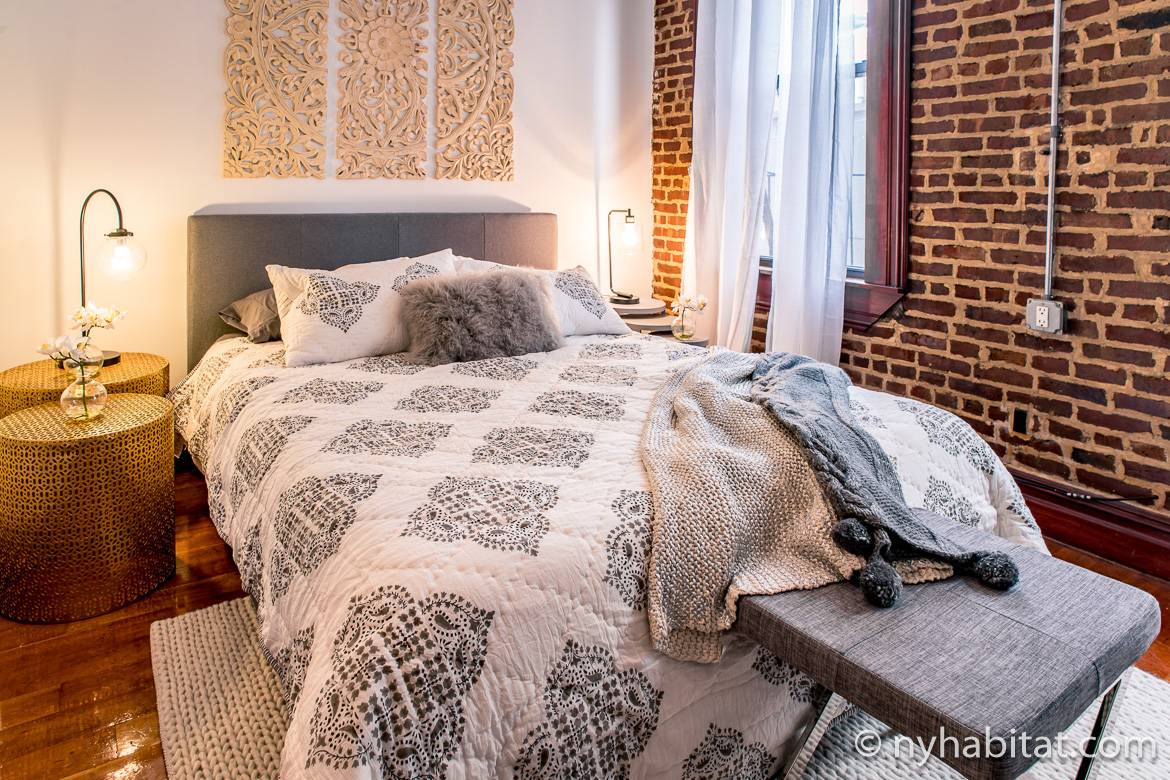 Have sweet dreams with your sweetheart in this West Village furnished apartment
After an eventful time of what we hope will be a truly unique and romantic Valentine's Day, relax in the comfort of your furnished apartment rental, light a few candles, and sink into a comfy bed. Bask in the feeling of being at home, like a real New Yorker, as you drift off among the sparkling lights and energy of the city that never sleeps.