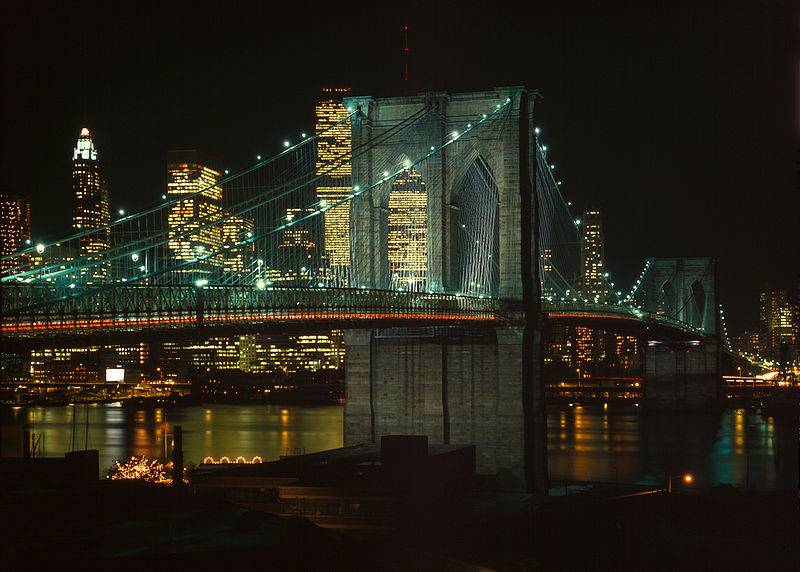 Brooklyn Bridge picture
Before we discuss Brooklyn Neighborhoods, you should be aware there is another great New York Literary Haunt  known as the Village Pub. Most of New York's literary history can be found on the island of Manhattan, a place that has acted as muse for generations of great American and foreign writers. Manhattan has always represented the freedom, energy and community that writers thrive on, and the borough has attracted wordsmiths from across the globe.
Throughout its history there was always a corner of the city that budding writers could find cheap rents and a supportive cohort, all within shouting distance of Central Park and the wonder of skyscraping towers. It is for this reason that this small island retains so much literary history and pride. However, the prosperity of the last few decades has pushed rents higher and made it more difficult for young authors to get by on little or no salary. If you want to find a thriving literary community in contemporary New York City you'll have to take a bridge or subway off the island. Today's writers live in and haunt Brooklyn.
In literary terms, Brooklyn is the new Greenwich Village or West Village. Just as the Village once hosted a community of young writers and artists with the lure of cheap rents and a creative vibe, contemporary Brooklyn provides a home for New York's 21st century literary scene. While rents in Brooklyn might not be as cheap as they once were in the Village circa 1960, the borough of Brooklyn is home to the writer collectives, cafes, reading spaces and pubs that are essential to creating a supportive community for working writers. Neighborhood's like Park Slope and Williamsburg are where visitors can find a generation of writers in their midst. Famous living writers such as Dave Eggers, Jonathan Ames, Jonathan Lethem, Paul Auster, Rick Moody and Jonathan Safron Foer among many, many others. If you are looking for the living, breathing New York Literary scene then stay in Brooklyn and visit Manhattan as so many of today's writers do.
New York Habitat has dozens of Brooklyn accommodations, whether you want a vacation rental in Williamsburg or an apartment in Park Slope, below are a few to get your search started:
– This 2-bedroom New York vacation rental apartment in Bedford Stuyvesant, Brooklyn (NY-12738) features wooden mouldings, a decorative fireplace and a jacuzzi bathtub.
– This modern New York apartment in Clinton Hill, Brooklyn (NY-14092) features hardwood floors, French doors and a private Wifi connection.
– This furnished New York studio vacation rental apartment in Williamsburg, Brooklyn (NY-12761) features high ceilings with exposed wood beams and hardwood floors throughout. The kitchen is equipped with deluxe stainless steal appliances and the apartment is brightly decorated.
Check out some other Literary Haunts including:
New York Top 5 Literary Haunts: The Strand Bookstore
New York's Top 5 Literary Haunts: Bryant Park
The New York Public Library: a Top Literary Haunt in New York
Tell us your Favorite Brooklyn Literary Haunt in the comments section below