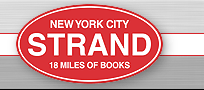 The Strand Bookstore New York City
Now that we learned that the New York Public Library was a Top Literary Haunt in New York.It is time to learned another one; The Strand Bookstore, a New York institution. Opened in 1927 and still operated by the same family, the store has withstood the Great Depression, The Second World War and, perhaps most impressively, the watershed changes from text to digital literacy practices and the onslaught of the corporate bookseller. Despite a massive Barnes and Noble bookstore just a few blocks away, The Strand is the preferred bookshop for any New Yorker in the know. It is located at the junction between Union Square, the East Village and Greenwich Village. But more than just a bookstore, The Strand is an essential stop for any visiting bibliophile looking to be overwhelmed or traveller in search of yet another example of this city's gigantesque.
The Strand's name is fondly followed by "18 Miles of Books." This bold phrase describes the length and depth of the bookstores crammed shelves. It's really that big. The phrase was first coined in the 1970's as "8 miles of books" by the Pulitzer Prize-winning journalist George F. Will. The store has grown some "10 miles" since then. The iconic store caters to just about every literary interest, from readers looking for the latest on the best seller's list to students in search of the classics at cheap prices, to people interested in the occult, sciences and just about every other type of book in print. And for all of the tourists packing Strand isles there is a large section on travel books, which could come in handy should you find yourself in the big city without a clue. Bibliophile or not, the Strand is a must-see simply for what it means to New York and the Union Square section of Manhattan as much for the books contained within its creaky space.
New York Habitat has apartments in the Union Square – Gramercy area and vacation rentals all around the island of Manhattan that are within a short jaunt of the fabled bookstore. Here are a few to get your search started:
-This beautifull duplex Accommodation in Upper West Side (NY-1313) offers hardwood florrs, lots of direct sunlight and a classic New York feel.
-This 1-bedroom Vacation Rental in Upper East Side (NY-14325) features parquet wood floors and is on the 1st floor of a pre-war building.
Ever been to the Strand Bookstore? If so, what section did you gravitate to the most? Foreign languages? Literary Classics? The Occult?  Let's check out this other amazing New York 's Top Literary Haunt known as Bryan Park.