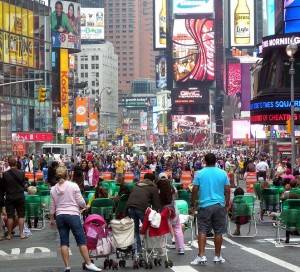 Times Quare, Manhattan Photo
Times Square is enjoying a prolonged renaissance after experiencing several watershed periods since being named after the New York Times building way back in 1904.
What was once a decrepit corner of New York that tourists were warned to steer clear of has transformed into a playground for out-of-towners. While native New Yorkers do their best to avoid the square for fear of slow-moving, camera-wielding crowds, many first time visitors wouldn't be satisfied with their trip unless they experienced the unique sensory overload that comes with a visit to modern Times Square.
Much more than just a place to gawk at flashy advertisements, today's square has it's own share of museums and exhibit halls in addition to the Broadway theatres that have been a fixture for decades. New York Habitat has been around long enough to witness the transformations of Times Square and now welcomes hundreds of visitors a year to apartments in the district.
An important part of the most recent changes taking place at Times Square that have made it a destination in itself is the opening of the Discovery Times Square Exposition. The DTSE is a large scale exhibition center dedicated to entertainment, education and adventure. As special exhibit exploring the works and life of Leonardo Da Vinci is currently offered at the center. The presentation, entitled Leonardo Da Vinci's Workshop, brings to life the artist's 500 year old inventions created from his actual notebooks, genius works that proved to be well before their time. In addition, the exhibit also displays some of Da Vinci's most important paintings using new technologies and extensive 3D animations and imaging. The exhibit provides an interactive and enlightening look into one of the greatest minds of all time.
The Da Vinci's Workshop exhibit, taking place in the neighborhood of Midtown West in the middle of Times Square , shows how much of a destination the square has become. In the past tourists would bustle by the square but today many out-of-towners are discovery that a visit to the famous square might require a full day, or more. New York Habitat has a ton of experience with apartments in Midtown West, below are a few available accommodations to get your search started:
– This studio rental accommodation in Midtown West-Chelsea (NY-14081) features hardwood floors, exposed brick, a fireplace and an open kitchen.
– This 2-bedroom apartment rental in Midtown West-Chelsea (NY-16421) is just a few blocks from Times Square and can comfortably accommodate 6 guests.
– This comfortable and modern 1-bedroom rental accommodation in Clinton – Hell's Kitchen (NY-14108) can sleep up to 3 people, features large windows illuminating the living Room, and a dinning table for four.
Tell us what you think about the exhibit.