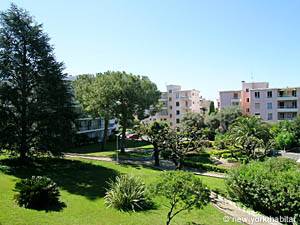 Juan Les Pine - Antibes France
First and foremost, Antibes is BEAUTIFUL.  Full of gardens and Greek and Roman antiquities, this city is stunning.  To truly experience the culture of the French Mediterranean, a visit to Antibes is a must.
On the coast of the French Riviera, Antibes is nestled between Cannes and Nice.   It's got a warm, small-town feel, yet it's connected by train to the most-visited cities in the South of France. Why not pay a trip to Nice and a small visit to Cannes while you're over there? It's also easy to travel to Monte Carlo as well as Ventimiglia, Italy.
A medieval castle has been transformed into a Picasso museum containing modern and contemporary art.  The first floor is dedicated to Picasso himself with paintings, ceramics and sculptures that he created while living in the castle in 1946.  Other exhibits include works by de Stael, Ernst, Mirô, Léger, Hartung, Atlan, Richier, Adami, Modigliani, Saura, Cesar, Arman and Alechinsky.
Other great museums include an archeological museum, a cartoonist museum, a Napoleonic museum and two museums dedicated to the local events and history of Antibes.
Great Antibes vacation rentals from New York Habitat: this 3 Bedroom Vacation Rental in Cannes, French Riviera (PR-406) within walking distance of the beach and with a swimming pool. Or this Studio Vacation Rental in Cannes (PR-175) on the coast between Antibes and Cannes, with a terrace facing the sea.
The Marchés (Open-air Markets)!  There are four different open-air markets throughout the year.  The Marché des Artisans is held in Cours Messéna after 3pm Thursday, Friday, and Sunday, and 4:30pm on Saturday.  It runs from Easter until the end of September.  There are a few Marché de la Brocante:  Place Audiberti – Thursday and Saturday; Place Nationale – Thursday and Saturday; Boulevard d'Aiguillon – Thursday; and Antibes-les Pins – Saturday.  There is also a Marché Provençal from June 1st to August 31st at Cours Masséna every day except Monday.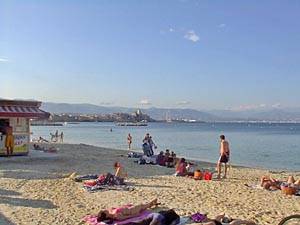 Antibes, French Riviera - South of France
Coming up in April, Antibes will hold the 36th annual Antiques and Brocante Fair of Old Antibes.  Growing since 1971, it has now become one of the greatest meeting antiques show in France.  130 exhibitors show furniture, jewelry, paintings and more from all parts of the world.
Antibes holds festivals all year long!  In June see a parade of flowers, floats and brass bands in the Battle of the Flowers; jump over flames and prove your love at the Festival of Saint John.  In July celebrate the Festival of Saint Peter and the Festival of Notre Dame de Bon Port.  Enjoy the fall at the Grape-pressing Festival, and warm up in November at the Chestnut Festival.
Fountains, ponds, olive groves, Mediterranean gardens and gardens in the style of ancient Rome cover five hectares in Exflora Park.  As it is open to the public, everyone can enjoy beautiful rose bushes that lead to the sea, the exotic garden and lots of green.
Last, but certainly not least, Antibes is surrounded by several harbors and 48 beaches!  Stroll in the sand, people-watch, or admire the yachts, you're sure to never get bored!
Have you been to Antibes? Tell us about your stories exploring the French Riviera.  What did you love about it?