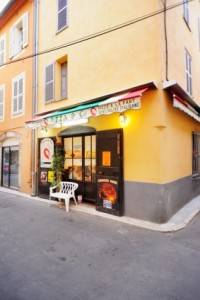 Antibes
Are you passionate about France and antiques? Then get ready to pack and head for Antibes's Art Fair where the focus this year is on "Antiquités & Art Moderne" (Antiques & Modern Art). On the occasion of its 40th anniversary, the popular event, which takes place between April 7 and 23, promises to be more exciting than ever. Not only will you be able to check out myriads of second-hand treasures, but you'll also get to marvel at some furniture, artworks and paintings created by the most prestigious contemporary artists
The organizers haven't held back on anything, and the huge tent specially set up near the harbor will become the space in which numerous stands will be installed and decorated to look like real art galleries. In this paradise for beauty lovers, you will be able to admire some of the most stunning art pieces currently on the international market and mingle with over 100 exhibitors from France and abroad. Whether you're there for business or pleasure, the Antibes Art Fair will be an exceptional experience and a lasting memory.
However, no matter how incredible the art displayed at the fair turns out to be, do not forget to put some time aside to explore the city itself, which is conveniently located on one of the most beautiful stretches of the French Riviera. A charming urban center with a vibrant cultural life, Antibes is also well-known for its engagement towards nature, with the bucolic Exflora Park, and technology with the Sophia Antipolis Park.
In order to help you enjoy a totally carefree vacation, we have plenty of fully furnished accommodations to choose from in nearby Cannes and Nice.
Cannes is a tad closer and has the Croisette, the famous boulevard bordering the Mediterranean on one side and an assortment of high-end shops on the other.
That's where we have an adorable 1-bedroom – Cannes Center – PR 339 with a lovely garden so that you can feel right at home. There you'll be able to take advantage of the proximity to the Croisette as well as the peace and quiet of a residential neighborhood.
If you're looking for more space, our modern, light-filled 3-bedroom villa – Cannes – PR 406 will cater to your every need, with its amazing terrace, garden and pool. For better or worse, you may never want to go out and into town.
The fifth largest city in France, Nice has plenty going for it, including its renowned Promenade des Anglais along the sea, a colorful Old Town and an irresistible flower market, not to mention an impressive array of museums.
If all you need is a little nest in the middle of everything, our jazzy studio – Nice Downtown – PR 1072 is perfect for you. It will not get much more welcoming and convenient.
Coming with friends or family? Then you cannot go wrong with our comfortable 2-bedroom apartment – Nice Old Town – PR 1082 . Located in the most popular area of Nice and boasting plenty of light, it is the ideal starting point for many adventures.
Have you ever been to this area? If so, share in the comments section below!