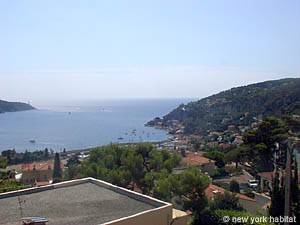 Villefranche-sur-Mer photo
If you've ever taken the train from Nice to Monte Carlo, you may have noticed several stops along the way.  Most people don't get off at these little towns as they're on their way to more well-known cities, but New York Habitat knows better!
Spend a unique and memorable vacation on the French Riviera and explore Villefranche-sur-Mer, a little town along the Azure Coast six miles east of Nice.
Founded in the late 13th century by Charles d'Anjou, Villefranche-sur-Mer has kept its medieval charm with its unique Mediterranean architecture, impressive citadel and its steep winding streets.
Stay at NY Habitat's 2 Bedroom Vacation Rental in Villefranche sur Mer, French Riviera (PR-438) and enjoy a view of the town and the sea from master bedroom's terrace.  Or consider one of our French Riviera vacation rentals in a nearby town. In town, make sure to check out the Provençal Market every Saturday from 8 am to 1 pm at the Jardin François Binon.  Here you'll come across the freshest locally grown vegetables (perfect for a tasty homemade ratatouille!), fruit, fish, flowers, meat, and great gifts like provençal tablecloths and locally pressed olive oil and prepared olives.  This is a great place to take colorful photos and see the provençal culture come to life. On Sundays, come browse the Marché à la Brocante where professional "brocanteurs" set up an open-air market at La Place Amélie Pollonnais (Port de la Santé) and in the Jardin François Binon.
After the jaunt at the market, why not hit the beaches?  Along with swimming and playing in the waves, you can take one of many cruise ships from Villefranche-sur-Mer and travel easily between highly visited cities along the coast such as St. Tropez, Cannes, Nice, and Monte Carlo.  Avoid traffic and stuffy trains by boating between cities for a relaxing and affordable ride.
Villefranche-sur-Mer also houses lots of fine restaurants where you can reward your palette with some local delicacies.  Try the Provençal specialty, Bouillabaisse, a traditional fish stew made with fresh catches and local herbs and spices.  If you're not much of a seafood lover, try the "farci": zucchini, tomatoes and bell peppers stuffed with other vegetables and seasoned meats laid upon a bed of rice.
Don't forget to check out the stunning paintings and architecture at the Goetz-Bourne museum filling 5 grand arched alcoves in a newly restored building formerly used as barracks. Browse original works by Christine Boumeester and Henry Goetz, as well as original works of Picasso, Picabia, Miro and Hartung.
Traveling is all about discovering new lands, new cultures, and exposing yourself to a variety of art and activities.  Enjoy the sun in the south of France and the relaxed culture of the Provence in Villefranche-sur-Mer.  If you've ever been, share your experiences and let us know what you loved!