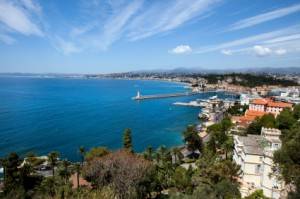 Villefranche-sur-mer
Nestled in one of the deepest natural harbors on the Mediterranean Sea, right outside of Nice on your way to Monaco, Villefranche-sur-mer is a miniature jewel that has managed to remain mostly unspoiled from rampant modernization and greedy tourism.  Small and picturesque does not mean static though, and what you had planned as a short stop-over may turn into a leisurely stay once you get to know Villefranche-sur-mer better.
One of the town's most imposing sights and the perfect starting point for an exploration is definitely the Saint-Michel Church, as well-known for its Italian baroque style as for the artworks it houses.
Another famous house of worship is the Saint Peter's Chapel, dating from the sixteenth century. It has become a big attraction ever since Jean Cocteau decorated it with his famous murals depicting the life of the local fishermen during the building's restoration.
In another vein, Villa Leopolda was built on the hills in 1902 by King Leopold II of Belgium as a sumptuous present for his mistress, Caroline Lacroix. After changing hands a few times, it was eventually declared a monument historique by the French government and is now open to all.
Mixing past and present, the medieval Citadel now encompasses the Town Hall, a convention center, three museums and a theater where you'll be able to enjoy live performances.
Local open-air markets will let you mingle with the locals, enchanting gardens will enable you to bond with nature and numerous restaurants cannot wait to have you sample their specialties.
If you are lucky enough to be there toward the end of February, do not miss the "Combat naval fleuri", a unique event where a fleet of flower-adorned pointus, typical local boats, parade by the piers while their costumed occupants throw flowers to the assembled crowds.  The party also includes folk dance demonstrations, concerts, arts & crafts stands, special exhibits in the museums and plenty of fun activities for the whole family.
Right in Villefranche, you can enjoy our fully furnished 2-bedroom  vacation rental– Villefranche – PR 438 and its sweeping view over the town and the sea from the master bedroom's terrace.
If you prefer the hustle-bustle of a big city, Nice is only a 15-minute drive away. NY Habitat has plenty of accommodations in the French Riviera for you to choose from there.
If you prefer the charms of the colorful Old Town, check out our fully furnished accommodation 2-bedroom – Nice Old Town – PR 801.
So do not hesitate to leave this endless winter behind and enjoy the joys of one of the most beautiful places on earth. Have you already been there and would care to comment here-under?