Hello, I'm David Hill from New York Habitat.  In today's video tour, we will continue our stroll along Broadway. After the 2010 New York Dance Parade, topic of the last episode of our "All Along Broadway" Video Tour, our next stop will be in Midtown Manhattan at Madison & Herald Squares!
Broadway is one of the most famous roads in the world. It runs the length of Manhattan, from its southern tip to the northern tip of the island and continues in the Bronx, crossing many of Manhattan's neighborhoods.
Broadway runs diagonally northwest and intersects with most of New York City's Avenues, creating several "squares", many in a triangular shape.  Its diagonal layout has also created some triangular shaped buildings, like the Flatiron building.
There are many interesting things to see along this famous stretch of road, so we're going to split Broadway into a few sections in order to take a closer look.
Video Tour of Madison & Herald Squares in Midtown Manhattan (6:51)
History
The oldest "street" in New York City, Broadway was originally used as a trail by the Native Americans who lived here; later Broadway was used by the Dutch settlers to travel to the northern forests to hunt.
Madison Square
Walking north along Broadway, you will reach a large intersection at Fifth Avenue and 23rd St. which creates a big space or square.  This is Madison Square, named after the 4th U.S. President, James Madison.
It was here in 1842 where some of the first amateur baseball games were ever played.  They used a vacant lot in the north part of the square (corner of Madison Avenue & 27th Street).  Later, the original New York Knickerbocker Baseball club, one of the first professional baseball teams, started right here.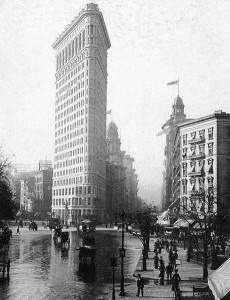 The Flatiron Building in Madison Square Park
Flatiron or Fuller Building
One of the most beautiful buildings in this square is the Fuller Building, designed by Daniel Burnham in the Beaux-Arts architectural style.  It was named "Fuller" after the construction company that erected it in 1902 and it was one of the tallest skyscrapers ever built in New York City as of 1902.
It was soon renamed the Flatiron Building because of its triangular shape which resembles a flat iron and it gives the name Flatiron District to this area.
Due to its triangular shape, it has been said that the building created a vortex which made the wind blow upward causing women's skirts to rise as they passed by and men used to come here to enjoy the views!
Madison Square Park
On May 10, 1847 Madison Square Park was opened to the public and was made into an aristocratic center surrounded by nice shops and hotels.  The park has a few statues.
• At the southeastern corner is the statue of Senator Roscoe Conkling, who froze to death during the great 1888 blizzard.
•  In the southwestern part of the park there is a statue of Secretary of State William Seward, who purchased the territory of Alaska from Russia in 1867.
Shake Shack
Entering the park from the south you will run into the Shake Shack, a popular permanent stand that serves hamburgers, hot dogs, shakes of course and even wine.  You can sit under the trees, eat some local New York food and enjoy the scenery.
Broadway passes through many neighborhoods around Madison Square. There's Chelsea, Murray Hill, Midtown East and Midtown West, and New York Habitat has vacation rentals and furnished apartments all around Manhattan.
Renting an apartment is less expensive than a hotel room. You'll have a fully equipped kitchen and you'll be living like a real New Yorker!
If you are looking for a comfortable place to stay in New York City, look no further than this one bedroom apartment in Murray Hill (NY-14344). This apartment has wood floors throughout and can sleep up to 5 people. With a fully-equipped kitchen with a bar area and a TV with cable channels, this apartment will provide a nice home for anyone's vacation in the city.
Or check out this 1 bedroom furnished apartment in Gramercy (NY-14056). This apartment is located in a brownstone building and is available for up to 3 people. This rental also has a fully-equipped kitchen and is provided with a TV with cable channels and a DVD player.
Herald Square
Walking north towards the area called Midtown, you will arrive at the next square on Broadway, Herald Square. Herald Square is formed by the intersection of Broadway with 6th Avenue, also known as Avenue of the Americas, with 34th Street.  It takes its name from the now defunct newspaper called The New York Herald.  In the northern part of this square, you can view the statue of the Bennett family, former owners of the New York Herald.
Greeley Square
As opposed to the triangular shape of the Flatiron Building, at this intersection you can find a triangular shaped park at Greeley Square.  It's a cozy park with a restaurant kiosk, tables and chairs, where many professional workers from the nearby offices and shoppers from all over like to buy their food and relax.  Greeley Square is named after Horace Greeley, the owner of The New York Tribune, the rival newpaper of the New York Herald.
Macy's Department Store
One of the main attractions in Herald Square is the Macy's department store, which occupies a full city block from Broadway to 7th Avenue.  With many floors of all kinds of merchandise, Macy's sells everything from women, men, and kids clothing, to furniture and luggage.  Macy's was founded in 1858 by Rowland Hussey Macy, who worked on a whaling ship and had a red star tattooed on his hand, which became the Macy's store logo.
I hope you enjoyed today's video tour of the series All Along Broadway in Madison & Herald Squares.  There is a lot more to discover along and around Broadway, so don't miss the next episode of our "All Along Broadway" New York Video Tour devoted to Times Square! And if you know of any fun stops along Broadway, be sure to leave a comment in the comment section below.
Thanks for joining me on this leg of our "All-Along Broadway" journey and I hope to see you on Broadway soon!