Today we continue our New York video series dedicated to guiding you all along Broadway, one of New York City's most famous avenues.
Broadway run north to south, running nearly the entire length of Manhattan. Along its route it crosses many streets and avenues, forming areas called "squares", each of which has its own identity and each of these neighborhoods are great places to find a New York Vacation Rental.
Each segment of this video series will focus on a different section of Broadway, starting in the south and moving northward, just like the street! In the last episode of our "All Along Broadway" Video Tour, you discovered the Financial District. Today, our stop will be Union Square!
Video Tour of Union Square, New York City (6:08)
Union Square, New York:
As you walk north along Broadway, you will reach a large intersection where Broadway and 4th Avenue come together.  New Yorkers were pleased with this "union" of two major thoroughfares.  So pleased, in fact, that they called it Union Square. It is located in a larger area called Gramercy – Union Square.
And the word "union" is very fitting:
• For almost 200 years it has been the gathering place for public meetings, parades, labor protests and political rallies.
• It is the union of many of New York City's subway and bus lines.
Union Square is an important and historic square in New York City, and the starting ground for one of our national holidays.  In 1882 a crowd of at least 10,000 workers paraded up Broadway and gathered to celebrate workers in New York.  That was the beginning of Labor Day celebrations in the United States.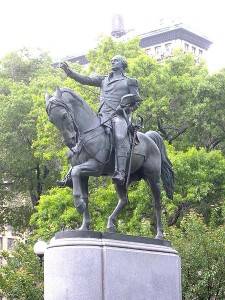 George Washington Statue in Union Square

Union Square Park:
In 1872 this park was re-designed by Frederick Law Olmsted and Calvert Vaux, the same architects who designed Central Park.  In Union Square Park there are several statues of political and social leaders, including the equestrian statue of George Washington, which was unveiled in 1856, and the statue of Abraham Lincoln, raised in 1870.
James Fountain:
James Fountain is topped by a statue of Charity, emptying her jug of water aided by a child.  James Fountain is a Temperance Fountain located in Broadway's Union Square. Temperance Fountains were created in hope that having easy access to safe drinking water would keep people from consuming alcohol.
Statue of Gandhi:
In 1986 a new statue was installed in Union Square. The statue of Mahatma Gandhi, a non-violent social and political leader in India who inspired movements for civil rights and freedom across the world, is a marker of Union Square's history of social activism.
Metronome:
The southern part of Union Square is dominated by a large art installation called
"Metronome", which is a wall sculpture that sporadically expels steam from its center. This artwork was created by Kristin Jones and Andrew Ginzel in 1999. At the cost $4.2 million, it is one of the largest private commissions of public art in the United States.
The Passage:
On the left side of the Metronome there are 15 large digits called "The Passage" which display the time in 24-hour format. The 7 digits on the left show the time, meaning the hour, minutes and seconds and the 7 digits on the right represent the time remaining in a 24 hour day. The middle digit stands for hundredths of a second, but is virtually unnoticeable to the human eye.
Thus, if the clock reads "195641188180304", it means that time is 19:56 (7:56 PM) and 41.1 seconds, and that there are 04 hours, 03 minutes, and 18.8 seconds remaining in the day.
Greenmarket & Holiday Market:
The New York's Greenmarket program was established in 1976 allowing farmers to sell their fruit, vegetables and other farm products in open markets in the city.  The most famous market is the Union Square Greenmarket, which is open on Mondays, Wednesdays, Fridays and Saturdays from 8 a.m. to 6 p.m. People sell everything from fruits and vegetables to fish, cheeses, muffins and flowers.
Union Square is also the home of the Union Square Holiday Market, which is held from November 23 to December 24, where you can shop for arts, crafts and jewelry made by the local artists.
Shopping in and around Union Square:
Shopping and other activities are abundant in the Union Square area. The Strand Bookstore is on Broadway and 12th Street and offers "18 miles" of both new and used books. There are multiple movie theatres and Bowlmor, a bowling alley and game center on University Place at 12th Street, which offers fun for the whole family.
Accommodations around Union Square, New York:
If you are looking to spend some time in Union Square, why not rent a New York Habitat apartment in Gramercy–Union Square or in one of the nearby neighborhoods of  the East Village, Greenwich Village and West Village or Chelsea?  It is much cheaper to rent vacation rental apartments than a hotel room and in an apartment everyone can stay together under one roof, while having access to a fully equipped kitchen where you can prepare your favorite meal with fresh produce from the Union Square Greenmarket!
Check out this New York studio apartment in the East Village (NY-4062), only a few blocks away from Union Square, and with space for up to 4 people.
There is also this 1 bedroom Chelsea, New York Vacation Rental apartment (NY-11928) located just blocks away from Union Square. The apartment is lined with hardwood floors and features a painted brick fireplace.  It is a great apartment in a great location!
Restaurants in Union Square:
Cooking in your vacation rental's fully equipped kitchen is always a great option, but if you are looking to stay out on the town there are many bars and restaurants all around Union Square.  Republic features alternative Asian food with a twist of contemporary flavor.  It has minimalistic décor and an urban atmosphere. Another favorite is Union Square Café, which features many different specialty foods cooked with flair.
There are many attractions around the Union Square area and from here you can easily walk along Broadway to other New York City neighborhoods, such as Greenwich Village, the East Village, Chelsea, Murray Hill and many more. And if you like dancing, don't miss the next episode of our "All Along Broadway Video Tour" devoted to the New York Dance Parade 2010!
If you know of any fun stops along Broadway or in Union Square, be sure to leave a comment in the comment section below. We hope to see you in a New York Habitat apartment soon!