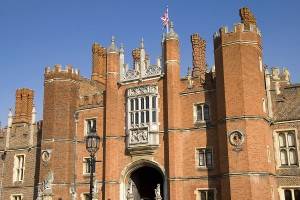 Photo of Hampton Court Palace

Hampton Court Palace has not been a residence of the British Royal Family since the 18th century but remains an important London attraction today.
During the passing of the palace from one king to another the architectural style was changed from Tudor to Baroque. The park at the palace hosts the Hampton Court Palace Flower show each year. This year the show runs from July 6th –July 11th. Located in Lambeth, the interesting architecture of the building, the history of the royals who once lived there and the successful flower show make the Hampton Court Palace a major tourist attraction.
-If you are looking for an apartment to stay in London, consider this 2 bedroom vacation rental (LN-757). This spacious apartment has plenty of natural light and is located near Hampton Court Palace and the River Thames. Also if you like the neighborhood, don't forget to check out the numerous offerings of accommodations in Lambeth on our New York Habitat website.