We're back with another New York video tour for you.  In this video I am going to show you another fabulous neighborhood of New York, known as Harlem.
Click above to watch this video: Video Tour of Central and West Harlem. (4:53)
Harlem Neighborhood is a large, historical area in northern Manhattan.  It's a major residential, cultural and business center. It stretches from the East River west to the Hudson River between 155th Street to the north and 110th Street to the south, which is the northern boundary of Central Park.
Harlem is so large, in fact, that it would be impossible to cover in just one video.  So instead, we'll be doing separate videos on Harlem's various districts.
The districts of Harlem are West Harlem, Morningside Heights, Central Harlem, East Harlem and Hamilton Heights.
Our first stop in our Harlem series will be Central & West Harlem!
History:
Harlem was originally a Dutch village founded around 1658.  It was named after the city of Haarlem in the Netherlands. In the early 20th century many African Americans moved to this area and in the 1920s and 30s many famous artists, musicians and businessmen became well known in Harlem and took Black culture to a higher level, in a movement known as the Harlem Renaissance.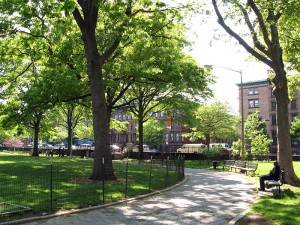 Marcus Garvy Park

Mount Morris Park a.k.a Marcus Garvey Park
Central Harlem revolves around Mount Morris Park, which was opened to the public in 1840 with the name Mount Morris Park.  In 1973, the park was renamed Marcus Garvey Park in honor of Jamaican born black activist, journalist and community leader, Marcus Garvey.
During the summer of 1969 the park held a series of concerts to celebrate African American music and culture and to promote black pride.  Many famous musicians, including Nina Simone, B.B. King, Sly & the Family Stone, Max Roach, Gladys Knight and Stevie Wonder participated to the event, which was also called "Black Woodstock"
Today, Marcus Garvey Park has two playgrounds for children, several fountains, an amphitheater, a swimming pool and an indoor space for yoga, kickboxing, karate and computer classes.
All around the park you can observe beautiful historical houses which show the affluence in the area during the late 1800s and early 1900s when these townhouses were built.
Schomburg Center for Research in Black Culture – 515 Malcolm X Boulevard
The Schomburg Center for Research in Black Culture, located at the corner of Malcolm X Boulevard (Lenox Avenue) and 135th Street.  The Schomburg Center is a national research library that collects, preserves and provides documentation and media on the culture and history of the people of African descent in the world.  Here you'll find art, rare books, photographs, films and music of African culture and history.
The Studio Museum of Harlem – 124 West 125th Street
At The Studio Museum of Harlem, there is more about black history including guided tours, readings and exhibitions of African American art and culture.  There is a suggested donation for entry.
The Apollo Theater – 253 West 125th Street
The Apollo Theater is one of the most famous and historic music hall in New York and in the U.S.  This famous club is almost exclusively associated with African American music and performance.  During the Harlem Renaissance and specifically in 1934, the Apollo Theater introduced its regular Amateur Night shows, during which many new stars were born and legends were made.  In fact the Apollo launched the careers of famous artists such as Ella Fitzgerald, Billie Holiday, James Brown, Diana Ross & The Supremes, Marvin Gaye, Stevie Wonder, Aretha Franklin and Mariah Carey…just to name a few.  During amateur night, the audience would clap to approve the performers they liked and "boo" the performers they weren't too excited about.  At that point an "executioner", a man with a broom, would sweep the bad performers off the stage.  Even today, every Wednesday is Amateur Night at the Apollo.  If you wish to perform your favorite song or if you wish to be in the audience to clap or "boo" the performers, make sure you purchase your ticket for the show when you are in New York!
The Theresa Hotel – 7th Avenue & 125th Street
Be sure to take in the Theresa Hotel, located at the corner of Adam Clayton Powell Jr. Boulevard (7th Avenue) & 125th Street.  It opened in 1913 and until 1940 the hotel only accepted white guests and a few black celebrities, but this policy changed when the hotel changed management teams.  Louis Armstrong, Josephine Baker, Duke Ellington, Muhammad Ali, Ray Charles and Jimi Hendrix stayed or lived here from time to time over the years.
The Theresa Hotel is also known for having accommodated Fidel Castro in 1960 during the opening session of the United Nations.  Fidel Castro was originally staying at the Shelburne Hotel in Midtown, but it is said that Fidel and his large entourage brought live chickens into the rooms, threw lit cigars on the carpet and cooked food in the bathrooms of the hotel.  As a result, Castro was asked to leave the Shelburne and was accommodated right here at the Theresa Hotel along with his full delegation.
In 1960 John F. Kennedy campaigned for the presidency at the hotel, along with Eleanor Roosevelt.
In 1971 it was converted into an apartment building used mainly by Columbia University and Teachers College.  It was declared a landmark in 1993 by the City of New York.
Accommodations in Harlem:
If you want to catch the true spirit of Harlem, you should consider renting a Harlem furnished vacation rental from New York Habitat.  We have apartments all over Harlem, and with its convenient location in Manhattan plus excellent express subway access, you'll be well connected to all parts of the Big Apple. We also offer shared apartments throughout Harlem. New York Habitat's selection of Harlem homes includes apartments in historic townhouses that will allow you to  experience the real African American unforgotten history. Some choices include: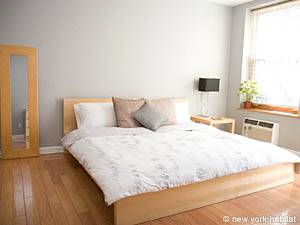 Apartment in New York: 1-bedroom in Harlem (NY-11526)
– This
one bedroom Vacation Rental in Harlem, New York (NY-11526)
that has a wonderful backyard garden with a large area of grass and some lounge chairs. It is the perfect place to relax after a long day in the city.
– Also, these 2 bedrooms for rent in a Roommate Apartment including 2 bathrooms in Harlem, New York (NY-14322). It's located in a luxury building with an elevator, gym, laundry facilities, garden and 24-hour doorman.
Adam Clayton Powell Jr. State Office Building – 7th Avenue & 125th Street
With 19 floors, the tallest structure in Harlem is the Adam Clayton Powell Jr. State Office building.  It is located at the corner of Adam Clayton Powell Jr.  Boulevard (7th Avenue) & 125th Street, across from the Theresa Hotel.  It was named after the first African American elected to Congress from New York and it was designed by the African American architecture firm Ifill, Johnson & Hanchard.
Bill Clinton's office in Harlem – 55 West 125th Street – 14th Floor penthouse
The former President of the United States, Bill Clinton, moved his offices to Harlem in July 2001 on the 14th floor of a Harlem building located at 55 West 125th Street.  The space offers stunning views of Central Park, the Cathedral Church of St. John the Divine and the Empire State Building.  President Clinton's move to Harlem is another testament to the important historic and cultural status of Harlem.
Shopping in Harlem – 125th Street
125th Street runs from east to west and is considered the Main Street of Harlem.  Since 2001 many sections of the street have been developed with new stores, such as Old Navy, H&M, Starbucks Coffee and the famous Magic Johnson Theaters, a chain of movie theaters, developed by the famous African American basketball player, Magic Johnson.  So you can definitely spend a fun day here shopping and even catch a movie.
Shopping at the Harlem Market – 52 West 116th Street
The Malcolm Shabbaz market in Harlem, aka the Harlem Market is located at 52 West 116th Street and Malcom X Boulevard.  It is full of beautiful traditional African arts and crafts.  The market offers a large selection of carved wooden musical instruments, African masks and figurines and handmade African clothes for men, women and children.  Traditional hair braiding is also available for you ladies with long hair!  It really is like being in a small part of Africa and you will love it!  The Harlem Market is open every day from 10am to 8pm.
I hope you have had fun with our little tour of Central and West Harlem. It's only a small part of the greater Harlem area.  If you know of other "must-see" places in Harlem, leave us a quick note in the comment box below.
If you are planning a trip to New York, you should definitely consider Harlem as a home base. It's just a short subway ride away from midtown and downtown and Harlem furnished apartment rentals are generally less expensive than other areas of Manhattan  . Don't forget that we have apartments not only in Harlem but also in many other neighborhoods of New York City.