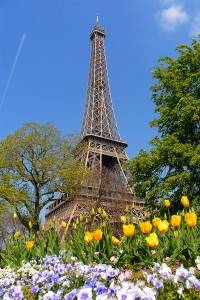 Photo of the Eiffel Tower in the Spring
There is no more beautiful spot on earth than Paris when the flowers are blooming in early spring.  Add to that the city's childlike enthusiasm for celebrating Easter, and you cannot think of a better place to spend Easter weekend than in Paris.
Though Americans are used to a bunny delivering candies and chocolates to girls and boys, in France it's a bell flying home to Paris from Rome that brings the delightful treats.  And what treats they are!  In every shop window, you will see chocolate eggs, chocolate hens, chocolate fish and chocolate bells, either "garnis" (filled with smaller chocolates or sugar eggs) or "non-garnis" for the chocolate purists.
Though you will be able to find beautiful, unusual and humorous chocolate treats nearly everywhere in Paris, for an Easter candy you will never forget, visit one of the many artisan chocolatiers like Jean-Paul Hévin on Rue St. Honoré in the first arrondissement.  Each year, this chocolate artist creates a new vision of Easter candy, sometimes blending traditional symbols—like a hen with a fish's tail—and sometimes creating something entirely new—like this year's egg-shaped planet earth, nestled in a nest of chocolate twigs.  Even if all you do is look at (and smell) the heavenly Easter chocolates, you will know that Paris is home to the sweetest of spring treats.
No Easter celebration is complete without an Easter egg hunt, an activity that is just as popular in Paris as it is in America.  Located in the 16th arrondissement of Paris, the Jardin d'Acclimatation, an amusement park in the Bois de Boulogne on the west side of the city, offers an annual hunt for an astounding 20,000 Easter eggs on the grounds of the park.  The gorgeous and whimsical park is at its finest when the first blossoms of spring are welcoming everyone outdoors.  Bring your children to the Jardin d'Acclimation's Easter egg hunt so they can see that fun is a universal language.
Easter is of course a religious holiday, and you cannot find a more beautiful place to experience a traditional Easter mass than Notre Dame Cathedral on Île-de-la-Cité, in the 4th arrondissement.  The cathedral holds services throughout Easter, and they vary in duration and style.  The most popular are on Good Friday and Easter Sunday, when you can hear the largest bell in the tower rung at the end of the mass.  It takes six men to ring the bell, and it is only struck once per year, on Easter.  You cannot help but be moved by the beautiful and age-old ceremony performed in the splendor of Notre Dame.
Easter Sunday this year falls on April 8 in 2012—a lovely time to see Paris.  Do not let this spring pass you by without a trip to the City of Light.  NYHabitat has furnished vacation rentals in Paris for your Easter trip.  Check these out to get your search started:
This bright and airy 2 Bedroom Vacation Rental – Auteuil – Tour Eiffel – Paris (PA-1087) will place you within easy distance of both Jardin d'Acclimation and Notre Dame.  With gorgeous herring-bone patterned hardwood floors, charming views of the Seine, and surprising details, like a stained glass bathroom window, this apartment is perfect for the family looking to refresh and renew themselves this spring.
This fun 1 Bedroom Vacation Rental – Marais – Les Halles – Paris (PA-1489) is situated within steps of Île-de-la Cité. Come enjoy the sunlit, plant-filled terrace, and the bright and inviting loft-like feel to the warmly painted living room. This apartment will feel sunny even on a cloudy day.
For a modern spring retreat, try this Studio Vacation Rental – Marais – Les Halles – Paris (PA-1909).  Clean lines, beautiful and efficient use of space, and unexpected colors come together to create a refreshing haven for the Parisian traveler.
How do you like to celebrate Easter?