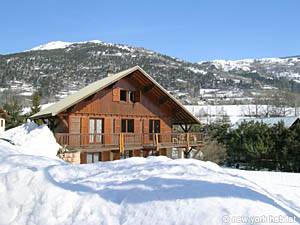 South of France 2-bedroom Chalet in La Salle (PR-10)
As the weather cools and the leaves change color here, thoughts turn to autumn festivals and harvests.  But not in France.  Home to numerous ski resorts, large and small, local favorites or world-renowned, France is a skier's paradise and the French relish their ski holidays as much as their long summer vacations. Consider adding a bit of European flair to your next ski outing by visiting some resorts in the South of France and staying in a vacation rental in the French Alps.
Serre Chevalier, located in Briançon in the Southern Alps and near the Parc National des Ecrins (which itself is home to many ski resorts) and the Italian border, is one of the largest resorts in France, if not Europe.  There is a large area for skiing and snowboarding but they also offer many other activities, everything from show-shoeing to relaxing in the thermal baths.  Schedule your visit during one of their many events in order to witness some world-class skiing, a car race in the snow and ice, or the extreme sport of snow-kiting!
You can stay right on the Serre Chevalier ski resort property in this two bedroom ski chalet (PR-10).  The rustic cabin, with wood paneling and beamed ceilings, provides a warm and relaxing retreat after a long day of hitting the slopes.  The well-equipped kitchen and bath offer everything one could want.  Enjoy your morning coffee or some late night hot chocolate and some spectacular views of the Alps from the large deck.
There are also other ski resorts within driving distance of Serre Chevalier and this chalet.  The Parc National des Ecrins is home to many resorts, but the closest ones may be Montgenèvre and Risoul.  Montgenèvre, while small, still offers world-class skiing, both alpine and cross-country, as well as other winter activities like sledding and ice-skating.  Risoul is another large resort, on par with Serre Chevalier, offering a wide range of both outdoor and indoor activities.
Or take a break from the skiing, and see the sites of Gap, like the medieval cathedral and abbey or follow the path that Napoleon took on his way through town as he reclaimed power. Within driving distance of the three resorts mentioned, this cozy getaway will let you enjoy skiing during the day without feeling isolated from provincial French life.  Cook your hearty breakfast at home before you hit the slopes and take in the Alpine vistas from the balcony.
If you enjoy skiing, then a European ski trip is a must, and France has some of the best ski resorts around. Plus, the Alps offer plenty of fun attractions for the whole family. Whether you prefer to stay on or off property, New York Habitat has a variety of vacation apartment rentals from which you can choose.  The combination is sure to produce a lifetime of memories!
Have you visited one of the resorts before, or other French ski resorts?  Please share your experiences with us in the comments section. And for more travel tips about South of France, stay tuned on our blog!