In today's New York video tour we're heading to the subway stop Broadway-Lafayette in downtown Manhattan to connect to the F train, which will take us under the East River and into the neighborhood of DUMBO in Brooklyn.
Video Tour of DUMBO, Brooklyn, New York (6:27)
This will be the first part of a two-part series on DUMBO. You can watch Part 2 of our Video Tour of DUMBO, Brooklyn or subscribe to YouTube channel to make sure you don't miss our newest videos.
Finding DUMBO
The name "DUMBO" is an acronym standing for Down Under the Manhattan Bridge Overpass, and it's tucked between the Brooklyn and Manhattan Bridges. DUMBO offers plenty of accomodations right at the very center of Brooklyn. You can walk or cycle across either bridge to get to Manhattan in as little as ten minutes. The F train at Jay Street or the A and C trains at High Street are the main subway stops here.
Walking the Brooklyn Bridge – DUMBO to Manhattan
To walk across the Brooklyn Bridge on foot, to get to Manhattan from DUMBO, walk over to Washington Street. You'll find the underpass that leads up a stairway onto the Brooklyn Bridge Pedestrian Walkway.
Fulton-Ferry Landing
You can't beat the views from DUMBO. Here on the Fulton Ferry Landing, you're practically underneath the Brooklyn Bridge, and can see downtown skyscrapers like the Woolworth Building as well as boats traveling in and out of the harbor.
For a special occasion, reserve a window-side table at the River Café, a Michelin-starred restaurant on the Fulton Ferry Landing where the food is as fine as the scenery.
In the 19th century, Fulton Ferry Landing was the busiest spot in Brooklyn.
It's named for the boat that shuttled residents to Manhattan, the only way to get across the East River until the Brooklyn Bridge opened in 1883. One commuter was Walt Whitman, who edited the Brooklyn Daily Eagle down the street. His famous poem "Crossing Brooklyn Ferry" describes the schooners and sea gulls he saw from its deck.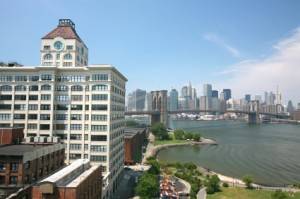 DUMBO New York
Brooklyn Bridge Park (pier 1)
Beside the Fulton Ferry Landing is the beautiful Brooklyn Bridge Park. It opened in 2010, and is the first section of what will be an 85-acre park along the water. The piers in this area were all covered with abandoned warehouses just a few years ago. Now you'll find lawns and paths that are as beautifully landscaped as any in the city.
In July and August, the sloping hill in the far corner transforms into an outdoor cinema. Set up on a blanket, gaze out at the Statue of Liberty, and you'll feel like you're in a movie while watching one.
Brooklyn Accommodations and Apartments
Of course the best way to feel like a Brooklynite, is to live like a local by renting a furnished apartment or vacation rental in Brooklyn through New York Habitat. Whether you're returning to Brooklyn via the Brooklyn Bridge Walkway, or you're coming home from the outdoor cinema at the park, there's no better way to finish a long day out than to relax in your very own home away from home.
This fully furnished 2-bedroom apartment, Brooklyn Heights, New York (NY-14844) is on the ground floor of a 4-story low-rise building. It includes shared access to the back garden. The living room is furnished with a double sized sofa bed, a flat screen TV and a working brick fireplace. One bedroom has a queen sized bed, while the other is furnished with two singles. There is no full kitchen in the apartment, but a kitchenette with mini-fridge and 2 hot plates is included for light cooking of meals but we recommend that you test the many restaurants of New York City.
Check out this furnished 1-bedroom apartment in Boreum Hill, Brooklyn (NY-14643). It is situated on the 2nd floor of a 3-story walk-up building. This building is a laundry building and this apartment also has a fully equipped kitchen including the convenience of a dishwasher.
Tobacco Warehouse and Empire Stores (on the north side of Brooklyn Bridge, inside the park near the entrance off Main Street)
The Tobacco Warehouse and Empire Stores were built in the 1870s to hold dry goods to be loaded onto ships. Imagine them buzzing with workers hauling down crates on pulleys, and you'll get a sense of what the area was like in its heyday. It was a major hub of both shipping and manufacturing.
All kinds of things were produced here in the 19th century… from boxes, to beer, to soap. In fact, DUMBO has played such an important role in New York commerce that it was designated an historic district in 2007.
Well, I hope you've enjoyed this first part of our 2-part video series on DUMBO in Brooklyn. If you know of any other DUMBO secrets, be sure to let us know in the comment section below.