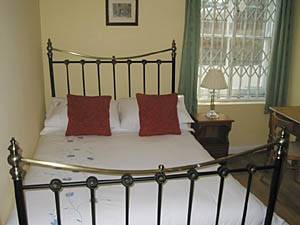 This two-bedroom apartment rental on Lilley Street is centrally located within some of the hottest neighborhoods in the West End of London. West Brompton is situated in the Royal Borough of Kensington and Chelsea and nestled near Knightsbridge and Earl's Court. The moment you step outside of your London flat, the possibilities for shopping, dining and entertainment are boundless.
Two-bedroom Apartment in London:
Looking for a quaint, charming Vacation Rental in London? Look no further! This West Brompton 2-Bedroom Accommodation in Kensington – Chelsea (LN-426) is located on the ground floor of a modern townhouse. The kitchen is equipped with all of the amenities both a gourmet chef and a novice cook could ask for, including an electric oven, a refrigerator, a kettle and a toaster. Notice the warm colors of the tile backsplash on the walls. It beautifully complements the honey cabinetry. Just imagine spending a morning in your furnished London apartment rental, sipping tea in the cozy, inviting kitchen.
Easy access to the West End via the nearby West Brompton (District Line) Tube station allows you to travel anywhere in the whole of London. Have a stroll through nearby Hyde Park or enjoy a uniquely British holiday by taking a hop, skip and a jump to Battersea Park in November for Guy Fawkes Night celebrations on the 5th. Also known as Bonfire Night, the celebration at Battersea Park includes food, drink, bonfires and a spectacular display of fireworks set to music! All of this can be found just minutes from your London apartment rental!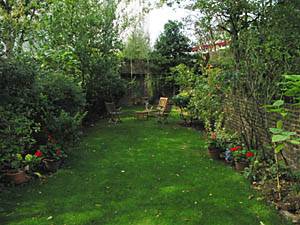 Another apartment in Chelsea, London:
If you love living near shops, parks and busy city streets, you will adore this 1-Bedroom Vacation Rental in Kensington – Chelsea (LN-461).
The two-bedroom apartment in West Brompton and the one-bedroom apartment in Kensington – Chelsea are near everything the West End has to offer. Both London apartment rentals are situated near open, relaxing parks, gourmet restaurants and upscale shops.
Why is the two-bedroom apartment in West Brompton, Kensington – Chelsea, London a hidden gem?
London is one of the largest cities in the world and has hundreds of charming neighborhoods. Living in this two-bedroom apartment rental in West Brompton near Kensington and Chelsea, you will be situated close to just three of the most chic and entertaining London neighborhoods. For up-to-date information on the local area, visit the Royal Borough of Kensington and Chelsea website.
If hearing about Guy Fawke's Night piqued your interest, visit our 2007 Holiday Apartment Rentals Blog article! Feel free to comment on the latest happenings in West Brompton, Kensington – Chelsea, London below.