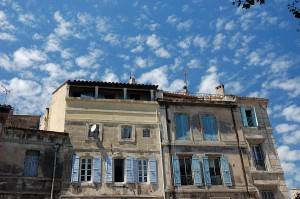 Row houses in Arles, France
"Provence" is a name that never fails to evoke a myriad of boundless pleasures such as dramatic landscapes, penetrating scents, vivid colors, delicious food, mild weather, and much more. On the other hand, this vast topic can appear as rather intimidating to first-timers wondering where to start as well as veterans feeling there's always more to discover. That's when the annual event "L'Art de vivre en Provence" (The Art of Living in Provence) comes in handy by not only filling you in on everything you'll ever need to know about this magnificent region, but also by doing it in the attractive Roman city of Arles.
That's where this year, from November 24 to 28, the huge Provencal fair will host 150 exhibitors over almost 38,000 square feet, including a rest area and four food courts, and will welcome you in a totally magical world right on time to kick start the holiday season. You will get to sample many local specialties such as Camargue salt, Alpilles lamb, goat cheese and almond paste, all while sipping some light but memorable wines. Your palate will never be the same.
You will also be able to talk to artisans about their crafts, whether it is painting, pottery or jewelry making. The famous Provencal smells can be yours in the form of soaps, perfumes and cosmetics, and even if you cannot sneak any custom-made ergonomic pieces of furniture into your luggage, you can become educated on how they come together. Once you've absorbed all that knowledge, it will be time to go out and practice.
For a full enjoyment of the festival, the city and the surrounding countryside, the first step is to choose the perfect home away from home among our Arles vacation rentals.
If you're interested in Roman history, you cannot do better than our furnished 3-bedroom vacation rental in Arles Center – PR 915 right downtown. With white walls, a wooden ceiling and an imposing fire-place, it boasts of old-fashioned charm and modern comfort. The view from the terrace will seal the deal.
Nine kilometers away, we have a large furnished 5-bedroon vacation rental – Rapheles les Arles – PR 642 in Rapheles les Arles, complete with a pool and a large garden, which can accommodate up to 10 people.
Another typical mas is our furnished 4-bedroom vacation rental – Maussane Les Alpilles – PR 672 in the lovely town of Maussane les Alpilles, where you'll be able to enjoy the convenience of going out in a regional hub as well as the pleasure to bond with nature in the rugged Alpilles mountains.
Have you ever had a chance to experience Provence yourself? Did you ever make it to Arles and would like to share your impressions?