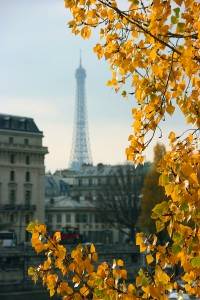 Paris and the Eiffel Tower in the Fall
Looking to experience the cutting edge of artistic expression?  Visit Paris this fall for the annual Autumn Festival, a world-renowned event showcasing the talents of the best artists from all across the globe. From mid-September through the end of the year, Paris hosts this gathering—now in its fortieth year—of avant-garde and modern artists in the fields of theater, dance, film, music and visual arts.
With more than 30 venues used throughout the city of Paris, taking in a sampling of the art available through the Autumn Festival will also give you an incredible tour of some of Paris's most beautiful sites.  Explore such hidden architectural gems like Espace Oscar Niemeyer in the 19th arrondissement, home this fall to Raqs Media Collective's light installation.  The building's design is reminiscent of a flag flapping in the wind and is built with an undulating floor to follow the curves of the walls.  You will be mesmerized by both the artistry of using lights as a means to create universal meaning, as well as by this iconic building.
If theater is more to your taste, check out one of several plays put on at the Théâtre de la Ville at the Place du Châtelet in the 4th arrondissement.  This gorgeous Haussmann era structure was once home to plays produced by the immortal Sarah Bernhardt and the theater held her name for several decades.  You will feel the Divine Sarah's presence as you take in any of Autumn Festival's plays in the red and gold theater.
Since the artists come from all over the world, you may find performances and exhibits in languages as diverse as Russian, Japanese, German, English, and of, course, French.  Subtitles are offered in French, but it can also be a thrill for a non-French speaking American traveler to connect with the art and artists in his native tongue.  And of course, all of these artists would consider an artistic experience to be a universal language.
The Autumn Festival this year lasts through December 31.  Book your trip to Paris today so that you can see what the movers and shakers in the world of art are doing in 2011.  If you're not sure where to stay, let New York Habitat be your host.  These and many other furnished Paris apartments are available for the traveling art lover:
This warm and airy 1 Bedroom Furnished Rental – Le Marais – Notre Dame – Hôtel de Ville – Paris (PA-3189) offers a charming mix of traditional and modern within steps of Théâtre de la Ville.  With a gleaming, modern kitchen, honeyed hardwood floors, and an enormous bathroom featuring a clawfoot tub, this is the perfect spot for your artistic vacation.
Feel decadent in this charming 2 Bedroom Rental in Le Marais (PA-1228) nestled in exclusive Place des Vosges. The large french windows, gorgeous hardwood floors and high ceilings will all remind you of the beauty and charm of old France, while you enjoy the modern conveniences—including Wi-Fi internet.
This cozy 1 Bedroom Furnished Rental – Le Marais – Notre Dame – Hôtel de Ville – Paris (PA-4197) features exposed stone, wooden beams and the original hardwood floors.  Settle in here for a wonderful Paris experience!
Which Paris venue would you most like to see a new artist perform in?