Welcome back to the second half of our video series dedicated to the Meatpacking District. If you missed the first part of the Meatpacking District tour, be sure to check it out for some great tips.
The Meatpacking District is roughly bordered by west 14th street to the north, Gansevoort Street to the south, the Hudson River to the west and Hudson Street to the east.   It is located between two other famous neighborhoods, Chelsea to the North and the West Village to the south.
In our first episode, we shared the history of the Meatpacking District, including its transformation in the 90s with the arrival of high end retailers. We also took you to Chelsea Markets and Pier 54. In this edition we will look at some other famous places as well as the shopping and dining options in the area.
The Meatpacking District Video Tour – Part 2 (4:57)
Shopping Scene
On 14th Street you will find some of the most well-known international  designers' storesincluding Diane von Furstenberg, Charles Nolan, Carlos Miele, Alexander McQueen, Stella McCartney, Theory, Hugo Boss and Moschino.  But there are also some retailers a bit outside the mainstream that you won't want to miss.
AllSaints (415 West 13th Street)
Stop at AllSaints if you're looking for hip clothes and want to experience one of the neighborhood's factory spaces in its raw state.  They have used relic sewing machines and loom tables to decorate their interior which has a very industrial look and the clothes will make you look as hip as the neighborhood!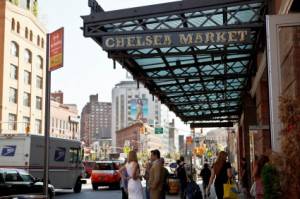 The Meatpacking District of New York

Vitra (29 9th Avenue)
If you are interested in seeing the modern classics as well as the new and innovative, check out the furniture store, Vitra. This showroom has it all from furniture, accessories, sculptures and even design books for your coffee table.
Tory Burch (38-40 Little West 12th Street)
Tory Burch has a clothing store in the meatpacking that is a must see. So be sure to pop in. The 1,600-square-foot space features brushed-stainless-steel walls, deep-purple velvet curtains, and bright-green carpeting.  This space will put you in the mood for fashion
If you are in the Meatpacking during the day, and you're exhausted from shopping, take a break and look inside some of the more popular art galleries in the district
Wooster Projects (418 W. 15th St)
You'll find Wooster Projects, an unassuming gallery, on West 15th St. It a Museum Mile-quality collection, that intermittently displays works by such famed artists as Andy Warhol, Jean-Michel Basquiat, Roy Lichtenstein, Frank Stella, and David Hockney, among others.
Ground Zero Museum Workshop (420 West 14th Street)
Head over to Ground Zero Museum Workshop, known as the "Biggest LITTLE Museum in New York". Rare photos and artifacts collected during the recovery period at Ground Zero can be seen here.
Apartments in the West Village – Meat Packing District Area
If you'd like to experience the Meatpacking District like a true local, you should definitely rent a vacation rental or furnished apartment from New York Habitat. There's no better way to experience this city than to live in a real New York apartment.
For example we have this fully furnished 1-bedroom apartment (NY-14397) which is located right on the border of the Meatpacking District and Chelsea. The apartment is situated on the top floor of a 3-story walk-up brownstone. The bedroom is furnished with a double sized bed and there is a queen sized futon in the living room for additional sleeping room. The kitchen is fully equipped, complete with the convenience of a dishwasher. There is also a fireplace in the interior exposed brick wall, as well as a dining table and desk.
Another great choice is this fully furnished studio (NY-14253) is also located just north of the Meatpacking District and is situated on the 4th floor of a 5-story walk-up building. This apartment provides for many different sleeping arrangements with a queen sized bed, double bed and a double sofa bed. The kitchen is fully equipped and there is television with cable channels, air conditioning, and the convenience of laundry access in the building.
Cooking at home is a great option when in New York, but you'll also want to go out in the Meatpacking to experience all that it has to offer. This neighborhood is very busy on weekend nights because all the best restaurants, clubs are bars are all within walking distance of each other.  You're sure to have a good time in this high style neighborhood.
For a few great places to eat, check out these Meatpacking hotspots:
Fig and Olive at 420 West 13th Street
Pastis at 9 9th Ave
Budda Bar at 25 Little West 12th Street
Spice Market at 403 W. 13th Street
Macelleria at 48 Gansevoort Street
Nero D' Avola at 46 Gansevoort St
Bill's Burger and Bar at 22 9th Ave (West 13th Street)
And if you're looking for some bars and lounges, here are a few to get you started:
The Hotel Gansevoort Rooftop Bar/Lounge  at 18 9th Avenue, at 13th Street
The Boom Boom Room in the Standard Hotel at 848 Washington St (at W. 13th St)
The Standard Beer Garden – 848 Washington St (between Little W 12th St & 13th St)
Brass Monkey at 55 Little W 12th St
The Meatpacking District is about 2 or 3 miles from Central Park, but if you're looking for a quick escape from the city, you'll finda small park at 14th St Park at 10th Avenue or the newly constructed High Line Park, which stretches on 10th Avenue from 14th Street north to 30th Street.
Well, that's a wrap of the second half of our video series dedicated to the Meatpacking District. Thank you for taking the time to join us on this tour, and if we've missed any of your favorite spots in the area, please share them with us in the comments section below.
Thanks for watching our New York Video tour and we hope to see you soon living in high style in the Meatpacking Packing District!