In this video tour of New York we're going to continue to explore the neighborhood of Brooklyn Heights.
This is the second of our two-part series on this fantastic New York neighborhood located in the Borough of Brooklyn.  Make sure to watch the first part of our Video Tour of Brooklyn Heights.
Video tour of Brooklyn Heights, New York: Part 2 (7:39)
Brooklyn Heights is located just across the Brooklyn Bridge from Lower Manhattan.
Montague Street
Montague Street  is the neighborhood's "main" retail street and is lined with cafes and shops.
Many of the buildings along Montague Street have beautiful architectural details, like wrought iron railings. The church of St. Ann and the Holy Trinity, at the corner of Clinton Street, is a national historic landmark dating back to 1844 and is known for its elaborate stained glass windows.
Brooklyn used to be called the "city of churches," so there are many spires to be seen here.
Chase Bank Building
Another architectural hotspot can be found at 177 Montague St., where you'll find the Chase Bank building. Built in 1917 and designed to look like an Italian Renaissance palace, it's considered by many to be the grandest bank in New York.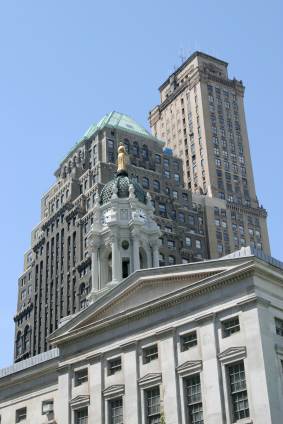 Brooklyn Heights Skyscrapers

Grace Court Alley (Hicks Street between Joralemon and Remsen Streets)
Part of what makes Brooklyn Heights so attractive is its varied architecture, including alleys and mews such as Grace Court Alley. It is one of the few streets in New York almost entirely made up of carriage houses, and offers a glimpse of what the city was like before cars.
The stables were turned into residences 100 years ago, and it's now quiet and almost traffic-free—a great place in New York  for kids to learn how to ride bikes!
Atlantic Avenue, between Clinton and Court Streets
Atlantic Avenue, which divides Brooklyn Heights and Cobble Hill, is another main strip where you can find anything you need, from meat pies to craft beers, locally-made jewelry and used books.
Sahadi's
Be sure to visit the 60-year-old Sahadi's, a wonderful Middle Eastern bazaar chock full of spices, nuts, olives, and delicious homemade hummus. Just be prepared to wait: on Saturday afternoons, the entire neighborhood seems to shop here.
Brooklyn Apartments and Accommodations in Brooklyn
Speaking of the neighborhood, the best way to be a part of it is to live like a local by renting a furnished apartment or vacation rental for your next visit to New York.
Consider  a room for rent in a 2-bedroom apartment in Boerum Hill, Brooklyn (NY-14665). This room for rent is on the 2nd floor of a townhouse that includes a fully equipped kitchen, air conditioning, cable TV and the luxury of a washer and dryer!
Or maybe this furnished vacation rental apartment (NY-11601) which is also located in Boerum Hill, just blocks from Brooklyn Heights. This apartment is on the ground floor of a brownstone apartment. The apartment has a beautiful interior with wood floors, a decorative fireplace and exposed brick. This rental has a double bed in the bedroom and a double sized futon in the living room for further sleeping accommodations. The kitchen is fully equipped including a stove, microwave and small refrigerator. There is a dining table in the living room for a spot to sit an enjoy meals.
Shopping Scene
You'll find some fun shops on Atlantic Avenue and Henry Street, but the best shopping is in nearby Cobble Hill and Boerum Hill, on Court and Smith Streets. Checkout:
Housing Works Thrift Shop (122 Montague Street, shophousingworks.com)
Tango (145 Montague Street)
Atlantic Bookshop (179 Atlantic Avenue)
Barney's Co-Op (194 Atlantic Avenue, barneys.com)
Teddy (216 Court Street)
Lily (209 Court Street, lilybrooklyn.com)
Restaurant and Nightlife
Brooklyn Heights is a quiet neighborhood, but on Henry Street and Atlantic Avenue you'll discover a fun mix of excellent bars and restaurants:
Henry's End (44 Henry Street, henrysend.com)
Henry Public (329 Henry Street, henrypublic.com)
Chipshop (129 Atlantic Avenue, chipshopnyc.com)
Tazza (311 Henry Street, tazzabklyn.com)
Iris Café (20 Columbia Place)
Notable Addresses
If you like historic homes of the past, here are few notable addresses to check out:
Arthur Miller's Home – 102 Pierrepont Street
Here you'll find the former home of Arthur Miller, author of "Death of a Salesman", "The Crucible", and one-time husband of Marilyn Monroe.
Truman Capote's Home – 70 Willow Street
Moving on to Willow Street, at #70, you'll find a home dating back to 1830's. Truman Capote lived here when he wrote Breakfast at Tiffany's.
Brooklyn Historical Society – 128 Pierrepont Street
To learn more about Brooklyn, stop off at the Brooklyn Historical Society. Here they offer a series of tours and talks by curators, artists, historians and educators.
Well, I hope you have enjoyed our tour of Brooklyn Heights.
Of course, there's a lot more to see and do here.  If I've missed any of your favorite Brooklyn Heights Secrets, be sure to share them with us in the comments box below.
Thanks for checking out the sites with us in Brooklyn Heights.  Be sure to check out our other videos where you'll find more travel tips and tours of New York City's amazing neighborhoods. We hope to see you soon walking the streets of New York City.