In this New York video tour we're going to take you for a stroll through the neighborhood of Brooklyn Heights. This will be the first of a two-part series on Brooklyn Heights.
Video tour of Brooklyn Heights, New York: Part 1 (5:49)
Brooklyn Heights is located across the Brooklyn Bridge from Lower Manhattan. It is bordered by the East River, the Brooklyn-Queens Expressway to the North, Cadman Plaza and Court Street to the East, and Atlantic Avenue to the South.
Transportation
One of the best things about Brooklyn Heights is its many subway connections. The area is served by 9 different lines that run 24/7, so whether you're going to the East or West Sides of Manhattan or many parts of Brooklyn, you rarely have to change trains.
From the transport hub at Borough Hall, you can take the #2 express train to Times Square or the #4 express train to Grand Central, both about 15 minutes away. Of course, the best way to get to Manhattan is to walk or cycle across the Brooklyn Bridge. First thing in the morning on the way to work or at night after dinner downtown, you'll always get amazing harbor and island views.
Brooklyn Heights Promenade
The neighborhood is famous for its stunning views of Manhattan and New York Harbor. Here on the Brooklyn Heights Promenade, you can see the Empire State Building, the Brooklyn Bridge and the Statue of Liberty.
The promenade was built above the Brooklyn-Queens Expressway in 1950; before then the land was private gardens. Just down at the shoreline is one of the area's most exciting developments: construction of the upcoming 85-acre Brooklyn Bridge Park, which will replace abandoned piers.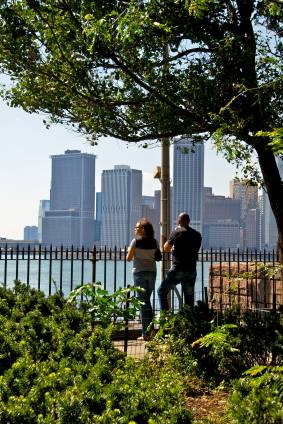 Brooklyn Heights Prominade

Middagh Street
Middagh Street is in northern Brooklyn Heights. You'll notice many charming clapboard houses from the 19th century, when the neighborhood was Manhattan's first suburb. It was seen as a place to escape the crowds and hustle of the city, and boasted fresh air and more space—qualities that still make it appealing today. The Federal building on the corner, number 24, is the oldest house in Brooklyn Heights, dating back to 1824.
Early Dutch settlers came to the area of Brooklyn Heights in the 1640s, and it was mostly farmland for the next 150 years.
It wasn't until Robert Fulton invented a fast ferry in 1814 that the population boomed and streets like Middagh Street got built up. In the first half of the 20th century the neighborhood attracted many artists: one house on Middagh Street, number 7, was home to Carson McCullers and WH Auden. Other writers who have lived in Brooklyn Heights include Truman Capote, Arthur Miller, and Norman Mailer.
If you really want to absorb yourself into the culture and daily life of Brooklyn, you'll want to forgo the hotel and book one of the many vacation rentals and furnished apartments that New York Habitat has to offer in the area.  There's no better way to truly enjoy your stay in Brooklyn.
For example, we have this fully furnished 2-bedroom apartment just a few blocks south of Brooklyn Heights (NY-14942). This apartment is on the top floor of a 3-story walk-up brownstone. This rental comes with the comfort of air conditioning in the bedrooms and living room, a fully equipped eat-in kitchen and cable TV. The bathroom comes with the luxury of a jacuzzi bathtub.
Also just a short walk to Brooklyn Heights proper is this 3-bedroom, 2-bathroom furnished duplex rental (NY-14987). The apartment is updated and furnished with modern furnishings throughout. The apartment comes with the convenience of a washer and dryer, of course a fully equipped kitchen and the added bonus of a private terrace, deck and backyard area.
Henry Street between Middagh and Pineapple Streets
This particular stretch of Henry Street feels like a small town, with a number of independent restaurants and the two-screen Brooklyn Heights Cinema (70 Henry Street).
If you're up early, pop into family-run Cranberry's for coffee and a raspberry scone. For dinner, Henry's End is a local institution.
Plymouth Church of the Pilgrims (Orange Street between Henry and Hicks)
Plymouth Church of the Pilgrims was founded in 1847 and its first preacher was Henry Ward Beecher, brother of writer Harriet Beecher Stowe.
Beecher was a powerful abolitionist speaker who drew crowds to the neighborhood on Sundays. Visitors included Mark Twain, Charles Dickens and Abraham Lincoln. The church was an important stop on the Underground Railroad and Beecher staged famous mock slave "auctions" in which he raised money to buy a slave's freedom.
Borough Hall Farmers' Market (Court and Montague Streets)
There is a lively farmers' market here three days a week, with a colorful selection of fruit, vegetables, and flowers, plus meat and cheese, fresh from upstate and Long Island. This is the heart of Downtown Brooklyn, and buildings on the square include the historic Borough Hall and the Kings County courthouse. Borough Hall used to be the Brooklyn City Hall when Brooklyn was an independent city until 1898.
Well, I hope you've enjoyed our tour of Brooklyn Heights. Of course, there's a lot more to see and do here.  If I've missed any of your favorite Brooklyn Heights Secrets, be sure to share them with us in the comments box below, and continue the visit with Part 2 of our Brooklyn Heights tour. Make sure to subscribe to our YouTube channel to be notified when our latest videos come out.
Thanks for hanging out with us in Brooklyn Heights. We hope to see you soon, making your own discoveries in the borough of Brooklyn.