Welcome to the next installation of New York Habitat's video tours. In this video, you will get a look into yet another great neighborhood of New York City, Hamilton Heights.
Picking up on our tour of Harlem that began a few months ago, today we are going to feature Hamilton Heights. The borders of Hamilton Heights are 135th Street to the south, 155th Street to the north, the Hudson River to the west and Edgecombe Avenue to the east.

Video Tour of Hamilton Heights, New York(4:21)
History:
Hamilton Heights is a neighborhood within the area of Harlem and it takes its name after Alexander Hamilton, the first U.S. Secretary of the Treasury, who lived here in the last few years of his life.
Hamilton Grange National Memorial – 287 Convent Avenue
Alexander Hamilton came to New York at the age of 17 to study at King's College, which is now Columbia University.  He later became a politician and built his "federal style" house at this location in 1802, which is called Hamilton Grange National Memorial.
One of the most interesting moments of Hamilton's life was actually his death.  He died on July 12, 1804 as a result of being mortally wounded from a pistol duel the day before with Aaron Burr, who was, at the time, the Vice President of the United States!  In those days "dueling politicians" was not just a figure of speech!
Dance Theatre of Harlem – 466 West 153nd Street
The Dance Theatre of Harlem is a ballet company and school which was created to introduce ballet and dance to the children of Harlem. Today it has grown into a multi-cultural company which offers training in ballet, choreography and music to people of all ages.
The Harlem School of the Arts –  645 St. Nicholas Avenue (141st Street)
The Harlem School of the Arts was founded in 1964 to create an opportunity for the children of Harlem to be exposed to and to learn musical instruments.  It started with piano lessons and later violin, drama, visual arts and dance classes were added.  This school continues to offer a range of art classes to kids and adults all around Harlem and New York City.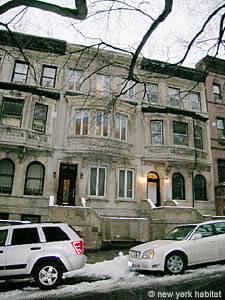 Sugar Hill New York
Sugar Hill
– 145th-155th Streets
Sugar Hill is a neighborhood within Hamilton Heights.  In the 1920s this area was inhabited by wealthy African-American people who had such a "sweet" lifestyle that it was given  the name  Sugar Hill.  It has since been declared an historic district due to the amazing rowhouses that have been preserved in the district
City College of New York – 138th Street & Convent Avenue
City College of New York was the first public college in the United States.  It was founded in order to give the opportunity to immigrant youth to attend college, mainly based on merit and not on wealth.  From the beginning, this public college has shown tolerance for diversity.
City College occupies a large part of the Hamilton heights section of Harlem, from 130th to 141st Streets, and has many historical buildings and monuments on its campus.
Riverbank State Park – 137th to 145th Streets
Riverbank State Park occupies 28 acres of land in Hamilton Heights along the Hudson River.  Inspired by the urban rooftop designs in Japan, this park was built on several levels, which makes it very unusual and different from the other parks in New York City.  This park offers many outdoor sports activities including: tennis courts, a softball field, a 400 meter eight-lane running track, an indoor ice and roller skating rink, a soccer field and a an Olympic size swimming pool.
After seeing so many historical houses in this video, don't forget that New York Habitat has a variety of apartments and vacation rentals as well.  If you are planning to stay in New York and need space, you should book an historic house or apartment in Harlem.  Not only are they more spacious, but they are more affordable than in other parts of Manhattan, as well.  You will feel the glorious lifestyle of the African-American wealth of the 1920s and you will be very well connected to all parts of Manhattan.
If you want to find a nice and convenient accommodation in Harlem, including in Hamilton Heights, check out these apartments:
A fully furnished 1 bedroom vacation rental apartment  located in the heart of Hamilton Heights (NY-14609) on West 142nd Street. This apartment is situated in a brownstone building and comes with the luxury of a private garden, a rare feature in New York City.
If you are looking for a room to rent, check out this furnished room for rent in Hamilton Heights located in a 3 bedroom apartment (NY-14412). The bedroom comes with  a full sized bed, a closet for storage and a TV connected to cable. The kitchen and living room are shared with the roommates and wireless Internet is available throughout the apartment.
New York Habitat also offers rooms in house shares.  If you are on a budget or if you plan to attend City College, Columbia University or a different school, it might be beneficial to consider a room in one of the many historic houses in Hamilton Heights.
I hope you have had fun watching this video tour of Hamilton Heights!  If you are planning a trip to New York, you should consider Harlem, but don't forget that we have accommodations in Harlem as well as apartment rentals in any of the wonderful neighborhoods in Manhattan.  If you have any comments or suggestions on visiting this historic New York City neighborhood, please leave a message in the comment section below.
It has been fun showing you Hamilton Heights and I hope to see you soon in the 'city that never sleeps'!