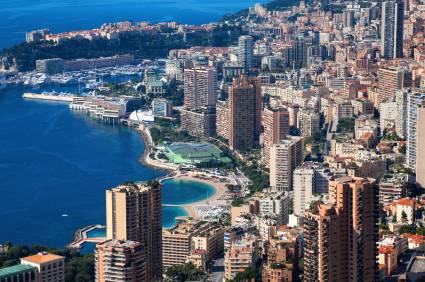 Monaco
Spring is a many-splendid thing indeed, and even more so in Monaco, where the famous Printemps des Arts festival will celebrate nature's rebirth with many festivities over the course of four weekends from March 16 to April 8, 2012.
It will all start with an Accordion Night three evenings in a row, presenting music from Brittany, Italy, Ireland and the Basque Country. The following weekend, the focus will be on the tambourine with a concert featuring musicians from Brazil, India, Italy and Egypt. For many, however, the highlight of the whole festival may very well be the "Journée surprenante" (Surprising Day), during which everybody is welcome to the Auditorium Rainer II where all kinds of performances and discussions will unfold all day long.
The last two weeks will be dedicated to classical music with, among other things, a selection of Bruckner's works played by the Orchestre Philharmonique de Monte-Carlo and some of the most prestigious orchestras in the world.  The last, but not least, event of the Printemps des Arts 2012 will be a Russian-centric piano recital followed by a Bling Bling Night whose motto could be: the more eccentric the better!
In between concerts, you are free to visit the small but endlessly attractive principality. There's no doubt that its main attraction is the Monte-Carlo Casino, whose dazzling opulence is just unforgettable.  The Oceanographic museum also enjoys a well-deserved international reputation for excellence.  The Monaco Cathedral and the Prince's Palace are probably as close as you'll be able to get to the First Family while the 18th century Fort Antoine is popular for its enchanting setting, military architecture and incredible quietness.
For your own comfort and convenience, New York Habitat will help you become part of the local scene with your own fully furnished rental.
Proximity is key? Then our elegant 2-bedroom – Beausoleil – PR 632 in the nearby small town of Beausoleil is perfect: only a 10-minute walk from Monte Carlo and half-way between Nice and Italy.
You can also settle in the small town of Cap d'Ail where our comfortable two-bedroom rental (PR-92) can easily accommodate 4 people. Overlooking the Mediterranean sea, it is less than 3km away (2 miles) from Monaco.
Another cute studio – Eze – PR 806 is waiting for you on the coastal road right below Eze Village, between Beaulieu and Monaco. Right in the hills above the sea and within short distance of the beach, this dream location is nevertheless nothing compared to the incredible 180° view over the ever-blue Mediterranean from the terrace.
Have you ever been to Monaco, in the spring or any other season, and would like to share your impressions below?
Related apartment rental posts from New York Habitat: