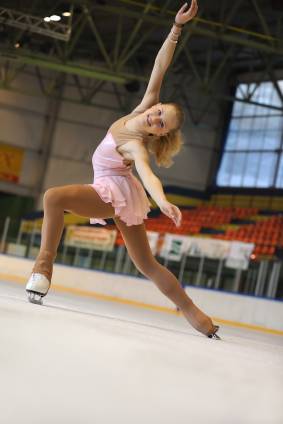 Figure Skater
For the amateurs of beauty in all its forms, why not treat yourself to a special vacation during which you will be able to indulge in stunning sport activities in a no less stunning natural setting? That is just what you can do if you fly over to Nice for the ISU World Figure Skating Championships, which will take place from March 26 to April 1 at the Palais des Expositions and the Palais des Sports Jean-Bouin, located right next to each other.
In either venue you will be able to marvel at the flexibility and grace of the crème de la crème of competitive figure skaters from all over the world in a variety of programs. Whether you prefer Free Skating, Short Dance or Free Dance, there is no doubt that these incredible skaters, who have achieved the impressive combination of athletic feats and artistic talent, will delight you with their performances, and maybe even inspire you to venture on the ice yourself.
Once you've had your fill of the action in the cold environment, why not marvel at the action happening in the warm capital of the French Riviera? The must-see neighborhood for many visitors is the Vieux Nice, the colorful Old Town where Baroque architecture, small specialty shops and precious art galleries endlessly adorn the narrow streets. When you decide to come out for space and light, you cannot miss the world-famous daily flower market, which becomes an antiques market on Monday, on Cours Saleya. Because it is so hard to take it all in the first time around, feel free to go back and have more fun.
In order to make the most of your stay, we have a wide range of fully furnished rentals in Nice so that you can easily find the one that will suit your every need.
If you care more about location than size, our studio – Nice Old Town – PR 261 will be perfect for you. A small but irresistible pied-à-terre at the top of an 18th century palace, it has been fully renovated a few years ago and cannot fail to totally win you over.
If you want a bigger space with historic flair and all amenities, we have a spacious Belle Époque 2-bedroom – Nice Center – PR 797, which can easily turn into a 3-bedroom apartment. You will have all the comforts of modern life and a small balcony as well. Shops and restaurants are walking distance, and so is the beach.
In need of an even bigger space? In that case, have a look at our 3-bedroom – Nice Colline des Baumettes – PR 864, which can accommodate up to 8 people on the 5th floor of a modern building.  You cannot beat the convenience of an elevator taking you directly into the apartment and having all the rooms opening on the terrace. A wide range of restaurants and shops sits right around the corner, and the beach is 10 minutes away.
If you're a lover of the good things in life, chances are you've been to Nice, France. If you have, would you care to share your best memories in our comments section below?
Related apartment rental posts from New York Habitat: