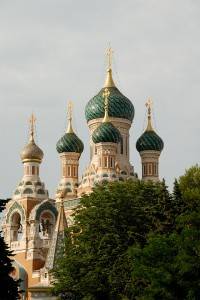 The Russian cathedral in Nice
The Russians' love affair with the Riviera is a well-known fact, and one of their favorite playgrounds has always been the irresistible city of Nice with its unique location on the Bay of angels, its perfect climate, and its ubiquitous cosmopolitan flair.  One of the most famous of those expatriates was the ultimate modernist Marc Chagall, who decided to move to this then new artistic center after the Second World War. Today the general public is able to become extensively acquainted with the painter's œuvre thanks to the Musée National Marc Chagall, which is entirely dedicated to the artist's numerous works in various media such as paintings, stained glass, book illustrations, ceramics, tapestries, decorations and tapestries.
From now until the end of January, the special exhibit "Mais quel cirque!" ("What a circus!")– a play on words from an expression that conveys surprise at a messy situation and the circus, one of his favorite subjects – presents 38 rare gouaches that he painted in 1955. Whether exploding with bright colors or oozing nostalgia and mystery, they will not fail to take you into Chagall's fascinating inner world.
Between Nice and Cannes, in the lovely town of Biot, the Musée National Fernand Léger presents its own twin exhibition starring "Cirque", the lithographed masterpiece that the French artist created in 1950. You'll also be able to admire many other works of this ground-breaker in the fields of paintings, sculpture and film-making, which extensively explain why so many have considered him the forerunner of Pop Art.
So why don't you leave the cold behind and take a spontaneous trip to one of the world's most beautiful region, soak up some sun and culture, and get a well-deserved winter break? To fully enjoy yourself, nothing beats having your own home-away-from-home, and in that regard, New York Habitat has a wide range of fully furnished apartment rentals in the French Riviera so you can feel like one of the locals.
If you want to step back in time, but with the convenience of modern life, we have a spacious Belle Époque 2-bedroom – Nice Center – PR 797, which can easily turn into a 3-bedroom apartment. A fully equipped kitchen, washer and dryer and a small balcony make it particularly attractive as well. Not to mention that you will have shops and restaurants within reach, and the beach within walking distance.
If all you need is a small pad in the heart of the most popular area of Nice, then our studio – Nice Old town – PR 261 will be perfect for you. A cute, colorful space at the top of one of the city's 18th century palaces, it has been fully renovate a few years ago but still has a beautiful fresco adorning the domed ceiling.
Coming with a group of friends? In that case, you should check out our 3-bedroom – Nice Colline des Baumettes – PR 864, which sleeps up to 8 people on the 5th floor of a modern building.  The perks include an elevator taking you directly into the apartment, all rooms opening on the terrace, plenty of restaurants and shops outside your doorstep, and a 10 minute walk from the beach.
If you've been to Nice, we bet you have wonderful memories of your stay. Would you care to share them below?