Playing hoaxes and pranks on the first day of April is a long-standing tradition in America, but many people do not know that the quirky holiday actually originated in France, where the butt of an April 1st joke is known as a Poisson d'Avril—that is, an April fish.  A common prank among French schoolchildren is to tape a paper fish to the back of an unsuspecting friend, only to shout "Poisson d'Avril!" when the fish is discovered.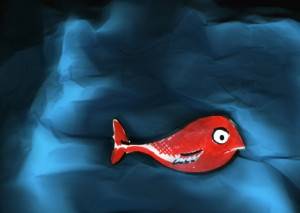 Poisson d'Avril
Although the reason why fish are the symbol of this good-natured holiday is still a mystery, it is recognized that the holiday originated in Paris in the 16th century.  In 1564, the French King Charles XIV decreed that the New Year would no longer be celebrated at the beginning of April, as it had been for years.  Instead, January 1st would mark the start of each calendar year.  Unfortunately, without reliable communication between the King's court in Paris and the rural areas all over France, many of the French throughout the countryside either did not hear the news for several years, or simply did not believe that such a major change took place.  So tricks and pranks were often played on those still following the old calendar rules—and a fun and silly tradition began.
Of course, no French tradition is complete without food to commemorate it, and le Poisson d'Avril is no different.  All throughout Paris on April 1st, you will find chocolate fish for your April Fools' enjoyment.  These fish-shaped candies are known as fritures and come in milk chocolate, white chocolate, dark chocolate, and even orange flavors, as well as marzipan.  A traditional Poisson d'Avril treat is a ganache-filled chocolate "sardine," which looks much like the real thing in its silver wrapper.
Eating your fill of delicious real fish is also an important part of celebrating le Poisson d'Avril in Paris. Every restaurant offers a fruit de mer special for the day, from shrimp to crab to scallops to oysters and more.  While visiting Paris in early spring, make sure you set aside April 1st for a spectacular meal of fish as only the French can prepare it.
New York Habitat has many beautiful vacation rentals for your April Fools' trip to Paris—and that's no joke.  Not sure where you want to stay?  Start planning your vacation today with one of these furnished apartments:
Sleek, colorful, and modern, this 1 Bedroom Vacation Rental – Le Marais – Paris (PA-4163) will be perfect for your spring trip.  Located in the heart of Le Marais and only steps from Place des Vosges, you'll be charmed by the hardwood floors, full kitchen and view of the elegant neighborhood.
If you're bringing your friends on your Parisian trip, you must stay at this 3 Bedroom Vacation Rental – Saint-Germain des Prés – Paris (PA-4173).  Elegantly furnished and filled with beautiful artwork, this 18th century building will make a wonderful home-away-from-home for up to six guests.
What is you favorite April Fools' joke?
Related apartment rental posts from New York Habitat: