For a spooky and unforgettable Parisian experience, visit the city of Light in time for the twin holidays of Halloween on October 31 and La Toussaint (All Saints' Day) on November 1 for a rare fall treat!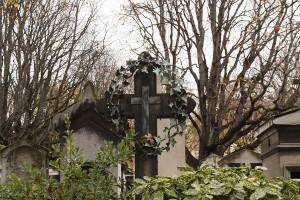 Photo of a Paris Cemetary
Halloween is only a recent phenomenon in France, despite the fact that the holiday dates back to Celtic tradition in Ireland, Britain and France.  While the holiday flourished in other parts of the world, this fall festival of the harvest and good-natured scares faded away from France.  However, in the past several decades, the French have re-embraced this delightful tradition, throwing
lavish Halloween parties
, carving pumpkins, and of course, creating
artisanal chocolate treats like sweet and scary chocolate masks
that are a perfect end to a night of Halloween fun.
If you're lucky enough to be visiting Paris in time for Halloween, plan on a traditionally scary costume for your creepy soiree. Witches, vampires and ghosts tend to rule the night at Parisian costume parties, rather than the whimsical or funny costumes you might see at an American celebration.
Halloween and the following day, All Saints' Day, are also the perfect opportunity to explore some of Paris's gorgeous cemeteries.  Not only are Père Lachaise Cemetery and Montparnasse Cemetery "home" to many famous long-term inhabitants like Jim Morrison of the Doors, Edith Piaf, Simone de Beauvoir and Jean-Paul Sartre, but they are also beautiful spots that teem with a kind of eerie vitality.  For an unusual souvenir of your trip, take some paper and graphite and make a rubbing of one of the gravestones.  It's a lovely reminder that we are all impermanent and important, fleeting and eternal.
La Toussaint is a major holiday in France, which means that restaurants, shops and museums will be closed.  However, the holiday honors all the saints in the Roman Catholic tradition, and one of the lovely traditions of the fête is the placement of flowers on the graves of family members who have passed on.  After a day of celebrating the spooky fun of Halloween, taking an afternoon to check out the beautiful floral displays filling Père Lachaise and Montparnasse cemeteries will be an unforgettable end to your Parisian holiday. Also, don't forget these two neighborhoods offer plenty of activities. For example, the 14th arrondissement, where Montparnasse is located, proposes numerous bars and nighttime activities.
With the importance of national holidays in France, having a vacation rental in Paris you can count on is paramount.  Hotels may not be able to find you a room when everyone is celebrating.  So let New York Habitat be your host when you visit Paris this fall.  Here are some elegant apartments to help you get your search started:
Stay for a while in this bright 1 Bedroom  Rental – Montparnasse – Alésia – Paris (PA-1706).  This gem of an apartment has stunning hardwood floors, high ceilings and a beautiful view.
Enjoy a warm and welcoming feel with all the modern conveniences in this 2 Bedroom Vacation Rental – Montparnasse – Alésia – Paris (PA-2972).  With bright décor, a gorgeous kitchen and French windows throughout, you'll feel right at home in this apartment.
Looking for a vacation rental with a modern feel and room for 8?  Look no further than this 5 Bedroom Townhouse Vacation Rental – Montparnasse – Alésia – Paris (PA-2348).  With a full wall of windows in the living room and modern furnishings,  this is the perfect apartment for your next holiday.
What is your favorite holiday to celebrate in Paris?