Paris, like France, is inevitably linked to food. French cuisine is one of the most recognized and popular food cultures in the world: UNESCO even added French gastronomy to their lists of intangible cultural heritages. Different regions in France all have their own culinary specialties, and you will find all of these collected together in Paris. Paris literally has thousands of restaurants where you can discover French cuisine. Paris also boasts many fantastic farmers markets where you can find any ingredient used in French cuisine.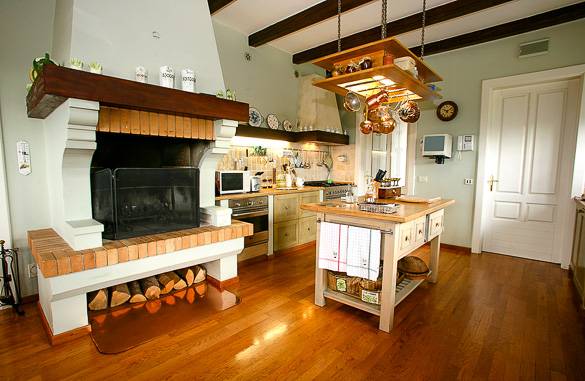 Traditional cuisine in a Paris apartment
If you're a food lover coming to Paris, add some culinary discovery to your holiday by trying your hand at French cuisine! It's easy to pick up fresh produce at the local markets, and if you're staying in an apartment with a proper kitchen you have everything you need to enjoy a culinary vacation in Paris.
In this article, we'll tell you a little bit about the food culture in Paris, and give you some easy French cuisine recipes that you can try in your own Paris apartment rental!
French Food Culture in Paris
There are many things people associate with French cuisine. When it comes to breakfast, the French croissant and pain au chocolat paired with a cup of coffee are famous throughout the world.
For lunch and dinner, there are a great many dishes that originate from France. In general, it is said that French cuisine makes use of a lot of fresh produce, such as meats, fish, vegetables and cheeses. Wine is also an indispensable part of dining in France.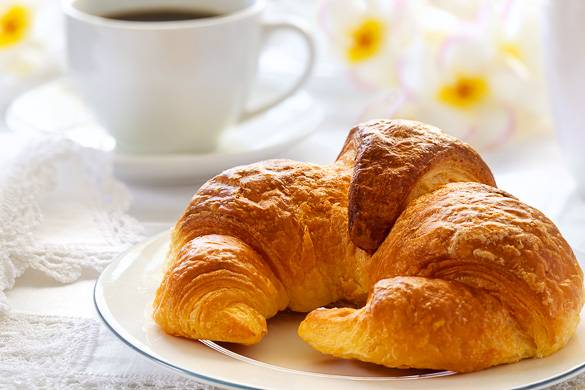 The French favorite "un café et croissant"
When you visit Paris, going on a culinary exploration is one of the best ways to discover the city. Just like the language is an inherent part of the culture, so is the food in France. When you walk into a café in the Latin Quarter in the early hours of the morning and order un café et croissant, you'll feel like a real Parisian. Get a sense of the Latin Quarter by watching our
video tour of the Latin Quarter in Paris
. To get an even more authentic local experience, explore the farmers markets of Paris and gather all the ingredients you need to cook your own French dinner!
Enjoy a Culinary Holiday in Your Own Paris Apartment
When you visit Paris for a short holiday or a longer period, staying in a fully furnished apartment has some great advantages compared to staying in a hotel. For instance, Paris vacation rental apartments and long-term furnished apartments in Paris often include a real living room and kitchen, instead of just one room where you have to sleep and live.
If you're staying in a Paris apartment with a kitchen, you'll be able to save a lot of money on dining out. Furthermore, you won't have to spend money on a dull hotel breakfast when you can prepare your own in the kitchen! By stepping out in the morning to pick up some pain au chocolats and a crispy baguette at the local bakery, you'll also get a real sense of what it's like to live in Paris as a local. For some of Paris' best bakeries, check out Best Snacks in Paris. Explore the local neighborhood where you're staying and look for the best wines in the local supermarkets and farmers markets. When you've found all the ingredients you need, cook a real French dinner for your friends and family, which you can serve in your own living room! For some inspiration on what to cook, we've gathered a couple of French recipes for your to try out.
Simple French Cuisine Recipes to Try in Your Paris Apartment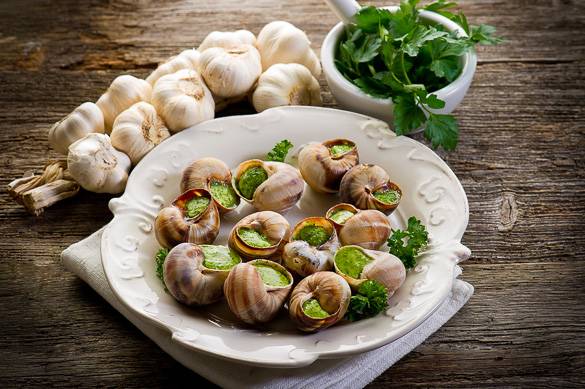 Traditionally prepared French escargots, or snails
To kick off with a true
cliché of French food: snails
! In Paris, you can easily purchase fresh snails at your local market! Alternatively you can also buy some from your neighborhood supermarket. You can find them fresh at the deli counter or preserved in the freezer. There are many ways to cook snails, from boiling them to baking them. The most common way to eat them is with butter and garlic. You can buy them with the shell already filled with butter and garlic, so the only thing you have to do is to put them in the oven. Spice them in any way you like, and you get a bonus point if you're brave enough to try at least one!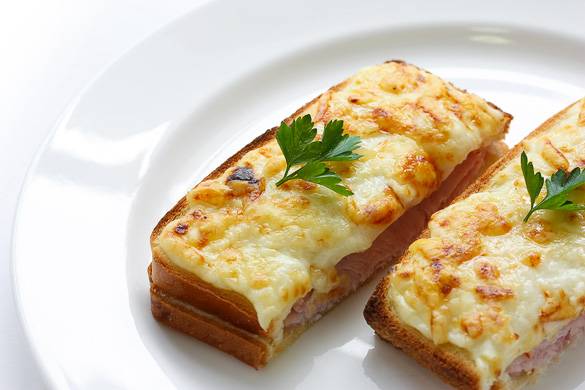 Homemade croque monsieur in Paris
On to a recipe that's always a crowd pleaser, and very popular with the kids. A Croque Monsieur is great for a quick lunch, or simply for a late-afternoon snack. A Croque Monsieur is basically the French variation of a grilled ham & cheese sandwich. To prepare it, you'll need:
Recipe
You will need:
– a frying pan
– 2 tablespoons of butter
– 8 slices of white bread
– 4 slices of cheese (Gruyere, Gouda – pick your favorite)
– 4 slices of ham
– 2 eggs
– 1 tablespoon of water
– salt & pepper.
Instructions
1. To get started, spread every slice of bread with some butter and make 4 sandwiches with one slice of cheese and one slice of ham in between.

2. Add 1 tablespoon of water to the eggs and beat them, then add salt & pepper for taste. Pick up a sandwich and dip both sides in the egg mixture. Repeat with the other 3 sandwiches.

3. Heat some butter in the frying pan and fry the sandwiches on both sides, for 3 to 4 minutes per side.

4. Serve on a plate and cut the sandwiches in half. Voila!
Omelette aux champignons de Paris (omelet with "mushrooms of Paris")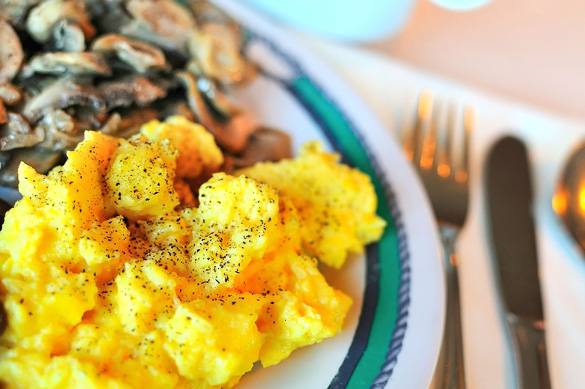 A French variation of the Parisian omelet with mushrooms
The word "omelette" has been in use in France for ages. There's even a tale told about Napoleon Bonaparte enjoying an omelette so much he ordered a village to make one giant omelette for his army the next day. The omelet with mushrooms is a nice variation you can find a lot in Paris.
Recipe: 
You will need:
– a frying pan
– wooden spoon
– 2 tablespoons of butter
– 2 eggs
– at least 100 grams of mushrooms (pick your favorite kind of mushrooms)
– 1 clove of garlic
– a sprig of parsley
– a sprig of chives
– salt & pepper
Instructions:
1. Wash the mushrooms with some water, or sweep them clean with a small towel. Mince the clove of garlic and cut up the mushrooms.
2. Fry the garlic in the frying pan with some butter, and be careful not let it burn. Add the mushrooms after a minute or two, and fry them for about 3 minutes. Add the washed and cut parsley at the end. Put the fried mushrooms in a cup.

3. Take the 2 eggs and beat them until they start foaming. Add the chives and some salt and pepper for taste. Melt some more butter in the frying pan and add the egg mixture. With a wooden spoon, carefully try to keep the mixture in a round shape.

4. As the omelet begins to form, add 2/3rds of the mushrooms to the center of the omelet. As the omelet forms, take one side of the omelet and fold it over the other, so the mushrooms are covered. Cook until the omelet starts to turn brown.

5. Take the wooden spoon and flip the omelet on a plate, and then cover it with the rest of the mushrooms. Enjoy!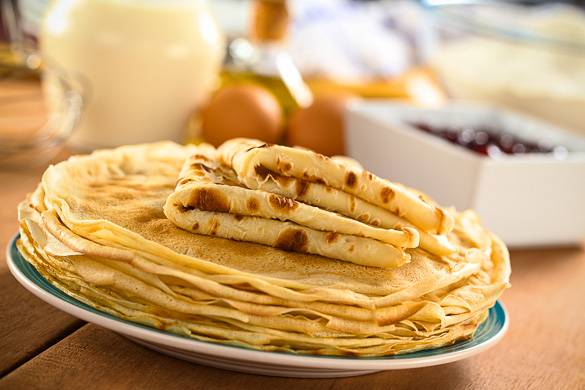 A plate of homemade crepes is always a favorite with the kids
The famous French crepe originates from Brittany in the northwest of France. The thin pancake can be enjoyed with sweet fillings such as sugar, or with a variety of savory fillings. You can find creperies everywhere in Paris, but it's also a lot of fun to try and cook them at home. If you have kids, spend an afternoon with them in the kitchen making crepes, which will teach them something about cooking and will make for a yummy lunch!
Recipe (for about 3 crepes): 
You will need:
– a frying pan
– 2 tablespoons of butter (or cooking spray)
– 1 egg
– 1 cup of regular flour
– 2 cups of milk
– a pinch of salt
– any stuffing you like! Kids love anything from sugar to Nutella with banana.
Instructions:
1. To make the batter, combine the flour, milk, egg and pinch of salt in a mixing bowl. Mix the batter with a mixer or a fork until the clumps have all disappeared.

2. Heat a frying pan or crepe pan on medium-high heat and add some butter. Make sure the butter is spread over the entire surface of the pan and well heated. Take a soupspoon and pour about 1/3rd of the batter into the frying pan. Lift the pan and rotate it, so the batter is spread out over the surface of the pan. The thinner the better, but be careful not to create any holes.

3. Fry the crepe, and flip it with a wooden spoon when it starts to bubble. You can also try flipping it by taking the pan and whirling it up so the crepe flips in the air, but this takes some practice! When the crepe is light brown on both sides it's done. Add some new butter to the pan before cooking another crepe.

4. Serve the crepes on a plate with whatever stuffing you like. Besides sugar or Nutella, you can also pick up some fresh jam at a local market. Just pick anything you like, and bon appetit!
We hope you've enjoyed the recipes! Of course, there are many other French meals you can cook in the kitchen of your own Paris apartment. For the more experienced cooks, dishes such as the quiche Lorraine and gratin Dauphinois are also great to try out. And if you want to spend a long day exploring the city, prepare some jambon-beurre sandwiches with fresh baguettes to bring along!
What's your favorite French dish?