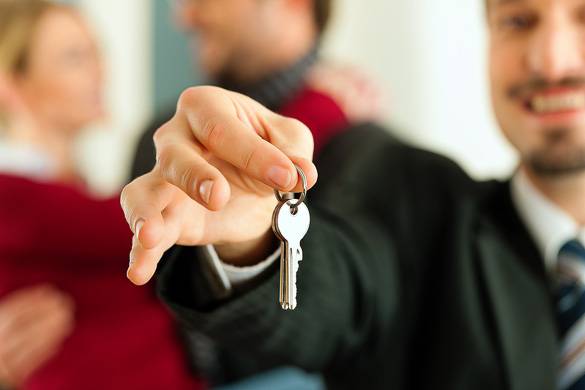 Renting an apartment online is easy and safe if you avoid these 10 common mistakes
Renting an apartment online has become easier and easier over time. Different real estate agencies and companies are offering a database of apartments for rent on their websites. You can see pictures of the apartments, read reviews left by other people, and even book your apartment online.
While offering apartments online has made the process of renting an apartment easier and more enjoyable, it has also opened the door to new scams. To ensure you have a good and safe experience when you rent an apartment online, there are several things you can pay attention to while looking for an apartment.
In this article, we'll highlight 10 things you should avoid when searching the Internet for accommodation. We'll also give you tips on how to find safe agencies and apartments, so you can have an enjoyable experience renting an apartment online!
1. Not knowing who you are dealing with when renting an apartment
When you want to rent an apartment online, there are four main actors in the apartment rental sector that you can come across. Always make sure you know exactly who you are dealing with, as different actors in the business offer different services and guaranties. The following are the four main actors in the apartment rental sector:
Dealing directly with owners
Although this may seem like a very personal way to rent an apartment, always keep in mind that when dealing directly with owners, some of them won't provide you with a contract.
Besides, it is usually harder to know if you can trust an owner who's listing an apartment online, because there is no official 3rd party or a trustworthy company involved.
Online marketplaces offer an online platform where owners can list their properties. Again, there are no set guarantees here, as these marketplaces don't check an apartment before they advertise it online. Owners themselves put pictures of the apartments online, so you cannot be sure they genuinely reflect the apartment you want to rent, nor its actual condition.
While most of the owners post photos that could reflect the condition of the apartments beware of scammers who sometimes post completely fake apartments or old pictures that won't reflect the actual condition of the apartments that are for rent. This is why it is important to remain vigilant while browsing these websites: while they host online content, they cannot be held responsible in case something goes wrong.
Travel agencies often offer a certain level of security, such as a refund or insurance. However, travel agencies still don't visit the apartments themselves, so they don't know the products they're selling personally. However, some travel agencies work with reputable real estate agencies like New York Habitat.
Real estate brokers are professionals and would have a good command of the market.
New York Habitat, as a licensed real estate broker, works together with property owners, to ensure that clients are protected from the get-go. Part and parcel of New York Habitat's service is the performance of due diligence in order to gather sufficient information regarding the property rental before listing it online and offering it to clients.
Specifically, New York Habitat seeks to ensure that the property rental has the corresponding and appropriate paperwork that allows the property owner to legally rent out the apartment.
In New York, before an apartment is posted online, New York Habitat also visits the property, takes several photographs of the premises, takes note of the amenities available at the rental and sketches a rough floor plan of the apartment in order to provide clients with the most accurate perspective of the property rental.
In order to point out the good apples from the bad ones, the reputation of a real estate company is a very good thing to look at, as well as making sure that they meet the requirements cited in the next points of this article.
2. Believing in offers that seem too good to be true
Our second tip ties in with a very old saying: if you think something sounds too good to be true, it probably is. When searching for great deals on apartments online, always use your common sense. If you see an advertisement offering a 2-bedroom Midtown Manhattan apartment for just $500 per month, you can be pretty sure it is some kind of scam.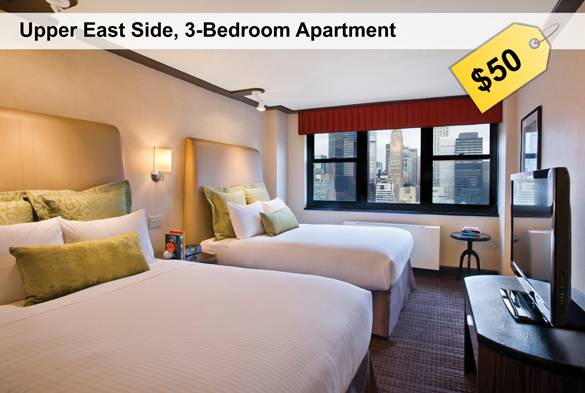 An online apartment rental deal that seems too good to be true
One way to avoid falling for such a scam is to do some research on the average price of apartments at locations you're looking at. For example, if you're looking for an apartment in New York City, you'll quickly find that apartments in Manhattan will cost more money than apartments in Queens. By googling an area or neighborhood before looking for apartments in that location, you're already one step ahead of scammers. You can also have a look at some reputable real estate websites such as New York Habitat in order to have a better idea of the prices of the market.
For more tips on how to avoid apartment rental scams, check out How To Spot an Apartment Rental Scam.
3. Sending money via unsecured means of payment or not recognizing phishing scams
When you want to pay for your apartment, whether it is for a deposit of the rent itself, be careful not to use services of payment that have no traceability. By making wire transfers to a bank account or using credit cards you are sure the payment can be tracked. You can also use trusted PayPal accounts or pay directly through a website that displays secure payment methods.
Furthermore, when dealing with account numbers and banking information, always beware of phishing. Phishing is a popular method among scammers to extract money from you, by trying to acquire personal information such as user names, bank account numbers and credit card details through online communication. Scammers use all kinds of methods such as phony websites, untrustworthy emails and more to convince you of their authority. A way to guard yourself against phishing is to be very careful when giving out personal information online.
4. Not asking for additional details, pictures, videos, floor plans and information about a rental you are interested in
If you found an apartment online that you like, but don't have a chance to visit it in person, try to acquire as much information about it as you can. Legitimate real estate companies have access to a variety of information about an apartment they're listing for rent.
It is important to be certain that the property owner can legally rent out the apartment. New York Habitat attains this goal by requiring administrative paperwork from the property owner which varies depending on whether the property rental is a condominium or a coop. Further, in New York, New York Habitat then schedules a visit to the property rental in order to be able to see the apartment in person, take note of the amenities being offered, sketch a rough layout of the premises and identify points of interest in the area of the premises, among other things. Our real estate agents have a keen eye for such visits and are trained in determining potential trouble spots, if any. The information obtained is then collated in our office and a file is created for the property owner and property rental incorporating all the data gathered.
New York Habitat then takes on the task of adding a description of the property rental which includes the factual information obtained from the visit. New York Habitat has also gone a step further by making video tours of the property rentals which can be viewed on the apartment's page or on New York Habitat's YouTube channel.
In these modern times with digital cameras, internet and smartphones, it really doesn't make sense if a company or an owner isn't at least able to provide you with some pictures. Do keep in mind this visibility of apartments only also makes it easier for scammers to steal pictures of apartments and use them for their own purposes. Always make sure all the information you receive about an apartment fits together: pictures, details, reviews and videos.
5. Not checking the background of a real estate agency or an owner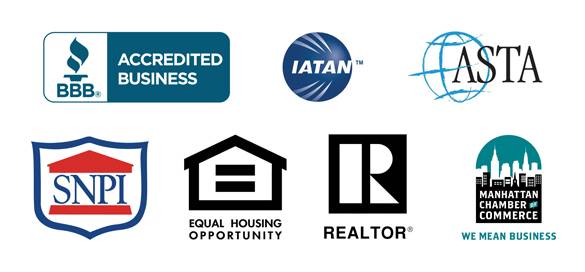 Types of accreditation you can find on real estate websites
Legitimate real estate agencies will have legal certifications posted on their websites
.
Look for this kind of accreditation on websites offering apartments.
While these logos are usually a good sign of a company's legitimacy, some scammers now show them on their website while they are actually not accredited by these organizations. In order to check the validity of a company, feel free to contact them by visiting their websites, by sending them an email or by calling these organizations. Most of the time they will be able to tell you what kind of information they have on a specific real estate agency..
Furthermore, you can easily Google a company to acquire background information. There are also numerous websites that rate and review real estate agencies online, such as Yelp, Insider Pages and more.
Have a look at Learn About New York Habitat Through Customer Ratings and Reviews to find what kind of websites you can look at for trusted reviews.
Lastly, the rise of social media has made it even easier for internet users to review companies online. Have a look at a company's presence and feedback on websites such as Facebook and Twitter to make sure you're dealing with a real company. If a company is very active on its social media profiles and ensures it replies to inquiries this is another signal the company is legitimate.
6. Not checking the reviews left on an apartment that you are interested in
An up-and-coming feature of real estate websites is that they post reviews for apartments written by people who have actually stayed in these specific apartments, instead of by for example friends or member of the family of the owners.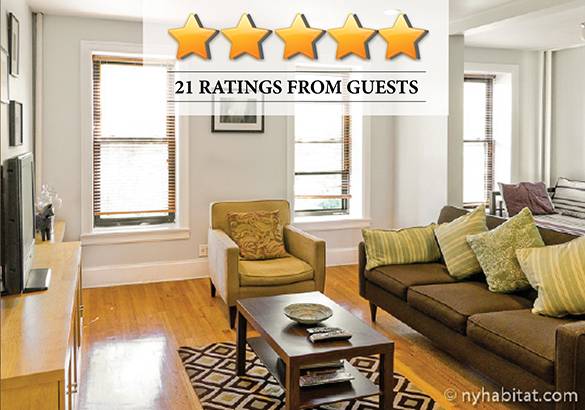 Use apartment reviews to see what renters before you have said
By checking these reviews written by real people, you can easily
see if an apartment is a good fit for you or not
. For an example of an apartment with reviews written by people who've stayed there, check out this
3-bedroom Vacation Rental in Brooklyn
from our website. The reviews talk about the owner, location and include details about the apartment. Remember this when you're looking at other reviews, as reviews can also be faked. Fake reviews will often be very short, impersonal, without details and replies from the owners. Some of them may also contain information that does not match the information that is given about the apartment (number of bedrooms, presence of a fireplace while there is actually no fireplace at all…).
Another way to distinguish fake reviews from real ones is to see if the owner of a certain apartment has replied to the review. You can see that in the case of this Chelsea apartment, the owner has written a personal reply to every reviewer, which helps to validate the legitimacy of the reviews.
7. If you're paying in a foreign currency, not double checking with your bank if any extra fees apply
If you're wiring money over to another country with a different currency, chances are there will be extra fees.
Check with your bank to see which fees apply. Also make sure to discuss this with a real estate company or owner of an apartment before wiring over the money, as you'll have to decide who will pay the extra fees beforehand: the sender or the receiver. Sometimes it's even possible to pay in the currency of your home country, which can save you a lot of money. It never hurts to ask if this is possible, be it for the rent or for the security deposit!
8. Not making sure if there are hidden or additional fees when you rent an apartment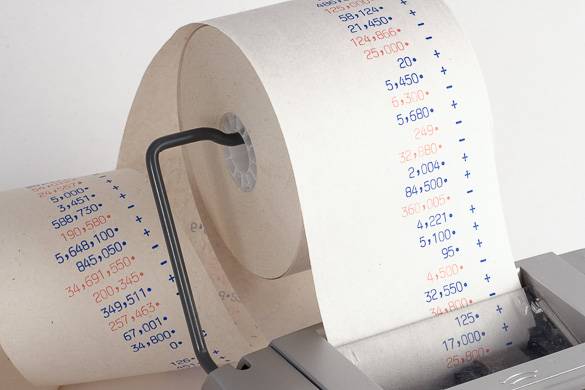 Make sure to ask about additional fees when renting an apartment online
Sometimes when you find an apartment online, you'll see that a "cleaning fee" is included in the price. If this is not the case, be sure to check with the owner of an apartment if you are expected to clean up after your stay, or if there'll be additional cleaning costs. While you're at it, also ask if there are any other fees you should know about, such as application, utilities or departure fees.
Often this differs per apartment, so make sure there's a clear understanding between the owner or agent and yourself before you rent an apartment.
9. Not getting everything in writing when renting an apartment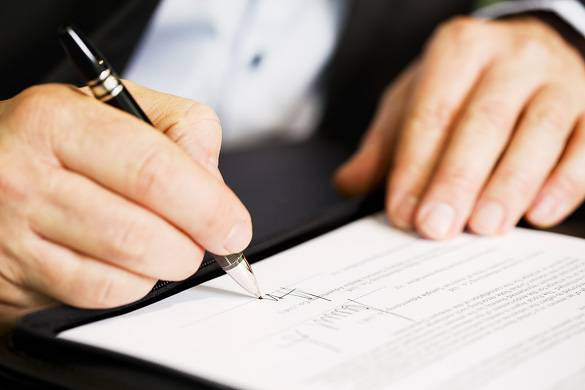 Signing a contract or lease is essential when it comes to your rights when renting an apartment
If you are using the services of a real estate agency,
make sure to have a contract signed between you and the company that states clearly what you are renting, and for how long
. If you are renting an apartment directly from an owner, always make sure that you sign a lease. When the owner collects your rent, also make sure to ask him for a receipt.
Having a lease or a rental agreement is absolutely essential when it comes to your rights, and also it confirms the validity of the company you're renting from.
If the company is operating on the internet, getting an online contract is also a valid option, as it is just as valid as a paper one! Before you accept the terms and conditions of the contract make sure that you actually agree with them, and do not hesitate to ask questions if you believe something is not clear enough. Also make sure that all the details are accurate and reflect the terms you agree on with the owner or an agency.
It is also important to keep in mind that in most cases the validity of an online contract is subject to the payment through the method you have selected (credit or debit card, PayPal…).
However, please keep in mind that a confirmation email is not a contract. Although many online market places make use of confirmation emails, they do not protect you like a contract will (they actually won't protect you at all). As a licensed real estate agency, New York Habitat will always make sure that you receive a valid contract when you rent an apartment, whether you are staying for 3 days or for 12 months.
10. Not trusting your instincts when looking at apartments online
As a last point, we would like to again emphasize common sense. If you do not feel comfortable about an apartment or an owner, don't book the apartment. It's as simple as that.
Besides, if you are working with a real estate agency of a certain size and that you feel an agent doesn't provide you with enough information about any of the points we discussed in this article, ask to change the agent you are working with, and don't finalize the booking before you have all the details you need. Better to be safe than sorry!
We hope this article has been helpful, and if you feel like we missed an important point when it comes to safely renting an apartment online, don't hesitate to let us know in the comments below!