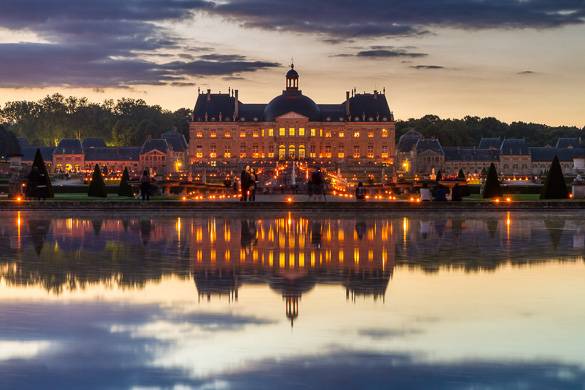 Grand vistas await you outside of Paris
Paris is a dazzling city and a top tourist destination, but many visitors don't venture beyond it. Subsequently, they miss out on some lesser-known yet highly impressive spots in France. Hop on a train and you'll be rewarded with amazing memories. These day trips are an easy and inexpensive way to see different parts of France without having to book multiple accommodations — they're just a quick train or bus ride from your rental in Paris. So, get out and explore France!
1. Château de Chantilly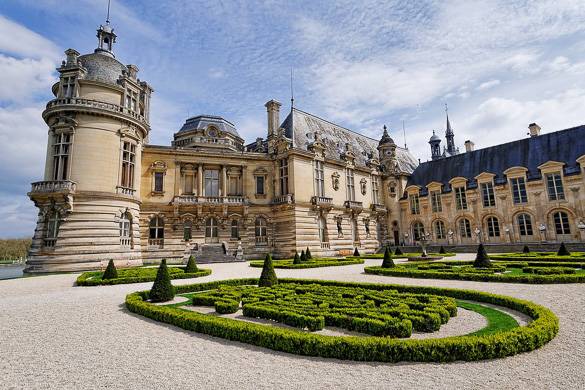 Horses, art and hiking await you in lovely Chantilly, France
Take a day trip deep into France's cultural heritage at the historic Château de Chantilly, dating back to the 16th century. Known for its beautiful château and grounds, it also has a long history with horses. Annually, the estate hosts horse races like the Prix du Jockey Club and the Prix de Diane. Visitors can also pay a visit to The Great Stables for horse shows and a museum of equine art and culture. A 16 euro pass is available to visit the grounds, château and stables.
For those with a sweet tooth, Chantilly is the birthplace of Chantilly cream, otherwise known as whipped cream. There are tastings available at various locations throughout the area.
Just a 25-minute train ride from Paris's Gare du Nord train station, this is a great day trip for history, art, and equestrian buffs, as well as those who love nature (there are beautiful French and English formal gardens, plus a forest to explore)!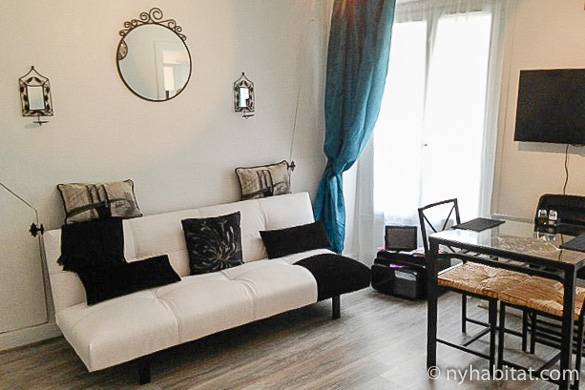 This charming studio is hidden close by the Canal Saint Martin, a favorite among locals
Located in the 10th Arrondissement, this studio apartment is just a few minutes away from Gare de L'Est and Gare du Nord. Both stations offer high-speed trains to a number of cities outside of Paris (such as Chantilly).
The modern apartment's large windows provide plenty of natural sunlight and views of city street life below. Styled in a black and white color palette with blue accents and wood flooring, this studio has a dreamy Parisian feel. The apartment sleeps three by maximizing space with a double pull-out bed and double sofa bed. The mod kitchen with black-and-white tile backsplash has all the essentials for preparing home-cooked meals, plus the convenience of a washing machine.
Aside from its proximity to the city's main train stations, the apartment is conveniently located steps from the famous Canal Saint Martin. Stroll along the quays lined with boutiques and cafes, or head to the ever-busy Place de la Republique, one of the busiest squares in Paris and a main transit hub for easy access to the rest of the city.
2. The beaches of Normandy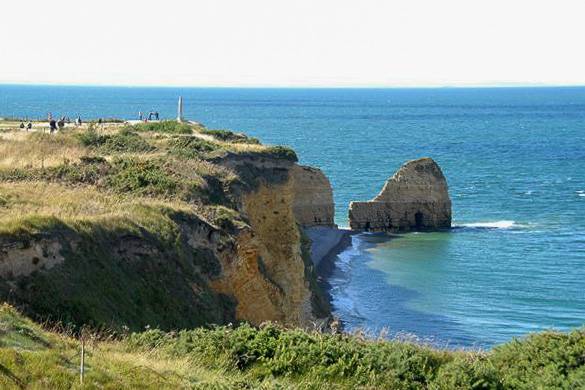 Head to Normandy's beaches and immerse yourself in history
While the picturesque aspect of these beaches is enough reason to make a day trip to Normandy, the main reason these beaches attract crowds is their role in historic D-Day. Near the end of World War II, these beaches saw thousands of allied soldiers storm ashore in an attempt to break Nazi control of Western Europe. Today, visitors pay tribute at the museums, memorials and cemeteries along the coast. You can visit at your own leisure or take a guided tour for a more in-depth look at the historical significance of this area.
To reach Normandy, a train can be taken from Gare Saint-Lazare to either the city of Caen or Bayeaux (1 hour 45 minutes and 2 hours 4 minutes, respectively).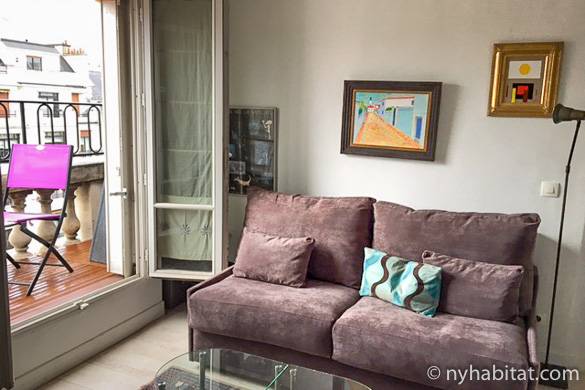 This quaint studio has a lovely balcony to enjoy Paris views
Located in the 17thArrondissement, this studio apartment in Ternes is located 10 minutes away from Saint-Lazare Station, so you can easily head out for a day trip to the coast.
Located on the top floor of a classic Haussmannian building from the 19th century with spiral staircase and ornate moldings, this charmingly Parisian apartment offers a spectacular view over the rooftops of Paris. The compact studio features all the essentials for a holiday in France, with a kitchenette for preparing simple meals, a space-saving double sofa bed that can be tucked away by day, and a balcony for enjoying some snacks you picked up at the local markets or a morning croissant in the fresh air.
Its prime location on Avenue Neil also gives you access to a number of restaurants and traditional Parisian coffee shops, as well as the famed Arc de Triomphe and the Champs-Elysées.
3. Cité Medieval Provins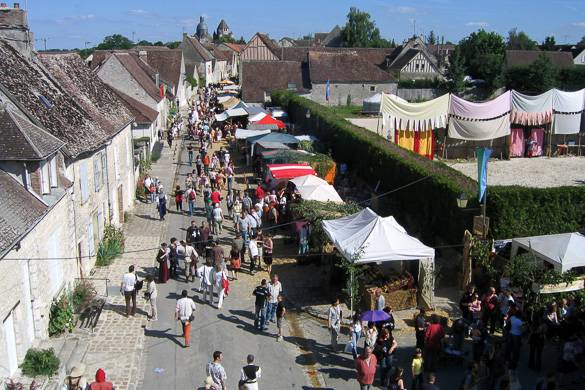 Travel back to the Middle Ages in Provins, France
If you prefer less touristy locales, head to Cité Medievale Provin, a UNESCO World Heritage Site, for a step back in time to medieval France. It can be reached by train from Gare de l'Est using your metro pass (a 90-minute trip).
For those who want to fully experience the Middle Ages, there are a number of medieval shows available. The Banquet of Troubadours, a form of dinner theater, offers visitors a typical medieval meal complete with jugglers and acrobats.
Provins is also home to The Provins Rose Garden. Stroll through 3.5 hectares of bucolic rose gardens, stop for a snack in the quaint tearoom, and pick up some unique products inspired by Provin's famous roses — such as rose-flavored honey, chocolate, and liqueur.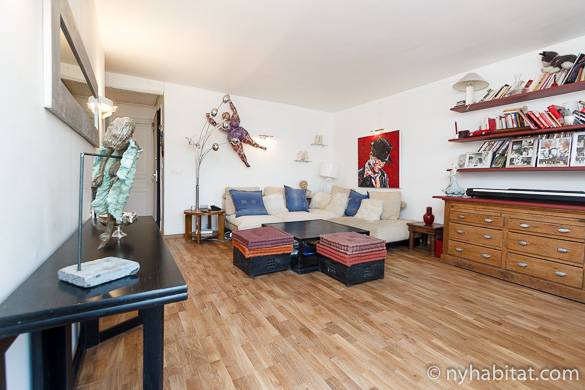 This 2-bedroom apartment in Pigalle is located near 3 main train stations
Another strategically-located apartment for day trips is this two-bedroom rental in Pigalle. Located in the 9th Arrondissement, its prime location allows easy access to three of Paris's major train stations (Gare du Nord, Gare de L'Est, and Gare Saint-Lazare). The apartment's location in Pigalle near Montmartre allows you to get acquainted with these two fascinating neighborhoods, each with their own unique charm that is bound to enchant those who visit.
This spacious apartment with wood floors throughout is close to the Rue Lepic, where the movie Amélie was filmed. Its two bedrooms (with street and courtyard views) and 1.5 baths provide ample space to accommodate four people. The full kitchen with dishwasher makes it easy to prepare meals at home, while the exposed-wood beam details add a bit of French character. French windows look out onto Avenue de Clichy, while a private balcony offers stunning views of Sacré Coeur Basilica!
4. Vaux-le-Vicomte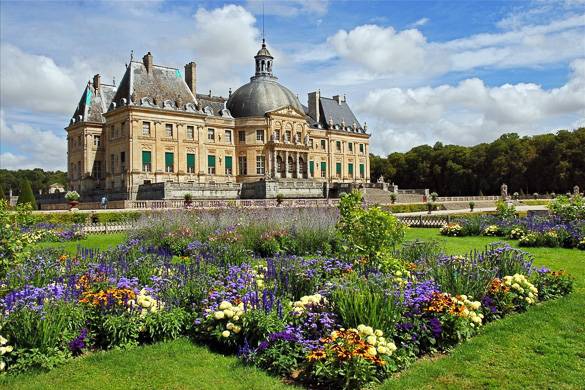 Visit a beautiful baroque French château in Vaux-le-Vicomte
If you're a fan of French dwellings and design, you'll appreciate a trip to the Vaux-le-Vicomte estate. This baroque French chateau marked the beginning of Louis XIV's style, which encompassed architecture, interior, and landscape design. Located 55 km outside of Paris, the chateau is a 1-hour train ride away.
A single ticket grants visitors access to the château, gardens, and the Carriage Museum. There are also guided tours for those who want to have a more immersive experience.
For those who wish to splurge on a nice meal, Le Charmille offers French cuisine at its finest and is situated opposite the gardens, giving visitors a spectacular view of both the gardens and the château. For those who want a simpler meal, the estate offers designated picnic areas.
5. Loire Valley
Go on a wine tasting tour in the Loire Valley
The French enjoy their picnics, and one wouldn't be complete without the perfect bottle of wine. For wine lovers, the Loire Valley is the perfect day trip for exploring a number of France's most famous vineyards. While many destinations in the Loire Valley are accessible through the TGV, it is recommended that visitors take guided bus tours that allow them to easily visit a number of towns within a single day.
6. Giverny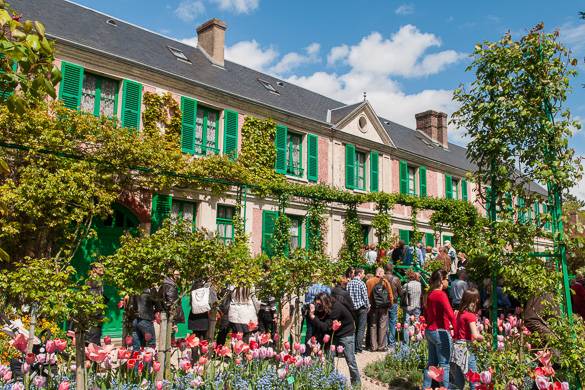 Discover Monet's source of inspiration in Giverny
Giverny is a must-see for art lovers. The small village caught the eye of Monet and soon became his permanent home and source of inspiration, leading to the creation of some of his most iconic paintings, in particular his Water Lilies collection.
Looking to immerse yourself in French art? Giverny offers painting workshops and lessons for those who want to tap into their inner artist.
Aside from the gardens and the house, the Giverny Museum of Impressionism gives visitors the chance to see other works within the realm of Monet's impressionist movement.
Giverny is accessible by train from Saint-Lazare Paris Station and is a short 45-minute ride away.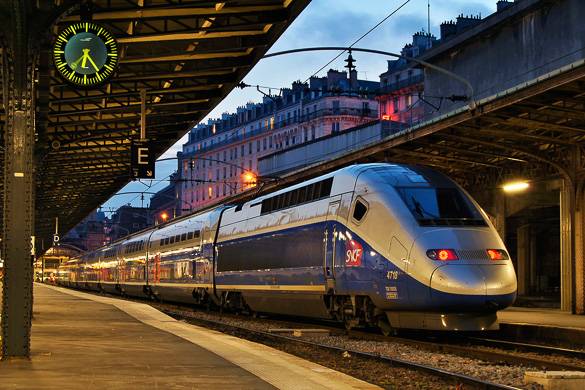 Hop on a train and see how easy it is to discover places outside of Paris
Whenever you're ready to head back to your apartment and discover some lesser-known spots right in Paris, the SNCF is bound to have a convenient high-speed train waiting to take you back home. While some tickets can be pricey, check out SNCF's official website for deals and book early.
Now that the secret is out about all these great side trips you can easily take from Paris, the competition will be fierce for accommodations, so head to our website fast and pick your dream apartment before another savvy traveler books it!